The home theater receiver industry is a highly competitive one. Yamaha, Denon and Marantz are three of the most popular name when it comes to AV receivers, and most people would be satisfied to pick a receiver from any of these companies.
Ideally, the question of which manufacturer is better will come down to desired features and budget range. In this article, we'll put all the three brands head to head, and see which brand will remain the last man standing.
Denon vs Marantz vs Yamaha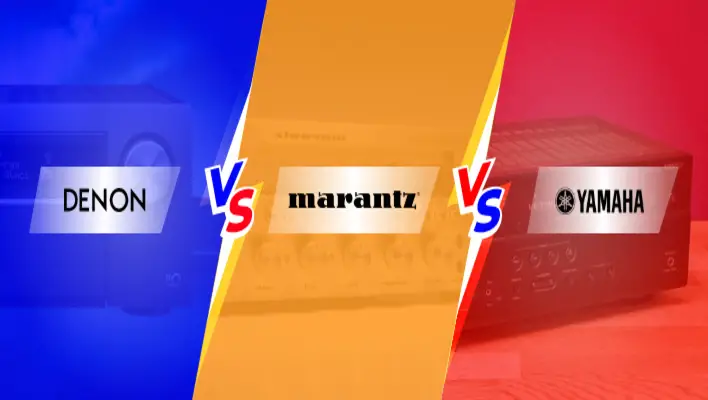 The three brands are pretty similar when it comes to the build quality, and you might at one time or another come across a Marantz, Yamaha, or Denon receiver. Over the years, these companies have kept the bar high despite the emergency of more high-end models.
Let's now dive into our detailed comparison of these three giant AV brands looking at some of their best features as well as build quality and aesthetics.
Denon Overview
Denon is renowned for its reliability, and it makes some of the most durable receivers to provide you with many years of great entertainment. Since its inception, the company has become a household name in the world of home theaters and has continued to improve on its robust AV receiver collection.
Denon receivers come in a straightforward look, but they tend to have a larger footprint than their competitors. Nonetheless, the receivers have sturdy construction with a modern look and feel. Some of the unique features of Denon receivers include;
Support for Dolby Atmos and DTS surround sound processing
Audyssey speaker calibration system–this feature, especially the MultEQ, helps to modify and fix all room acoustic issues
A handy setup guide
Inbuilt HEOS- the HEOS is a Denon and Marantz-owned wireless technology that lets you build whole-home audio using HEOS compatible components
Support for a variety of digital music streaming options such as Pandora, Spotify, among others
Supports for high-resolution digital files.
Marantz Overview
Marantz is one of the largest AV manufacturers and is renowned for its exceptional sound quality. Marantz receivers are popular with movie lovers who are after high quality and budget-friendly pricing. Since its formation about seven decades ago, the brand has maintained its premium quality and fair pricing.
It is also important to note that Marantz and Denon are under the same label famously known as Sound United, but the former offers similar features for less money. Perhaps one of their greatest achievements is the incorporation of the Hyper Dynamic Amplifier Module to enhance Marantz technology. Some of the other features that make Marantz receivers unique include but are not limited to;
Dolby Atmos and DTS surround sound formats
Dolby Atmos Height Virtualization is also included
HDCP 2.3 compatibility
Bluetooth connectivity to a set of headphones
HEOS multi-room audio
Most receivers are Roon tested, and you can access the function via USB or home network
Yamaha Overview
Yamaha receivers are straightforward to use, and most models have a user-friendly interface. They also have a reputation for providing long-lasting performance, and they are among the first choice for most audio experts. In addition, most Yamaha receivers offer extra details for a more immersive listening experience. Some of the feature that makes Yamaha's receivers exceptional include;
YPAO room calibration-this is Yamaha owned auto-calibration system that helps to adjust the setting of the speakers to suit the composition/ acoustics of your specific listening space
MusicCast wireless multi-room audio- this feature helps to build a multi-room audio system by combining several components wirelessly
Dolby Atmos and DTS: X capable
USB and phone inputs
Latest HDMI inputs
Support for multiple audio formats, including MP3, MPEG, MWA, FLAC, and more
Compressed music enhancer to compensate for digitally compressed audio signals
Zone 2 control
AM/FM tuner
Advanced wireless connectivity options including Wi-Fi, AirPlay, Bluetooth
Sale
Bestseller No. 1
Marantz vs Yamaha
Both Yamaha and Marantz receivers come in a durable construction that creates an engaging soundstage, but Yamaha tends to be a beast when it comes to features and input options. Yamaha receivers are often robust, and they don't struggle to provide a room-filling sound once paired with powerful speakers.
The incorporation of Audyssey MultEQ is perhaps one of the reasons that home theater users would go for Marantz receiver over Yamaha. And although Yamaha's YPAO room calibration system offers better clarity, Audyssey provides more flexibility, making it easy to identify and rectify room problems.
On the other hand, YPAO requires a lot of time and effort in search of perfect 'room characteristics', but the final output is incredible. Yamaha also boasts of robust technologies, including Surround AI and CINEMA DSP, to provide an advanced surround sound experience.
Yamaha vs Denon
The battle of Denon and Yamaha has been a hot topic for a long time. Whenever the two are mentioned, the debate is characterized by fierce arguments and opinions about which is the best. But one area we can agree on is that in terms of sound quality, both Denon and Yamaha are at par.
Denon receivers are generally considered more affordable than Yamaha. In addition, the receivers feature a solid build with tons of connectivity options. On the other hand, Yamaha is lauded for merging quality and dependability, but this comes at a price.
One area that the two tend to compete is on the multi-audio capability. Yamaha's Multicast and Denon's HEOS multi-room technologies let you stream or play your music from any room in your home. Both technologies allow you to build a multi-room sound system by consolidating several devices such as sound bars, wireless speakers, and PCs into one network.
Yamaha also tends to offer advanced surround sound capabilities thanks to the Surround AI capability available in newer models. The AI surround technology is geared towards delivering the best-in-class surround sound and a more engaging listening experience.
Marantz vs Denon
Comparing Marantz receiver vs Denon is like trying to put your bet on who will win between two potential UEFA clubs. They both have equal potential, and either can win on their best days, which is why this subject matter has always been open for debate.
Both brands boast of Audyssey speaker calibration system, a technology that helps identify and fix your room's acoustic anomalies. They also co-own the HEOS built-in, which provides a simple and intuitive way of connecting enabled devices wirelessly.
Denon and Marantz's receivers are somewhat in the same price range, but the latter is more accessible to those looking to spend less without sacrificing sound quality. The design of Marantz also tends to be sleeker, while Denons have a more pronounced display.
Yamaha vs Denon vs Marantz—So, Which is Better?
It has always been tricky to choose which manufacturer is better considering that all the three companies have invested heavily in their products. In addition, different products can be tweaked to suit different needs.
Ultimately, your most ideal brand will come down to personal preferences. When trying to buy a receiver, your special lookout will include but not limited to the physical design, amplification capabilities, and availability of special features.
Having said that, the suitability of any of the three models will vary depending on use, and the same case applies to satisfaction levels. As such, we may not have a definite answer concerning which brand is better, so we'll leave you to decide for yourself.