Growth in technology has given rise to multiple surround sound formats as a way of enhancing your home entertainment experience. Unlike stereo sound that features two channels, different surround sound setups accommodate more than two channels to create a dynamic sound stage for all of your content.
Today's home theaters offer a wide range of surround sound formats, but the most commonly used styles are Dolby Surround and DTS's Neural X. Both configurations have a lot in common in terms of detail and realism.
In this DTS Neural X vs Dolby Surround review, we'll compare and contrast these two famous surround sound formats so you can make an informed choice.
Understanding Surround Sound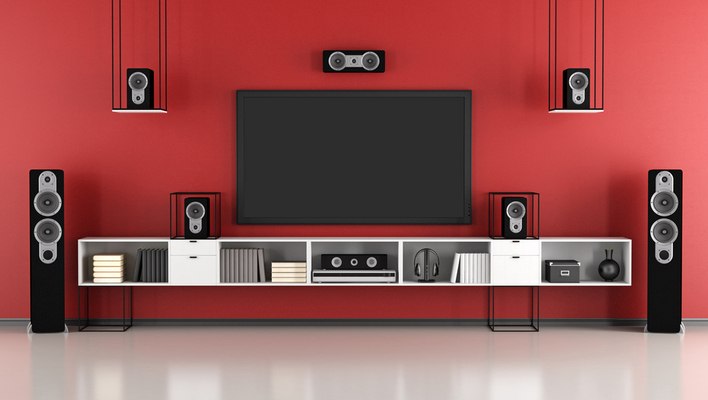 Surround sound does exactly what the name says i.e., it immerses you in sound from all sides and all angles. Today, state-of-art technologies have brought forth advanced surround sound formats that provide improved sound imaging and realism.
Sound engineers found new ways of adding discrete audio to the traditional two-channel stereo system by incorporating more channels. More channels meant that one could finally enjoy a true movie theater experience in the living room.
The 5.1 is the standard setup for home theater systems and is the commonly used configuration for surround sound.
What is Dolby Surround?
Dolby Surround format has been with us for quite some time now, and it have revolutionized the way we watch and listen to movies and music. It is amongst the pioneers of "object-based" 3D sound that gained momentum a decade ago as an effort to modernize cinema theaters. Today, it is almost impossible to find a home theater receiver that does not support Dolby Atmos surround sound.
Thanks to Dolby Surround, sounds in movie theaters can now be heard diffusing from distinct locations, depending on specific audio mixers and how they are arranged. Most surround sound setups support 3D-based, which helps bring the movie theater experience to the living room.
In simple terms, Dolby Surround provides a three-bubble kind of sound that can be mapped on specific locations around your room. The result of this is a rich sound that moves freely around the space, unlike stereo formats that create sound from only two directions.
Dolby Surround projects sound from all directions—from the sides, front, behind you, and even from above. It also places the sound where it would naturally occur or as the artist intended.
Dolby surround also adds a multi-dimensional feel to your listening area. This is achieved by adding a pair of overhead/up-firing channels to a standard home theater sound system. Instead of having a standard 5.1/7.1 configuration, an Atmos system add extra speakers, so you'll end up with a 5.1.2/7.1.2 system.
However, Dolby Surround has faced tough competition from DTS, and in particular Neutral X, which has sought to outdo the former in terms of sonic supremacy. We'll get to that in a minute.
Building a Dolby Atmos surround system at home
Typically, a home theater system with Dolby Atmos capability should have seven channels at the minimum. Setting up a Dolby surround system at home is now easier than before. All you need is;
A Dolby Atmos-enabled AV receiver. Luckily, there are tons of such models from the world's best manufacturers.
At least five speakers. The first set of speakers will include right and left speakers and two surround speakers. Generally, these speakers need to be placed on the sides and behind your sitting area. The fifth speaker will serve as the center channel, responsible for reproducing dialogue.
Adding more channels, help you remain more flexible with the Dolby Atmos configurations, but a five-channel arrangement is considered as the standard, especially for beginners.
You'll also need two additional speakers (overhead/up-firing). These channels allow the receiver to decode sound effects from sources like VHS, thus relieving the main and center channel speakers of the burden of playing such audio.
One or two subwoofers. Dolby surround accommodates the inclusion of an LFE channel with some units giving you the option of adding up to two subwoofers.
Streaming content /video games. This content is readily available from a wide range of sources, including Blu-ray discs, Apple iTunes, Amazon Prime, among other sources. You can also access a range of video games that are Dolby Atmos-enabled everywhere.
However, in order for you to immerse yourself with the best overhead sound effects, the Dolby Surround setup should accommodate at least seven channels or more. For instance, investing in a nine-channel receiver will help you build either a 5.1.4 setup or even a 7.1.2 system, depending on the size or layout of your room.
Downsides of Dolby Surround
The potential downside of a Dolby Surround setup is the need to upgrade to an Atmos-capable receiver. Some models offer a software update, but such AVRs are quite expensive and limited in number.
You might still need to add physical overhead speakers if you're looking to enjoy optimal overhead sounds.
What is DTS Neural X?
Dolby dominated the market for a while until a new entrant came in to give it a run for its money. DTS Neural X was developed with the same objective as Dolby surround i.e., to deliver a more immersive experience across the room.
DTS devised this digital surround sound mixer as part of systems that have DTS: X. This format uses an open multi-dimensional audio source (MDA) to map sound across the room. The technology also allows the users to enjoy non-DTS: X encoded content but in an immersive way.
AV receivers that are set to use this format use an up-mixer to direct various audio sources to multi-channel systems for playback. They use virtual height channels as main speakers to achieve a natural and realistic sound field as in-wall or ceiling-mounted speakers.
DTS Neural X is used in multiple surround sound setups for both theater-grade and home-based applications. It is tasked with the responsibility of up-mixing and remapping sound output depending on the number of channels.
However, the mapping of sound is not limited to the location of speakers in the specific layout. The format can place various sound effects wherever it deems appropriate. This results in dynamic sound output, in which you can feel the sound coming from all around you, including above.
Additionally, Neural X approximates the height information of the DTS: X system, which adds height sounds to any traditional surround system, be they 2, 5.1, or 7.1 setups. And although Neural X is designed to work with 11.1-channel sound setups, it remaps the sound output depending on the number of channels of the specific layout it has to work with.
Most top-ranking AV manufacturers now support this technology, including Yamaha, Denon, Marantz, Onkyo, Pioneer, and, more.
Applications of Neural X
The DTS: X can be adapted to suit different movie theater configurations, and it directs the sound effects depending on the configuration(s) available. This means that its overall effect is felt equally regardless of the number of speakers used, so adding the technology to any commercial theater should not result in significant financial cost.
With the development of technology, this operation has now shifted to the comfort of your home. As we've mentioned, Neural X is used as part DTS: X, so for you to enjoy its full effects, you'll need to get a home theater receiver that is compatible with DTS: X. Most AV receivers come with an inbuilt function, but often, a firmware update may be needed for activation.
Downsides of Neural X
Since Neural X places sound anywhere in the space, it is not as accurate as Dolby Surround.
Just like Dolby surround, you'll need a unit that can decode DTS: X in order to rip maximum benefits from the format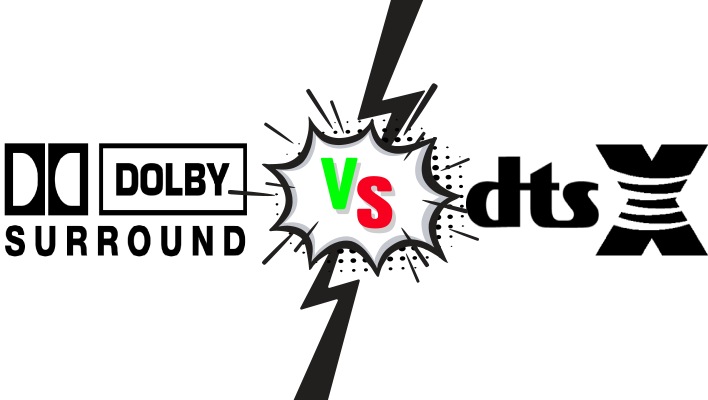 Dolby Surround vs Neural X: Is there a winner?
Dolby Surround and Neural X were developed with the same objective of providing immersive surround sound. But that doesn't mean you can use either for your home theater. The intention of this Neural X vs Dolby Surround review is not to crown the winner, rather its purpose is to give you a foundation of what to expect when comparing both technologies.
Just to recap, Dolby Surround is more refined and shines in dialogue placement and delivering a clean reverb. Overhead sounds are also much more pronounced, and the bass is also more noticeable. However, Dolby seems to struggle on the front soundstage.
On the other hand, DTS Neural: X is a bit louder, so if you need to add some oomph to the overhead effects, Neural X has you covered. It gives equal priority to both the surround and frontstage sound, so you'll get a balanced sound overall. However, it tends to put less emphasis on the bass in exchange for a cleaner and more open sound.
We all agree that it can get pretty hard to choose a new technology, especially when you don't know what to expect. With manufacturers adapting new formats day in and out, it is understandable why you may hesitate to invest in either of these surround sound technologies. The bottom line is: Neural X and Dolby Surround are pretty awesome, so if you're market for a new AV receiver and can afford it, we recommend you go with any of the two formats.