Yamaha creates potent AV receivers with a wide range of features packed on-board for its loyal users around the world. Since they offer a range of series with different capabilities, it becomes a challenge to analyze all the models, especially for first-time users.
Today we have decided to compare Yamaha RX V6A vs TSR 700. We'll summarize their most important features and provide an unbiased opinion.
Both Yamaha TSR 700 and RX V6A incorporate several wireless features for a delightful user experience. They are easy to set up, so having your system up and running should not take much of your time. What separates the two Yamaha series is the build quality and physical construction.
Yamaha TSR 700 is designed to power up to seven channels with an added advantage of genuine Dolby Atmos sound. It also lets you explore unlimited entertainment possibilities while allowing you to build an advanced cinema-like surround sound system.
The RX V6A is also a top-rated Yamaha AV receiver with a comprehensive feature set that adds to your overall listening experience, featuring the latest technologies and controls at an affordable price.
So, let's take on these receivers head-on!
Yamaha TSR-700 vs RX-V6A Specs Compared
Preview
Product Title
Yamaha TSR-700 7.1 Channel AV Receiver with 8K HDMI and MusicCast
YAMAHA RX-V6A 7.2-Channel AV Receiver with MusicCast
Preview
Product Title
Yamaha TSR-700 7.1 Channel AV Receiver with 8K HDMI and MusicCast
Preview
Product Title
YAMAHA RX-V6A 7.2-Channel AV Receiver with MusicCast
Yamaha TSR 700 7.1 Channel AV Receiver Review
The Yamaha TSR 700 is a perfect receiver for a seven-channel home theater system. It comes with all the essential features, so it is made to withstand severe rivalry with other Yamaha series receivers. It also incorporates several add-ons for gamers and movie lovers. Whether you're a music enthusiast or just looking for something to lighten your movie nights, the TSR 700 will satisfy your needs.
Features
Premium surround sound configurations: If your system lacks in-ceiling speakers, you can still enjoy better overhead effects by adding this receiver. The TSR 700 is designed to add a Dolby Atmos effect to your setup thanks to the additional upward-firing channels. In addition, it incorporates a DTS: X formatting technology which provides an immersive 3D surround sound without adding extra speakers.
Zone2 feature: The TSR 700 offers Zone2 speaker jacks that let you send signals played in the main room to speakers in another room. With this setup, you can choose to play the same audio/video content in both rooms or a separate one from the one being played in the main zone. This switch also adds flexibility to your system by providing independent controls for Zone2 speakers.
MusicCast app: The TRS 700 is equipped with the MusicCast app that allows you to build a wireless surround sound setup. The app also allows you to stream music in one or more rooms from any MusicCast enabled device using Bluetooth or inbuilt Wi-Fi. The multi-room audio system provides a quick solution in circumstances that makes it hard to run a wired system.
Ultra-modern video processing: The Yamaha TSR 700 is made to accommodate modern video technologies. All its HDMI inputs are compatible with both 4K and 8k video content. This will let you expand your entertainment possibilities and enjoy Ultra HD content without compromising your visual signals.
Furthermore, Yamaha TSR 700 speaker setup incorporates a Compressed Music Enhancer to restore compressed music files to their original formats.
Hands-free operation: The Yamaha TSR 700 offers a voice control operation to ensure that the system is at your command without using a remote. The unit works with Amazon Alexa, Siri, and Google Assistant to make your entertainment experience more convenient and lively.
Pros
It offers a range of settings to customize the sound to your liking
Simple app control
Clear dialogues for movies
Flawless wireless connections
Features remote control for fast and easy setup
The receiver includes advanced features for gaming
Cons
An extra device may be needed to execute some voice commands
It may not be an ideal choice for budget-conscious users
Check Latest Price
Yamaha RX V6A 7.2-Channel AV Receiver Review
Yamaha RX V6A is a premium home theater receiver. The receiver is easy to control, and it is equipped with advanced features to fill your house with clear and detailed sound. And with a 100W output per channel, you can expect a decent performance from the RX V6A, without burdening you with complex controls.
Features
Wireless MusicCast control: This receiver allows you to build multi-room audio systems without spending a fortune. Thanks to Yamaha's proprietary MusicCast technology, you can set up your speakers in different rooms and stream audio wirelessly. Besides, you can connect all the seven channels with MusicCast compatible devices via Bluetooth or Wi-Fi.
Acoustic Optimizer: This Yamaha RX series receiver is equipped with Yamaha Parametric Room Acoustic Optimizer (YPAO), which is calibrates the speakers automatically. The optimizer uses an inbuilt microphone to adjust the channels settings, such as volume, to match your room layout.
The primary goal is to make the speaker sound their best regardless of room acoustics. And as if that is not enough, optimizing your speakers is quite swift, so you'll get to enjoy detailed and crisp sound within the snap of a finger.
AV setup guide: One thing that you'll really love with this Yamaha receiver is its simplified setup. The receive setup guide app walks you through the setup process, including connecting channels and configuring settings. What's more, you can use the MusicCast app to initiate music playback with very little effort.
Music enhancer: Similar to TSR 700, the RX V6A comes with a Compressed Music Enhancer to enhance the quality of compressed music files. The enhancer helps to make the music fuller during playback while ensuring that the quality of your files is close to the original format as possible. Better yet, we liked the fact that you can play at the loudest volume level without experiencing those ear-splitting sounds.
Enhanced video technologies: This unit offers up to seven HDMI units, and all of them support 4K/60Hz video to provide a true-to-life viewing experience. The receiver is also 8K/60Hz ready which ensures compatibility with high-quality video sources. Other supported video signals include HDR HDR10 and HDR10+. Typically, these features are available in high-end units, but you can also enjoy them in this receiver.
Pros
Multi-purpose use
Enhanced voice control using Google Assistant, Siri, and Alexa
Sleek design that compliments the flawless performance
Convenient YPAO setup
Includes Zone2 channel jacks
Cons
The plastic panel looks fragile
The need for an extra amplifier for Zone2 speakers
Check Latest Price
Yamaha TSR 700 vs RX V6A—Which is the best buy?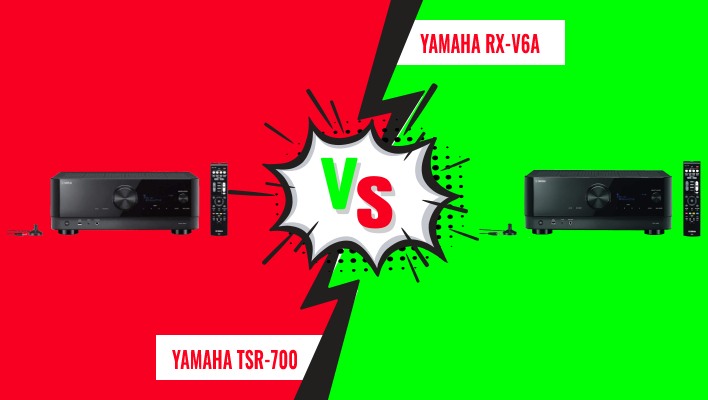 You can always rely on Yamaha to deliver solid and functional build, and these Yamaha receivers are excellent proof of that. The Yamaha TSR 700 and RX V6A have many similar features, and their sound quality is also almost identical. However, Yamaha TSR 700 carries some extra features that make it win more points in terms of sound quality and vast connection possibilities.
On the other hand, the RX V6A attractive price makes it the first choice for most users on a budget. At an affordable price, the RX V6A offers features native to high-end models. And much like the TSR 700, the RX V6A features state-of-art wireless streaming options to make your home theater experience a unique one.
So, which is the perfect one for your system?
Over to you!