If you are in the market looking to build your home theater system, you have the option of getting some bookshelf speakers or a soundbar. These are both viable and excellent options. So, how do you decide whether to go with a bookshelf speaker or a soundbar?
Bookshelf speakers are small compact speakers that you can place on top of surfaces such as a table, shelf, or any other raised flat surface. They are small and compact but still produce excellent-quality sound. Compared to a soundbar, bookshelf speakers produce finer quality audio without distortion, especially if you use them with a subwoofer and a center channel speaker.
On the other hand, soundbars are rectangular or bar-shaped audio devices used with a TV set to transmit audio sound. Soundbars are compact, self-contained speakers that sit directly on top or below your TV. They come in various shapes and sizes, but they're all designed to work alongside your existing television and bring the sound right to you.
Making the right choice between good quality bookshelf speakers and a soundbar can be daunting for someone who has not used them before. This article discusses their strengths, weakness, and their differences. Hopefully, by the end, you will be able to go out and buy the one most suited to your needs.
Bookshelf Speakers Overview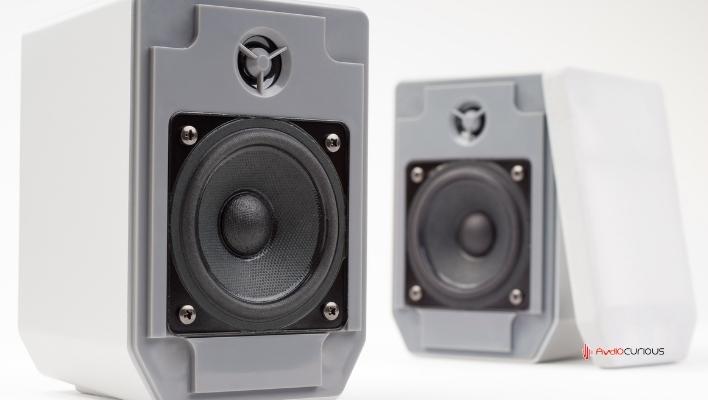 Bookshelf speakers are small speakers that you can place on a bookshelf or a desk. They are small, compact, and generally attractive. They can also be mounted on stands with adjustable legs.
These speakers are ideal for people who want great sound without spending a lot of money on them since they are very affordable. These speakers are often used in smaller rooms and homes without dedicated listening spaces.
Additionally, bookshelf speakers come in all shapes and sizes and can be used for various purposes, such as listening to music, watching movies, and playing games. A bookshelf speaker is the perfect solution if you like to listen to music but don't want any clutter around your house.
Features of Bookshelf Speakers
Some of the essential features of a pair of this type of speaker are:
1. Size
If you want something compact, portable, and small enough to fit on a shelf or in a bookcase, then bookshelf speakers are it. Their compact size ensures that your living room or office stays organized without compromising of the much needed vibe when listening to your favorite music.
2. Sound quality
Bookshelf speakers produce a clear and detailed sound that can fill any room with music or other audio content without distortion.
Some bookshelf speakers have subwoofers built into them. These produce deep bass frequencies without overwhelming everything else going on in the room. So, if you are wondering, are bookshelf speakers good for tv, the answer is a resounding yes.
3. Affordable
These compact speakers also tend to be very affordable. So, if you're looking for a bargain on your next purchase, these are probably going to be your best bet.
4. Dolby Atmos features
With Dolby Atmos surround sound, you'll get an immersive experience that immerses you in the action on the big screen, eliminating that solitary listening spot in your room. Dolby Atmos technology uses overhead speakers to create a 360-degree surround sound experience.
This includes overhead sound effects such as rain, wind, and other sounds that would normally be hard to hear if you're watching a movie or listening to music with traditional stereo speakers.
5. They're also easy to set up and can be connected directly to a powered subwoofer (if you have one).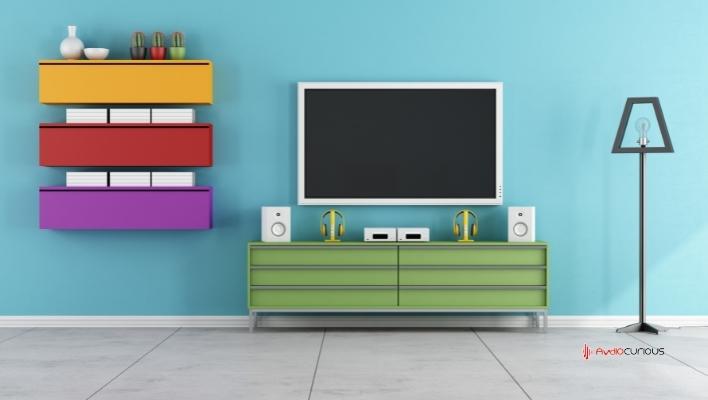 Pros
The sound quality is fantastic.
They are very affordable.
They are more compact than soundbars and are portable.
They have an attractive design and a wide range to choose from.
Cons
Bookshelf speakers don't produce enough low frequencies and would require a subwoofer to produce bass.
Soundbars Overview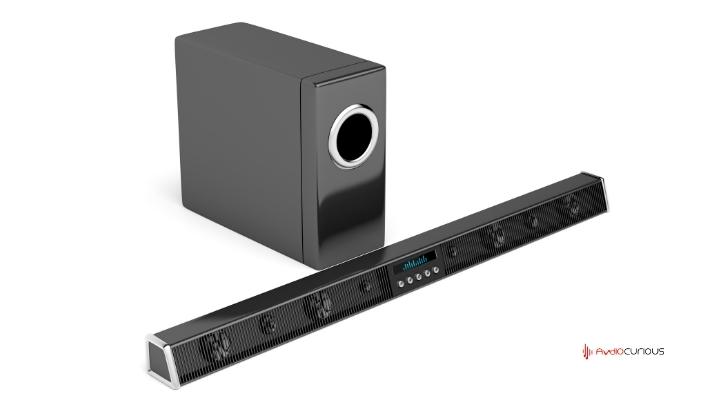 Soundbars are a type of home theater system that brings the surround sound experience to your television. Soundbars are designed to be much smaller than traditional home theater systems, so you can place them in your living room or entertainment center. They also tend to have fewer speakers than full-size systems, which means they don't produce as much volume.
Soundbars connect to your TV using an optical cable or, most often an HDMI connection. The base unit then connects to your TV's power supply and audio output, providing power for the subwoofer and amplifying the output from the receiver.
In addition, many soundbars also feature Bluetooth connectivity for wireless streaming from your smartphone or tablet device.
Features of Soundbars
There are a few basic features that all soundbars have in common.
1. Powerful bass response
Most soundbars are designed to produce a powerful bass response. This means you can use them to create a more immersive listening experience and feel like you're really at the concert or the sporting event you're watching.
2. Wireless subwoofer
A wireless subwoofer feature allows you to place your subwoofer anywhere in your home, so it doesn't take up valuable space on your TV stand or furniture.
3. Bluetooth connectivity
Soundbars that use Bluetooth technology allow you to stream music directly into the soundbar from your phone or other Bluetooth-enabled devices. Thus, you don't have to use an additional speaker system or cable connection.
4. Built-in speakers
Some soundbars come with built-in speakers and amp, so you can enjoy music without needing an additional speaker system or amp. If you are not a big fan of listening to music on the TV, this is a great option.
Pros
Sound quality is much better than your TV speakers.
The soundbar can be placed anywhere in the room, not just behind your TV.
You can easily connect an optical cable to the soundbar for better quality.
The main speaker drivers on a soundbar are smaller than those on a TV, so you'll get a better bass response and less distortion at high volumes than you would with a TV's integrated speakers.
They are favorable for small rooms.
Cons:
The biggest downside to soundbars is that they can be expensive. You'll need to spend more money than you would on speakers or a home theater receiver if you want a complete home audio solution with a soundbar system.
They are not ideal if you have big rooms since they won't give you an immersive audio experience.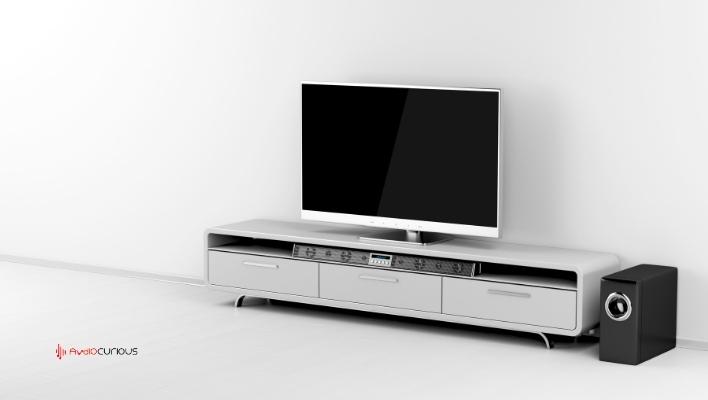 Differences Between Bookshelf Speaker vs Soundbar
If you are asking yourself questions such as are bookshelf speakers better than a soundbar. The main differences between bookshelf speakers vs soundbars include the following:
1. Size
Soundbars are usually bigger than bookshelf speakers because they have extra features such as built-in subwoofers or amplifiers for better sound quality. If you want something compact for storing away when not in use, then go for a bookshelf speaker instead, since they are more compact compared to soundbars.
2. Sound Quality
Sound quality is the main advantage of a soundbar over a pair of bookshelf speakers. Soundbars typically have better drivers and more powerful amplifiers than bookshelf speakers, resulting in a more lifelike audio experience.
You can also experience this when listening to music on your computer via Bluetooth or wireless streaming.
3. Connectivity
Soundbars may have fewer ports than their counterparts do. Still, those that exist are usually high-quality connectors that will not cause any issues when connecting them to your TV or source device (computer).
A soundbar also has the ability to connect directly to your TV via HDMI or optical cable; however, this does not work with all TVs.
4. Portability
If your TV has a good Bluetooth connection and an auxiliary input (or even an optical audio cable), you can connect your soundbar directly to it. In this case, there will be no need for an external power source, and you will be able to store it away when not in use. In this respect, soundbars are preferable.
5. Price range
It is typically much cheaper to buy a pair of bookshelf speakers than it is to buy a Soundbar with comparable features and quality.
6. Speaker system
Another difference between a bookshelf speaker and a soundbar is the size of the drivers. Bookshelf speakers have larger drivers capable of producing high sound volumes, but they also tend to be much more expensive depending on the speaker size.
Soundbar speakers have smaller drivers that are better at producing low frequencies like bass and mid-range sounds, but they can't produce as much high-frequency sound as bookshelf speakers.
Final Word
So, what is the final verdict on the soundbar vs bookshelf speaker debate? It depends. For some, bookshelf speakers make all the sense in the world; for others, a soundbar is a much better choice.
Ultimately, the decision to go with a bookshelf speaker or a soundbar is based on personal preference and the needs of the situation.
Soundbars are more portable and, arguably, easier to set up. Thus, they may be better suited for some people.
On the other hand, bookshelf and in-wall speakers may be better if you have a lot of space to fill or plan on mounting your surround sound system in a permanent position. Such a setup won't change as often as a soundbar setup will.
In any case, we hope you enjoyed this overview of bookshelf speakers vs soundbars and are now confident to make your future purchase.