Listening preference is a highly subjective matter. However, we believe that it is safe to say that good sound largely depends on doing the correct setup than just buying great equipment. If you're not up to date with the latest in the world of home theater systems, then you may have been missing a lot.
Most audiophiles spend countless hours tweaking their setups in search of the best sound quality. Fortunately, setting up a home theater system has been made easier by room correction technologies, which help to reconstruct your sound system for an excellent audio experience.
If you are looking to build a high-performance home theater system, you may have noticed that each brand has its own unique calibration system or some sort of automatic speaker setup system. For instance, Denon uses Audyssey, whereas Yamaha employs the YPAO speaker calibration system.
Of course, both technologies have their own set of benefits when it comes to delivering perfect sound in your entertainment room. Without further ado, let's take a closer look at these room correction techniques.
Audyssey vs YPAO Overview
Room calibration technologies help correct room acoustics by adjusting the bass and other settings to suit the perceived sound. Typically, the goal of room calibration is to minimize any room anomalies and errors to an acceptable level. The result of this is an incredible home theater setup that will take your movie night experience to the next level.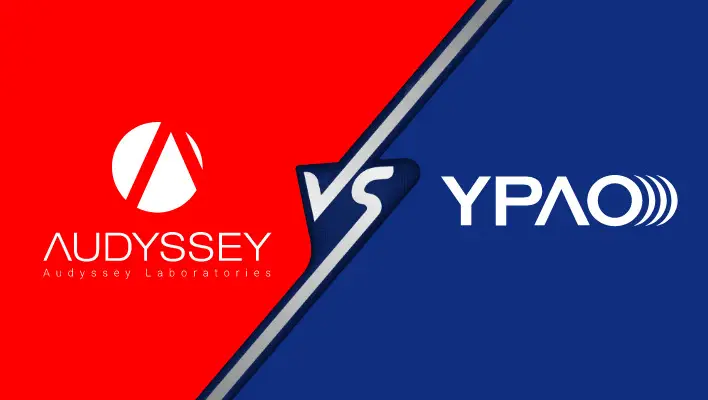 Audyssey and YPAO require you to use special calibration software and a microphone to optimize sound throughout the room. So instead of experiencing flat tones or muffled conversations, these technologies automatically adjust the equalization settings of your home theater with a special focus on room acoustics.
What is YPAO?
The YPAO is a Yamaha proprietary calibration technique engineered to automatically adjust the settings of Yamaha AV receivers. The system uses designated measuring points in your home theater room to balance the sound and create a perfect sound experience.
In short, this technology controls how soft or loud your receiver needs to be, depending on your room's specifications. Ideally, the calibration systems will adjust the lows, mids, and highs, thus allowing you to achieve the desired audio signal in your home theater setup. For instance, the calibration system can help alter the mid frequencies to spice up dialogue or clarify vocals.
YPAO performs the calibration process via a microphone, often placed on a raised surface, preferably on a stand and near the sitting position. The purpose of the microphone is to send audio signals to the calibrating software, which then helps to cancel out any imperfections.
The result of using this room correction system is a deeper and wider soundstage and a more natural center voice that is spread throughout the room.
Audyssey Overview
As we had earlier mentioned, Audyssey helps to correct the specifications of your home theater room in order to deliver theater-quality sound. Irrespective of the volume level of your speakers, Audyssey is able to adjust the audio to conform to your space and room specifications.
When this happens, the listeners will immediately be able to tell the difference in sound quality, which can be compared to that of cinema theaters. It also allows you to enjoy deep tones at any volume level while allowing all sounds to reach your ears at the same exact time.
Once you have your speakers and receiver in place, you only need to activate the Audyssey software to get started with the calibration process. Just like YPAO, the setup will include a microphone that examines the tones and characteristics of each speaker.
Ideally, the microphone receives audio signals from different equalization points. Audyssey then helps to automatically adjust the sound reproduced by each component in the home theater system. It also adjusts the timing of all sounds and equalization levels to suit the room's acoustics.
Audyssey is a game-changer for anyone looking to achieve the best room correction for their sound system. The best part about Audyssey is that it is a standard system that can be operated by a novice user. However, you may still need professional intervention to help with the initial setup.
YPAO vs Audyssey—Our Take!
Apart from investing in powerful gear, ensure that you don't skip on speaker calibration as it may be what might disappoint or impress you the most. Before you embark on the process of fine-tuning your home theater system you may want to take a closer look at available calibration techniques to gain more insight.
Both YPAO and Audyssey are designed to take account of your room's acoustics and enhance the overall sound quality as perceived by the listener's ears. While there are other readily available room correction technologies in the market, YPAO and Audyssey provide great features to take your entertainment system to the next level.
When used appropriately, these technologies allow you to put your home theater system to greater use by optimizing the performance of each component in the sound system. However, it is critical to first understand what both systems entail and what they do so you can adopt one that bests suits your space and your specific listening needs.
That said getting a home theater receiver with room calibration capabilities is going to be worth investing in. While some may prefer going with a standard receiver, incorporating YPAO or Audyssey will put you right in the middle of the new era of audio technology.
Generally, when choosing between Denon Audyssey vs Yamaha YPAO, you may want to consider the impact each will have on your overall listening experience. If you are intending to buy a Yamaha receiver and looking for a way to balance sound around the room, then you're going to benefit more from the YPAO calibration system. Conversely, Audyssey is the way to go if you're using a Denon receiver.