Wireless multi-room audio platforms are now within the reach of many, and they have opened sound systems to limitless entertainment options. Thanks to multi-room audio technologies, you no longer need to drill holes through walls or trail wires to distribute music around your home. They are especially convenient for those looking to expand the reach of the music throughout their home without having to move their traditional home theater setup.
For starters, multi-room audio entails incorporating more wireless speakers/components into a new or existing music system. The speakers are then controlled via a central app, often installed on smartphones, PC, or tablets.
Brands such as Yamaha and Denon have excelled in the multi-room scene, but they face stiff competition from the raising tech giants. In today's discussion, we'll take Yamaha MusicCast vs Denon HEOS head to head and see what each platform has in store for you.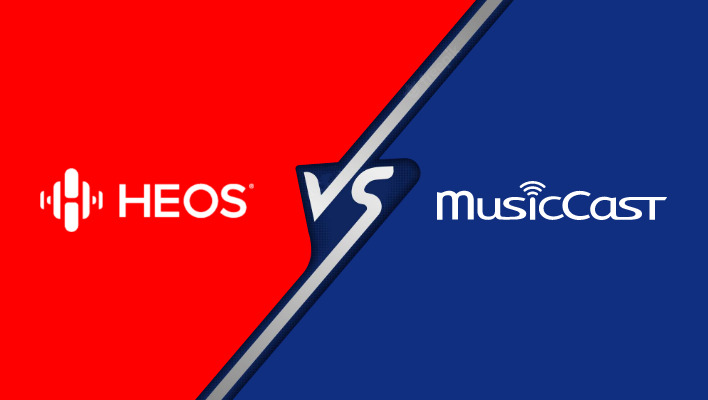 HEOS vs MusicCast Explained
It is worth noting that both multi-room systems use Bluetooth and the home's Wi-Fi network to connect and communicate with other components. This implies that their success is reliant on the strength and stability of the existing network, which will also have an impact on the network bandwidth. In both cases, you'll require to download and install a dedicated app that you can use to control and connect your speakers.
HEOS Overview
HEOS, a short form of Home Entertainment Operating System, is a smart multi-room audio technology inherent in nearly all Denon and Marantz products. The system works over inbuilt Bluetooth or an existing home network to access audio files from the connected devices.
HEOS is built into AV receivers, soundbars, speakers, and Hi-Fi equipment to provide a custom integration. The best thing about the HEOS application is that it is back-compatible with all Denon products and devices.
HEOS Highlights
Multi-room system
Once installed, HEOS allows the user to experience true multi-room audio using HEOS compatible devices no matter where you are. The HEOS application provides the platform to stream music directly to the enabled devices, allowing the operator to expand music throughout the home. It also allows you to play the same song in all rooms or a different playlist for each room.
Utilizes existing home network
Like other multi-room systems, the HEOS system is operated over the existing home Wi-Fi network. Bluetooth operation is also available, but Wi-Fi is by far the best streaming option since it offers better music quality than files streamed using Bluetooth. Furthermore, Wi-Fi accommodates uncompressed and digital file formats such as MP3, Apple Lossless, DSD, AAC, MWA, and more.
Accommodates multiple music streaming options
The support for multiple music services is perhaps the biggest reason why the HEOS application is one of the best multi-room technologies. With the HEOS app, you can stream music from just about any source, including Amazon Music, Pandora, TIDAL, Spotify, and many others. Other than music streaming, HEOS allows users to access and play music files stored in different medial servers.
Supports both stereo and surround sound
HEOS is suitable for stereo and surround sound setups alike. Provided that you have a compatible home theater receiver and speakers from the same brand, you should be able to transmit signals from the receiver to other connected devices. What's more HEOS is designed to decode Dolby Atmos and DTS surround sound signals which are then sent to compatible speakers.
Compatibility with Amazon Alexa
Once you've established the connection, HEOS provides the option of accessing and controlling compatible devices via Amazon Alexa. Additionally, you can use the HEOS app to control multiple functions on select Alexa-enabled devices, including home theater receivers, soundbars, and Alexa-enabled wireless speakers.
Downsides of HEOS
Not the most advanced system compared to the likes of Sonos or Chromecast, but it gets the job done
MusicCast Overview
Yamaha launched MusicCast a while back, and it has since proven to be one of the coolest technologies that the company formulated in years. Since its debut, there has been a significant change in the multi-room connectivity as well as the wireless space. To challenge other systems, Yamaha has revamped the MusicCast concept with a particular interest in wireless capability.
MusicCast Highlights
Wireless control
The core feature of MusicCast is its wireless operation. Using Bluetooth or Wi-Fi, you can connect receivers, soundbars, stereo receivers, audiophile-grade monitors, and wireless speakers into one network. The technology also lets you send or receive files from compatible devices and virtually any audio source using your smartphone.
Works with voice control
MusicCast is designed to work with voice recognition systems to control a variety of different things from enabled devices. You can use the MusicCast app to access AirPlay, Spotify, Pandora, and SiriusXM to integrate voice control into your Hi-Fi system. MusicCast also supports Amazon Alexa meaning you can integrate Alexa-enabled devices, including Amazon Echo, Amazon Tap, and Echo Dot to your system.
Supports hi-res audio
MusicCast is compatible with hi-res audio playback to provide the users with the best possible digital music experience possible. The best part yet, MusicCast converts audio signals from the original format down to 48 kHz, which is fairly the same level as CD quality. Furthermore, it is compatible with DLNA-enabled devices, meaning you can access and decode files from such devices.
Compatibility
To widen compatibility with different devices, Yamaha has introduced firmware updates to work with virtually any source. This receiver-based hardware is controlled and played via a smartphone app to control the receiver, turntables, DVD/Blu-ray players, and more. However, it is important to note that the MusicCast app is different and independent from the Yamaha AV controller app.
Downsides of MusicCast
MusicCast is a closed system meaning it only works with Yamaha compatible devices. The good thing is there several wireless multi-room systems that you can use with your system, including HEOS, Sonos, Play-Fi, among others.
It is not compatible with older versions of Yamaha products
MusicCast vs HEOS
Wireless multi-room technologies are becoming the new norm, and they present a good opportunity to expand the entertainment options around the home. Both MusicCast and HEOS are flexible options, and they are often a default choice for anyone looking to build a superior multi-room audio. Their settings are pretty similar, and their plethora of features is quite impressive, although HEOS is generally considered easier to use.
As a rule of thumb, if you own a Denon home theater receiver or soundbar, HEOS will be the most viable solution, and the opposite is true for Yamaha products. While HEOS is back-compatible with older Denon versions, MusicCast cannot support devices made before its debut. Overall, both platforms are designed to offer the best multi-room experience while making the system sound more robust.