If you're looking to enjoy a movie theater experience at home, you'll need to invest in a high-quality AV receiver. However, choosing a brand that will truly satisfy you and provide the best value for your buck is not always an easy task.
Some of the top AV brands include Integra and Onkyo. Each brand has its perks and downsides, but you might be interested to know the differences between Integra vs Onkyo receivers. If you're looking for a brand that's a perfect match for your home theater, you'll need to take into account several benefits and qualities that come with receivers from each brand.
Generally, both Integra and Onkyo receivers deliver incredible sound quality and a wealth of features. However, Integra is generally more expensive, but the receivers have a solid build and do not require a lot of introduction.
On the other hand, Onkyo costs a bit less, but the receivers come with an exceptional number of channels and sufficient inputs. Their receivers, just like other Onkyo products, provide a perfect combination of quality, durability, versatility, and affordability.
Today we're going to discuss some of the most notable differences and similarities between these brands. We will also point out some of the benefits you'll get when choosing one manufacturer over the other. Now, off we go!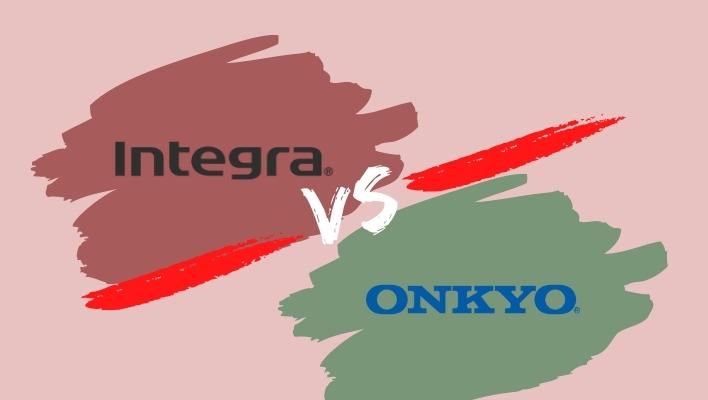 Onkyo vs Integra Compared
Onkyo is a Japan-based manufacturer known for its premium home audio and cinema equipment, including portable speakers, home theater speakers, and AV receivers. The company manufactures some of the best receivers with a wide range of features and benefits. The receivers deliver crisp audio and great visuals for your home entertainment system.
On the flip side, Integra started as a subsidiary of the Onkyo company, but it has since become a standalone brand with a range of audio products. However, the company has maintained Onkyo's prowess in making products that combine premium components as well as the latest technologies.
Furthermore, Integra receivers are more efficient than the competition, plus their high-end features set them apart from the crowd. Apart from receivers, Integra specializes in a range of home theater-related equipment, including DVD and CD players, Blu-ray players, among others.
Integra Top Models
Model
Key Highlights
Integra DRX 7.3
–9.2 channels(135 W per channel)
-Object-based sound thanks to Dolby Atmos and DTS Neural :X
-FM/AM Preset Memory: 40 Stations
-Supports Sonos
Integra DRX 2.4
One of the bestselling 7.2 budget receiver
-Dolby Atmos Height Virtualization feature is available
-80 watts/ channel (8 ohms, 20 Hz–20 kHz)
-Offers Dirac Live Room Correction technologyIntegra DRX 5.4-9.2 channel receiver(120 W/ channel)
-Compatible with 7.2.2/ 5.2.4 Dolby Atmos/DTS: X setups
-Acoustic room calibration via Dirac Live Room Correction
-Up to 40 FM and AM radio presets
Onkyo Top Models
Model
Key Highlights
Onkyo TX-NR696
-7.2 channel receiver (100 W per channel, 8 Ohms, 20 Hz–20 kHz)
-Works with both Sonos and Chromecast
-This SMART receiver excels in every area
-Plenty of streaming options
Onkyo TX-NR7100
-9.2 channel receiver for surround sound setups
-Enhanced surround sound thanks to Dolby Atmos Height Virtualization feature
-Inbuilt Dirac Live Room Correction technology
-IMAX Enhanced
Onkyo TX-NR6100
-State-of-art 7.2 receiver(100 W per channel,8 ohms,20 Hz–20 kHz)
-3D audio with THX Certified
-Improved gaming experience
-Supports HDMI 2.1 with 8K resolution
With that in mind, let's now explore both brands in detail, including their greatest strengths and weak points. Some of the areas of concern include the build quality, sound formats, number of channels and inputs supported, streaming options, wired/wireless connection, and Wi-Fi support. Each of these aspects is incredibly critical when choosing the best brand for your home theater setup.
i. Build quality
When it comes to the build quality of AV receivers, you may want to consider factors like basic exterior features, availability of adjustable features, the layout of control elements, and more. Before you invest your money and time in buying an AV receiver, you may want to choose one that offers a high-quality build for improved longevity.
Generally, Integra is a perfect choice for audiophiles looking for audio equipment that is not only beautiful but also powerful. In addition, Integra receivers come in a minimalistic design that is easy to incorporate into any home theater room. This is incredibly important!
Like Integra, Onkyo receivers are known to have a great build quality, plus they look quite elegant. More often than not, the receivers fit seamlessly into contemporary home theater rooms without interfering with the existing living room design.
Choosing your AV receiver from any Onkyo product line is a sure way to ensure great build quality, flexible setup, and more. The brand is also popular for its flexibility but if you're not a fan of Onkyo products you can still go with Integra.
ii. Sound formats
Supported sound decoding formats play a critical role in your overall home theater experience. Considering that different receivers come with varying audio/video formats, you may want to factor this to ensure that you get exactly what you're looking for.
Among the supported sound technologies by both brands include Dolby Atmos and DTS. The two are digital sound codecs that offer a three-dimensional resulting in an immersive sound hovering around and above you.
Furthermore, the included Dolby Atmos Height Virtualization feature lets you use height speakers to simulate an impression of the overhead sound effects. So, if this specification is among your list of needs and desires for an AV receiver, we can assure that both brands will have something for you.
iii. Number of channels
Apart from sound formats, you may also want to consider the number of channels that are compatible with your receiver. Ideally, the more channels a receiver has, the wider the soundstage and the higher the probability of reproducing advanced audio quality. The number of channels also dictates the ability of the speakers to accurately perceive and recreate the soundstage.
So, basically, when looking to buy a new AVR for your home theater, you'll need to pay attention to the number of channels you need to power, but this will also depend on your prospect budget. We are delighted to note that both brands produce a wide range of receivers with a varying number of channels, including five channel receivers, seven channel receivers, nine channel receivers, and so on.
iv. Input options
The number of inputs available is yet another area that should be of interest to you. As a rule of thumb, the number of components you need to build your home theater system are going to determine the number of inputs you need in a receiver.
For instance, if you only need to use not more than two components at a time, then a receiver with up to two inputs will be sufficient. However, if you need to plug multiple devices simultaneously, getting a device with more inputs would be a wise decision.
The good thing is that most Integra and Onkyo receivers are flexible when it comes to input options, so you can go with either brand. However, your choice is going to vary depending on the specific needs of your home theater setup.
v. Streaming options
Unless you're using an old and outdated model, it is not uncommon to find that most receivers from both brands offering support for various music streaming services. Some of the compatible media streaming services include Pandora, Spotify, among other online music sources.
Considering that both brands are compatible with a number of streaming services, then you don't have to do a lot of comparison on this aspect. As such, you can rely on any equivalent model from either brand, especially when hosting family members and friends for a movie night.
vii. Wired/wireless connectivity
Choosing between a wired or wireless receiver often comes down to the complexity of the setup and your personal preferences. For instance, if you are planning to build a neat home theater system without the added hassle of having to deal with wire clutter, then you'll need to choose a wireless AV receiver.
On the contrary, if you don't mind running wires through the walls and prefer the stable connection provided by wires, then you'll need to go with a wired setup. The best thing is that these two brands sports both wired and wireless to ensure that there is always something for everyone.
Final Take!
Both Onkyo and Integra are two brands that are worth considering for anyone looking to buy a new AV receiver. Both companies manufacture a wide range of products for different needs and budgets, although Integra tends to be slightly expensive.
What we like most about these brands is the fact that they integrate modern technologies for the best possible home theater and theatrical experience. In addition, the receivers are equipped with multiple connectivity options while allowing you to use your most preferred method to stream your music.
Perhaps the only main difference between the two brands has got to do with the sound quality. For instance, Onkyo tends to offer a strong and perfectly balanced sound with a dynamic bass presence. And while sound quality may not be the best out there, Onkyo receivers are one of the best choices for an exciting movie night.
The best part about Onkyo is that it has something for everyone. Furthermore, they offer great budget-friendly units for those looking for decent home theater experience without having to spend a fortune. Onkyo also offers a line-up of high-end units for audiophiles who expect nothing but tons of features and flawless sound quality.
Integra, on the other hand, boasts a mellow, all-round sound perfectly designed to fill large spaces with great sound. The receivers are a perfect definition of an immersive home theater experience, not forgetting their comparably stylish and sleek design. Like Onkyo, Integra offers a collection of budget units, plenty of mid-range products as well as audiophile-grade units, which can be regarded as top-quality receivers.
There you go! That concludes our Integra vs Onkyo comparison. We hope this review has helped you choose a receiver brand that best suits your music taste.