The whole idea behind a good AV receiver is to make your overall home theater as interesting as possible. For an audiophile, there is nothing better than immersive surround sound for TV and movies. Ideally, the receiver acts as the centerpiece and controller for all your audio system components.
If you are looking for a relatively immersive listening experience, a receiver with at least seven channels is a good place to start. The more the channels the receiver has, the more the output. So, if you have the space and the budget, we recommend you go for one with more channels for a better and more immersive surround sound experience.
9.2 AV receivers are ideal for larger rooms, and they are designed to give you more than just surround sound. A 9.2 configuration consists of a center channel speaker, the left and right speaker, two surround speakers, two rear speakers, two ceiling or upward-firing speakers, and two subwoofers. This kind of receiver creates a room for more features, which lets you enjoy a theater-like performance at home.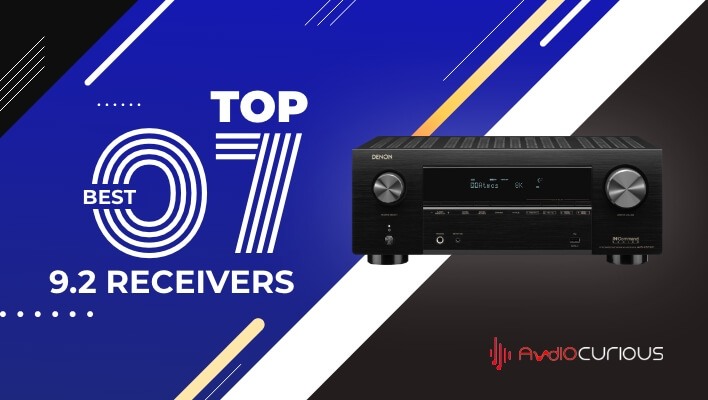 With so many AV receivers available out there, it can get challenging when choosing the best 9.2 receiver for your home theater. This review article will walk you through seven different models with different capabilities to help you pick the right receiver for you. We have also included a buying guide with crucial information that you need to consider when choosing a 9.2 receiver for your needs and budget.
Comparison for Top Ranking 9.2 AV Receivers
1. Denon AVR-X3700H—Our top pick
If you are looking for a home theater receiver that will stand taller in terms of flexibility and performance, the AVR-X3700H from Denon is one for you. It provides an amazing 3D surround sound to take your home theater experience to a new level. Besides, the receiver is easy to operate, and it comes with an on-screen setup assistant with simple and clear instructions on how to set up and tune your receiver for a stellar performance.
Notable features
Up to 9-channels of entertainment: The AVR-X3700H offers up to nine amplification channels to deliver a powerful movie theater experience at home. Each channel is rated at 105W output power, which means this receiver will handle anything that is thrown at it. The receiver offers the flexibility to build different home theater configurations depending on your room layout.
It offers you the option of a standard 5.1.4 surround sound configuration or a 7.1.2 Dolby Atmos system to let you enjoy captivating and immersive audio.
3D audio-enabled: Denon has included several technologies that help deliver exciting 3D audio for movies, music, and video games. The added Dolby Atmos Height Virtualization technology allows you to enjoy immersive audio without the need for height channels found in a typical 7.1 or 5.1 home theater arrangement. The included DTS:X and DTS Virtual:X technologies also help to create 3D sound effects.
Inbuilt HEOS: Like other Denon receivers, the AVR-X3700H comes with the HEOS app that lets you stream your music from any room using Bluetooth, Airplay 2, or your existing Wi-Fi network. It also allows you to stream Hi-Fi music from Pandora, Amazon, music, TIDAL, Spotify, and more. In addition, it supports a wide range of digital music file formats, including MP3, FLAC, DSD, and WMA.
8K ready: The dedicated 8K input is designed to support up to 8K/60Hz pass-through to let you enjoy movies with outstanding picture quality. What's more, it offers advanced HDMI specifications that make it easy to replicate the movie theater experience at home. The unit uses HDCP 2.3 to provide the highest quality video regardless of your application needs.
What we like
Superior surround sound quality
It is ideal for both digital and analog audio sources
IMAX Enhanced – it let you play music from IMAX compatible devices
Dolby Atmos surround option
It lets you build a custom speaker configuration that will meet your specific entertainment needs
Intuitive, on-screen setup assistant
What we don't like
It does not accommodate pass-through from 4K/120Hz audio sources
Our take
Whether you are building a new sound system from scratch or replacing your outdated system that has been in use for years, the Denon AVR-X3700H is assured to deliver. The nine-channel receiver is packed with everything you need for the ultimate home theater experience.
Check Latest Price
2. Marantz SR6015
Marantz has a reputation for producing high-performance audio products as demonstrated in this SR series receiver. The receiver offers a cinematic experience and brilliant sound quality for both analog and digital files. It also uses HEOS which was collectively developed by Marantz and Denon to offer connectivity with HEOS enabled devices throughout your house.
Let's take a closer look at the features;
High-performance amplifiers: Each channel delivers up to 110W ((8 Ohm, 20Hz-20 kHz) to provide a high-definition sound quality for your sound preferences. With this power capability, the receiver is able to provide stable and balanced performance with a wide range of speakers.
8K and 4K video quality: The Marantz SR6015 features the latest HDMI technology on all its 7 HDMI ports. It supports 4K/120Hz, which can be upgraded to 8K/60Hz to let you enjoy the best quality videos from any 8K-enabled device. Besides, the main HDMI port supports eARC (Enhanced Audio Return Channel), which allows you receive high-quality audio directly from the TV to your receiver.
Exquisite video technologies: The SR6015 is compatible with the latest HDR formats, such as HLGHDR10, HDR10+, Dolby Vision, and Dynamic HDR. These video formats not only provide great picture quality but also exceptional brightness and clarity without sacrificing Marantz's superb sound. The receiver also offers seamless voice control from Google Voice Assistant, Alexa, and other top-ranking voice agents.
Advanced inbuilt technologies: Marantz has also incorporated several processing technologies to let you experience multi-dimensional and total immersive audio. They include DTS:X, IMAX as well as DTS Virtual:X. The receiver is also made to be one of the best 9.2 Dolby Atmos receivers, which lets you repurpose two Atmos elevated speakers to achieve a multi-directional sound effect with movies and more.
What we like
Superior build quality
It accommodates HDMI 8K / dual 4K
Wireless operation
Excellent sound and video quality that exceeds your home theater needs
East setup using build-in AV and speaker setup guide
What we don't like
It lacks Sonos connectivity, but HEOS should serve you well
It is pricy, but if you demand quality, you'll get what you pay for
Our take
If you're after a receiver that works great for both music and movies, then the Marantz SR6015 should be on your list. Marantz SR series is designed for Hi-Fi audio, so you can be sure that the SR6015 will deliver.
Check Latest Price
3. Onkyo TX-NR797—Our budget choice
The Onkyo TX-NR797 is a thoughtfully designed AV receiver inside out. It is made using state-of-the-art technologies for a home theater experience that's nothing short of the best. It excels in processing high-quality audio and video signals for music, movies, and TV shows. It offers you the option of building a modest surround sound setup or Dolby Atmos system to allow free movement of sound around the audience.
Onkyo TX-NR797 highlights
Compatible with Sonos: One key benefit of the TX-NR797 is that it can be incorporated into your existing Sonos sound system for entertainment like no other. The system uses inbuilt Wi-Fi to stream music from unlimited streaming services, including Amazon Music, Spotify, and Apple Music. The Sonos app also lets you navigate between inputs or adjust volume from the comfort of your seat.
Chromecast built-in: Besides Sonos, the receiver comes with Chromecast built-in technology to expand your music streaming options. The app lets you stream your music from any Chromecast-enabled device right to your receiver hassle-free. In addition, the app features the Google Assistant to let you play or control your music playback using voice commands.
IMAX Enhanced certification: The TX-NR797 offers IMAX enhanced, so it is made to reproduce full-range sounds with IMAX encoded content. This means that you'll get to experience the highest quality playback exactly the way the artist or filmmaker intended.
THX Certified Select: The Onkyo TX-NR797 comes with THX Select certification, meaning it is made to reproduce high-quality audio and video in any room size. THX Select is also designed to deliver high-quality sound in areas where the viewing listening position is up to 12ft. from the TV or projecting screen. As long as the channels are set correctly, the receiver will reproduce clear sound without overpowering the listening experience.
What we like
The receiver is Dolby Atmos-enabled
With its multi-room capability, you can watch a movie in one room and stream music in another room simultaneously
It offers plenty of options for streaming music
The receiver is also equipped with anti-noise refinements to ensure faithful reproduction of audio and video signals
Crystal clear vocals and movie dialogue
What we don't like
Most users reported that they had issues with Bluetooth connectivity
4K/60p video pass-through only
Our take
The Onkyo TX-NR797 offers you plenty of streaming options for wireless listening throughout the house. It provides advanced features to provide you with a home theater experience that is out of this world.
Check Latest Price
4. Denon AVR-X4700H
Denon often tops the list of the best 9.2 AV receivers, and AVR-X4700H is no exception. The receiver is ideal for use with both floor standing and bookshelf speakers, and it is perfect for building a custom surround sound system. In addition, it is solidly built to ensure it will provide superior audio and video quality for years to come.
Product Highlights
Powerful nine-channel receiver: Denon is known to prioritize quality over anything else, and both the X3700H and X4700H are perfect examples. This model offers nine amplification channels with a whopping 125W per channel (8 ohms, 20Hz-20 kHz). The AVR-X4700H provides enough amount of power to fill your space with a powerful and precise performance every time.
Wireless connectivity: When it comes to connectivity options, the AVR-X4700H offers Wi-Fi, Airplay 2, and Bluetooth to allow you to stream music directly from a wide range of online providers, including Spotify, Pandora, and more. Denon's HEOS system also lets you build a multi-room wireless speaker system without any added hardware. With this setup, you can use wireless surround speakers in different rooms and enjoy Hi-Fi audio throughout your home.
Award-winning voice services: If you're one of those people who like voice control, the AVR-X4700H offers Google Assistant, Amazon Alexa, Apple Siri, and Josh.ai for a hands-free operation. Furthermore, configuring the receiver is simple with included on-screen setup assistant. It offers simple and clear instructions plus, it includes the Audyssey speaker calibration tool to help you tune the unit for a top-notch listening experience.
Excellent quality 3D audio and video: With 4K/120Hz and 8K/60Hz pass-through, the AVR-X4700H is ready to take on any video source. It lets you build the ultimate 4K home theater system, and the best part is that you can convert it to an 8K AV receiver when needed. In addition, it is compatible with some of the latest video technologies including, HDR, HDR10, and HDR10+. It also features Quick Media Switching to minimize video delay as much as possible.
What we like
Enhanced audio and video specs
It includes a MM phono input for hooking up a turntable
Smooth gaming experience
It features a Compressed Audio Restorer to improve the quality of digital music files
Handy remote control
What we don't like
Just like Denon AVR-X3700H, the AVR-X4700H does not accept pass-through from 4K/120Hz audio sources
Our take
The Denon AVR-X4700H offers a comprehensive feature set to deliver some audio and video flexibility. It is a perfect fit for most room layouts, and it lets you enjoy immersive 3D surround sound, even for most demanding applications.
Check Latest Price
5. Marantz SR7013
The SR7013 is yet another Marantz 9.2 AV receiver that lets you enjoy a lively and immersive sound for movies, music, and TV. The selling point of this receiver is that it supports Dolby Atmos signals, so it is your best bet if your system does not have height speakers. The SR7013's nine channels can easily power nine speakers at the same time, plus two subwoofers.
Key highlights of Marantz SR7013
Ultimate movie theater experience: The SR7013 supports plenty of speaker combinations to create a true surround sound system. You can choose to go with the traditional 9.2 or 7.1.2 for a thrilling home theater sound. Alternatively, you can build a Dolby Atmos system (5.1.4) using Atmos elevation speakers. In addition, the unit supports Dolby Atmos height virtualization to simulate height channels.
High-grade components: Just like other Marantz products, the SR7013 is custom-made using superior components to deliver an outstanding listening experience. This includes the company's proprietary HDAM technology to give you superior performance for decades. With this receiver, you can rest assured of deep and immersive surround sound that will capture every detail of your favorite tracks and movies.
Exception visual clarity: The SR7013's video quality is nothing less the best. It supports 4K upscaling with a full pass rate to let you enjoy ultra-clear videos and pictures. Other supported video formats support HDR10, BT.2020, HLG, and Dolby Vision for improved picture brightness and contrast.
Built-in HEOS: The SR7013 offers HEOS connectivity for connecting to compatible devices. It allows you to access different audio sources, including internet radio and a couple of online streaming services. The HEOS app also lets you build a multi-room wireless speaker system and use the app to control the sound in each room independently.
What we like
Crystal clear and clean sound
Exhaustive features
It provides more power than Marantz SR6015
3D sound field
Natural sound, even at high volume levels
What we don't like
It is not compatible with Sonos sound system
Online streaming options might cost extra
Our take
With the SR7013, Marantz raises the bar for what a real home theater should be for less than $2000. In terms of sound quality, the unit is its own league. So if you're building a high-end home theater from scratch, the SR7013 should be the first item on your list.
Check Latest Price
6. Yamaha RXA2080 AVENTAGE—Best high-end
The RXA2080 is one of the best high-end AV receivers from Yamaha's AVENTAGE series. It sports nine channels of amplification with a total power output of 140 watts per channel. In addition, it supports Dolby Atmos sound decoding as well as DTS:X surround sound system for those who intend to simulate height channels without adding physically visible up-firing speakers.
Product highlights
Wireless streaming: Music streaming is achieved using Wi-Fi and Bluetooth, and it supports Apple Music, Spotify, Pandora, TIDAL, and more. And with the zone control, you get the chance to transmit audio and video signals from the main room to another using a HDMI input. You can use it to view or listen to the same content or one that is different from that being played in the main zone.
MusicCast sound system: One unique feature of the Yamaha RXA2080 is Yamaha exclusive MusicCast technology that lets you build a wireless sound system throughout your home. With this technology, you can extend your channel to other rooms without having to drill holes through walls. The MusicCast app also allows to stream music from streaming services while also controlling what's being played in each room independently.
Immersive 3D surround sound: The RXA2080 is built using Yamaha's Cinema DSP technology to add depth and richness to your surround sound. The design also lets you enjoy an immersive 3D sound field while making your movie soundtracks come to life. Besides, it optimizes your sound across various listening zones.
Premium technologies: With the dual 32-bit digital-to-analog converters, this receiver is designed to deliver uncompromised sound at any volume level. The converters are rated for up to 120 dB enabling the unit to reduce resonance and distortion that might arise from vibration. This improves the signal-to-noise ratio for cleaner and professional-grade audio.
What we like
Multiple channel configurations
Bluetooth SCMS T enabled
Realistic and natural sound field
Unlimited music streaming options
It brings Yamaha's durable components to the table
What we don't like
It is quite expensive, but you get value for money
Initial setup and configuring the receiver can be tasking
Our take
The Yamaha RXA2080 AVENTAGE is a clear cut above most cheap AV receivers. It delivers superb details for home theater sound so you can experience cinema-like performance at home.
Check Latest Price
7. Pioneer VSX-LX503
No products found.
Pioneer is a respectable brand for home theater components for multiple reasons. In addition to their superior build quality, their receivers provide a room-filling sound with the highest accuracy possible. The VSX-LX503 is compact, so it will fit smaller spaces, but it is made for a wide and dynamic surround sound. Also, it is compatible with most audio sources from game consoles to turntables, and more.
Most notable features
It is Sonos-enabled: This Pioneer receiver can be integrated into any Sonos compatible home theater system, making it an ideal choice for a whole-house sound system. You can use Sonos Connect to stream music from multiple sources, and the best part is that it is wireless, so you don't have to deal with wire clutter.
With Sonos, you can program your speakers to play the same track in all rooms or a different playlist for each room.
Realistic 3D surround sound: The Pioneer VSX-LX503 can power up to nine speakers simultaneously, including a Dolby Atmos sound system in a 7.2.4 channel configuration. Further, the receiver can be expanded to accommodate up to 11 speakers. It offers a smooth 3D sound movement to precisely place sound or vocals exactly where they belong.
Auto room tuning: The VSX-LX503 uses Pioneer's exclusive MCACC (Multi-Channel Acoustic Calibration) system to tune your receiver for accurate sound reproduction. The system offers phase control to allow you to use the speakers in different zones and a sub EQ for fine-tuning the LFE sounds. It also includes a standing wave control for minimizing unwanted resonance.
Chromecast built-in: With the Chromecast built-in, you can stream audio from any enabled device to the receiver. No matter where you are, you can use the app to stream practically anything and project it on your screen. The receiver also works with Google Assistant to give voice commands through inbuilt apps such as Google Home.
What we like
Balanced sound output across all zones
Great value for money
Friendly design
It is a good budget option
It includes cutting edge technologies
What we don't like
Limited options for digital outputs
Our take
If you're looking for the best 9.2 Atmos receiver that is less expensive but delivers a cinematic performance, then you should check out the VSX-LX503. Its generous power and numerous connections make it a worthy consideration, especially for the price.
No products found.
How to Choose the Best 9.2 Receiver
Investing in a great home theater receiver is one of the first steps of making your favorite movies a great experience. Here are a few tips to help you choose a 9.2 receiver for your taste and budget;
i. Amount of wattage per channel
As a rule of thumb, the total output wattage for your receiver should match the power requirement of the speakers. The size of the room is also going to determine the ideal power for your receiver; the larger the room the higher the amount of wattage. Too little power will often result in clipping, while too much power might damage/ blow your speakers. Always stay within the recommended range to get the loudest and clearest sound with less distortion.
ii. Inputs and outputs
A typical 9.2 AV receiver comes with several connections for audio and video sources. However, most use HDMI inputs to transmit different audio and video signals. They also come with RCA or optical/ coaxial inputs or both to allow you to connect to devices that do not offer HDMI connections. In addition, they provide two preamp outputs for connecting the two powered subwoofers. Some receivers may also offer a phono input, which comes in handy when you need to connect your turntable to the receiver.
iii. Intricate features
As we've mentioned above, 9.2 receivers provide a range of inputs and output to connect to different audio components. However, modern receivers are built with digital music streaming options like Pandora, Spotify to let you expand your music sources.
Most receivers come with inbuilt Wi-Fi and Bluetooth for connecting to any Bluetooth-enabled smartphones, tablets, or laptops. Most high-end receivers support high-resolution audio formats, including DSD, FLAC, and more.
iv. Control features
When it comes to the control options, some AV receivers use a remote control for various operations including keying in settings and switching between sources. However, most use voice control commands to adjust the volume, switch between inputs, control music playback, and even switch the receiver on/off. Other receivers, however, use control apps to make it easy to tweak different settings as well as stream music from different audio sources.
v. Wireless Speaker Placement
Modern receivers come with an inbuilt wireless capability that lets you place them in different rooms and stream music wirelessly. Such technologies include MusicCast and HEOS by Yamaha and Denon, respectively. These technologies can be controlled by various voice commands such as Amazon Alexa to harmonize your entire home audio or select what music to play in each room. You can also use a control app to control all MusicCast and HEOS compatible speakers around the home. Essentially, you can have the nine channels play different music at the same time wirelessly.
Conclusion
There we go. We have made your job easier by doing a thorough research and narrowed down our list to the top seven AV receivers that you can rely on. Each receiver has its own highs as well as down, so you'll need to examine them closely before you choose one that meets your requirements. Generally, the best 9.2 receiver needs to be reliable, reasonably priced, and efficient in delivering a theater-like experience at home. We hope you'll go through our top models in-depth and make an informed decision. While they are all viable options, it is paramount that you choose a receiver that matches your needs and one that is compatible with your speaker system.