At first glance, high-level inputs, and low-level inputs, also famously known as RCA inputs, may appear identical, especially for a first-time user. Ideally, the two sets of inputs are found at the back panel of a subwoofer, and they are used to add an aftermarket amplifier to any sound setup.
When looking to add a new amplifier to your stock stereo system, finding a way to integrate the amp is often a big consideration. So, what's the difference between high-level input vs low-level input? In this article, we'll highlight primary differences between the two inputs and show which set to use for what application.
In a nutshell, the primary difference between high-level and low-level inputs is the type of audio signal transmitted through each input. The high-level input, or simply speaker level input, helps to transmit audio signals using speaker connections from the amplifier to your subwoofer.
On the other hand, low-level (RCA) input facilitates the transmission of low-level audio from your amplifier to the LFE (subwoofer) unit. That said, let's dig deeper into these audio terms to keep you informed on their noteworthy features and the differences between the amp high-level input vs RCA.
What is high-level input on amp?
The primary role of high-level inputs is to allow the user to add an amplifier to either a stock or aftermarket stereo that does not include RCA (low-level) connectors. Ideally, high-level inputs are characterized by several speaker wires that plug into a multi-pin wiring harness.
In other words, the speaker level inputs allow you to connect almost any amplifier to your sound system without the need to use an additional level-matching device. Such amplifiers will often come with a special adapter featuring bare wires that you'll use to connect to the speaker wires. That way, the amplifier is able to utilize the speaker output signal as its input source.
Overview of low-level input (RCA)
Low-level inputs, or simply RCA/line-level inputs, are a type of connectors used to integrate an amplifier that is not compatible with high-level inputs or when the inputs are unavailable. In such applications, you'll need to utilize the designated RCA interconnect cable to connect the amplifier to your source device.
The best thing about aftermarket stereos is that they are equipped with several RCA inputs that you can use to add multiple amplifiers. However, it is important to highlight that RCA inputs are often used with aftermarket setups that mostly lack speaker-level inputs.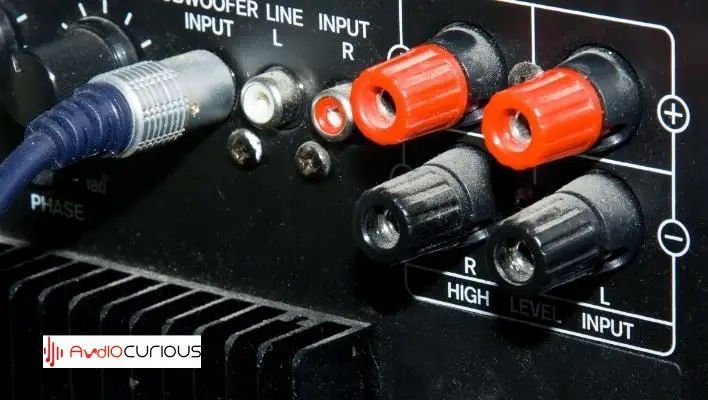 High-level input vs RCA- The Key Differences
Perhaps the most notable difference between subwoofer high-level input and RCA input is the kind of connectors they use. As we mentioned earlier, the high-level inputs come in a series of identical speaker wires that plugs into a multi-pin wiring harness.
On the other hand, low-level inputs are color-coded, with each color representing each channel of your stereo system. In addition, the inputs feature a color-coded opening coupled with a metallic lining on the inside part of the hole.
Typical scenarios that require one to use low level inputs in place of the speaker level inputs include;
Applications that do not permit the user to use speaker outputs. For example, the RCA inputs are your to-go option when connecting to a computer or TV directly.
Using the low-level inputs is the most preferred method when connecting Monoblock amplifiers with a single REL. Such applications require you to use a pair of stereo connectors for both the left and right channels,
When it comes to functionality, the high-level inputs are responsible for the transfer of signal from your amp or even receiver to the subwoofer unit. Typically, the transmission of signals is facilitated by speaker-level connectors found at the back panel of your subwoofer.
Similarly, low-level inputs help to transmit audio signals between your amp/receiver and the sub but instead of using speaker outputs, the latter uses the RCA connectors. Generally, most AV receivers and aftermarket amplifiers use the RCA inputs to transmit audio signals via preamps outputs.
Another notable difference between low-level vs high-level amp input is the level of voltage. Ideally, the low-level, inputs just as the name suggests, accommodate low-voltage signals to the amp/receive, where the signal is amplified.
During transmission, the audio signal may not be powerful enough to push your subwoofer/speakers. Once in the amplifier, the signal is amplified, hence allowing you to enjoy the audible sound. On the flip side, the signal transmitted by the high-level input is often powerful enough to run the subwoofer.
In terms of the sound produced, there seems to be no noticeable difference in sound quality, especially when using an aftermarket stereo system. However, the high-level signal tends to suffer a bit when using a stock stereo system as opposed to when running the signal through low-level inputs.
This is because the user is required to tap into existing vehicle wiring, and in the process, it might cause signal degradation. Other than that, both input methods are highly flexible, and you can use either to install your new system depending on your application needs.
Older receiver models without high-level inputs may also use low-level inputs in place of the speaker-level inputs. As such, when looking to add a subwoofer or amplifier to your setup, you may want to counter-check the available set of inputs and outputs. This will help you avoid incurring additional repair costs or the need to buy new wires/adapters to go with your new setup.
The good thing is that most, if not all modern subs, are equipped with both sets of inputs. In the past, RCA inputs were quite rare, but today it is not uncommon to find most subwoofers with several RCA inputs. This helps ensure you won't run into a problem, especially when you want to use both types of inputs.
Parting Shot!
Using the right inputs allows you to get the most out of your audio system. However, the type of cable and inputs you use can make or break the sound you get from your system. The subwoofer only constitutes half of your sound experience, but to get the most from your entertainment setup, you'll need to get it right when it comes to plugging the cables into the correct inputs. Furthermore using the right connectors and inputs allows your music and movie sound effects to come to life.