Dolby Atmos surround sound has been used in commercial movie theaters for quite some time, but the focus is now shifting to home cinema. With more and more blockbuster movies with Dolby Atmos soundtracks being released each year, home theater enthusiasts are pretty keen to set up a Dolby Atmos system at home.
Dolby Atmos speakers, or height speakers, as some people refer to them are generally added to an existing system to level up the overall movie-watching experience. These speakers' add-ons are often placed on top of floor standing speakers, but you can also mount them on the wall.
Klipsch has been at the center of the home cinema for quite some time. It is one of the manufacturers with countless Dolby Atmos up-firing units specially designed to add a new dimension to your home theater experience.
Today, we'll compare Klipsch RP 140SA vs RP 500SA. Both Klipsch RP-500SA and RP-140SA are fundamentally similar in terms of build quality, and they are designed to be incorporated into the existing setup to add Dolby Atmos height effects.
That said, let's put these two workhorses head-to-head to help you decide which unit is best for your home theater setup.
Quick Comparison Table
Preview
Product Title
Klipsch RP-500SA Dolby Atmos Surround Sound Speakers (Ebony) (1066507)
Klipsch RP-140SA Dolby Atmos Speaker
Power handling per channel
73 watts RMS
300 watts MAX
50 watts RMS
100 watts MAX
Drivers per channel
1" Titanium tweeter
5.25" Cerametallic woofer
1" Titanium Tweeter
4" Cerametallic woofer
Preview
Product Title
Klipsch RP-500SA Dolby Atmos Surround Sound Speakers (Ebony) (1066507)
Power handling per channel
73 watts RMS
300 watts MAX
Drivers per channel
1" Titanium tweeter
5.25" Cerametallic woofer
Preview
Product Title
Klipsch RP-140SA Dolby Atmos Speaker
Power handling per channel
50 watts RMS
100 watts MAX
Drivers per channel
1" Titanium Tweeter
4" Cerametallic woofer
In a nutshell, both models cover the same frequency range and they are designed to fill the room with Dolby Atmos surround sound. So, how do these speakers add on differs? Let's break down the features and benefits of each model.
Klipsch RP-500SA Review
There is no single doubt that Klipsch offers some of the best Dolby Atmos speakers. The RP-500SA has a pretty nice sound coverage regardless of the size of your room. It is a bigger sibling of the RP-140SA below, with the former engineered to let you enjoy the best Dolby Atmos experience at home. Furthermore, the package weighs slightly above 22 lbs. for enhanced portability.
Features and Highlights
Efficient two-way speaker design
The RP-500SA incorporates a 5.25″ Cerametallic woofer and 1″ Titanium tweeter, which are responsible for outputting bass and high frequencies respectively. The woofer is made from rigid and lightweight material resulting in minimized distortion and enhanced cone efficiency.
Furthermore, RP-500SA's vented tweeter is designed to provide articulate and purest high-frequency notes you've ever heard. The vented tweeter housing also helps to reduce standing waves that are often associated with unwanted harmonics.
Versatile Dolby Atmos Speakers
One thing you'll like about the Klipsch RP-500SA is its versatile nature. The unit gives you an opportunity to use the pair as standard up-firing speakers for Dolby Atmos overhead effects. Alternatively, you can repurpose the speakers as side or rear speakers for surround sound in a traditional home theater setup. What's more, it includes keyhole mounting slots, but you can choose to place the speakers atop of existing bookshelf or floor standers.
Switchable Crossover Settings
The switchable crossover is perhaps one of the most striking features that set Dolby-enabled speakers from ordinary loudspeakers. The crossover makes it easy to switch from Atmos mode to surround sound mode and vice versa. With this feature, you can customize the output of the speaker depending on your audio needs.
90 x 90° Hybrid Tractrix Horn
Like any other Klipsch loudspeaker, the RP-500SA design includes a Tractrix horn geometry, which is considered to be three times more efficient than cone speakers. The design of the horn helps ensure that the high-frequency notes are directed toward the listening area more efficiently. It also helps improve detail while facilitating a smooth frequency response across the entire sound spectrum range.
Premium Cabinet Construction
Both speakers sport an MDF cabinet that boasts world-class finishing that is not only attractive but also scratch-resistant. The baffles are satin-painted, and they are designed to hold up really well. What's more, the cabinet incorporates a removable magnetic grille that is easy to mount and remove if needed.
What we like
Includes keyhole mounting option for on-wall speaker elevation
Great design overall
The grille is not only magnetic but also easy to remove
Overall sound quality is clear and crisp
Compact design
What we don't like
The need for an external amplifier— the speakers are non-powered
It is way overpriced as compared to the RP-140SA below
Check Latest Price
Klipsch RP-140SA Review
The Klipsch RP-140SA is yet another incredible Dolby Atmos speaker add-on that is designed to deliver a fantastic surround sound experience. The unit comes as a pair, plus its versatility allows you to use the speakers with just about any surround sound system. So, if you're looking for a well-defined sound with an infusion of Dolby Atmos effects, the RP-140SA is the unit for you.
Features and Highlights
Dolby Atmos-Ready Speaker Add-on
With the RP-140SA, you get to enjoy Klipsch's signature detailed sound from such a compact package. The pair mounts effortlessly on top of your existing floor standers/ bookshelf speakers, making it easy for you to add object-based surround sound to your existing setup. To get the most out of these speakers, ensure to pair them with a compatible AV receiver.
Hybrid Tractrix Horn
The RP-140SA utilizes Klipsch's redefined hybrid tractrix horn with a unique 90°×90° opening that helps extend the high-frequency response. The Klipsch RP-140SA horn is designed to match the exact standards of the RP-500SA and accommodate varying system requirements. In addition, the construction of the horn is designed to improve sonic integration while creating a very pleasing appearance.
Cerametallic Woofer
Each channel sports a 4″ spun copper cerametallic woofer made from premium materials to deliver a solid bass performance. The cone exhibits excellent stiffness translating to minimal cone breakup and minimized distortion. Furthermore, the woofers are incredibly lightweight, a design that helps ensure articulate and quick low-frequency reproduction.
Redefined LTS Titanium Tweeter
The LTS (Linear Travel Suspension) is perhaps one of the unique features that make Klipsch's speakers stand out from the crowd. This tweeter design is specially engineered to reduce high-frequency distortion and enhance detail. Furthermore, the compressed molded rubber design helps to improve high-frequency damping for clean and natural highs.
Attractive Cabinet Construction
The RP-140SA comes in an attractive MDF cabinet with Polymer Veneer finish to complement any modern furniture. The MDF construction provides absolute durability while allowing the speakers to provide great Dolby Atmos sound in sturdy construction. That's not all. Both speakers sport elegant speaker grilles to provide physical protection against dust and debris.
What we like
The pair immerses you fully in the movie experience
Easy to mount
The finishing is quite stunning
Small footprint
Broad soundstage
It is pretty affordable, considering that it covers almost the same range as the RP-500SA above
What we don't like
Not quite the same level as in-ceiling Dolby Atmos overhead/in-ceiling speakers
Limited power handling
Also, the bass is somewhat lacking
Check Latest Price
Klipsch RP-500SA vs RP-140SA—Our Take!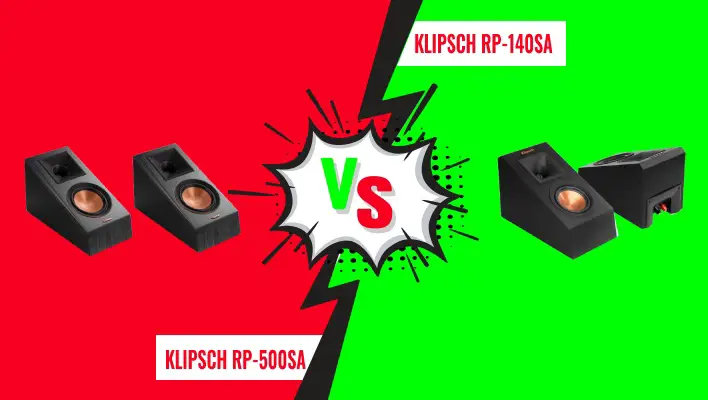 Klipsch's reputation for producing top-notch Atmos add-ons is undisputed. The Klipsch RP-500SA and RP-140SA are no exception, and they blend well with contemporary home theater systems. Out of the box, both models are easy to set up and incorporate into your existing system.
The entire craftsmanship of Klipsch RP-500SA is outstanding, plus the piano finish is warm and eye-catching. Our only concern is that this model tends to be a little overpriced, considering that the RP-140SA is equally a good performer for less money. However, if you have some extra bucks to spend, we can confidently recommend this model.
On the other hand, the Klipsch RP-140SA is an equally great pick for elevation speakers, or even side and rear surround speakers. The versatility of this model allows you to not only add object-based sound but you can also use them as surround speakers, provided that they are angled perfectly on the wall.
In the end, if your AV receiver is compatible with Dolby Atmos, you may want to take advantage of its full potential by adding a pair of up-firing Dolby Atmos add-on speakers. Regardless of whether you opt to go with the RP-500SA or RP-140SA, both add-ons will slip seamlessly into your home theater sound system. Ultimately, the choice comes down to individual preferences and budget limitations.