Yamaha and JBL are some of the most trustworthy brands in the music accessories industry. These two companies are known to produce high-quality speakers, monitors, subwoofers, and several other audio devices and components.
Though it is easy to confuse between these monitors, they are different especially when it comes to performance. If you are wondering what the right choice between the Yamaha HS5 and JBL LSR305 is, this review and buyers guide will help settle that debate and help you choose the right monitor.
Yamaha HS5 VS JBL LSR305 Summary
Preview
Product Title
Yamaha HS5 Powered Studio Monitor
JBL Professional LSR305 Studio Monitor
Preview
Product Title
Yamaha HS5 Powered Studio Monitor
Preview
Product Title
JBL Professional LSR305 Studio Monitor
Yamaha HS5 Review
Yamaha Corporation was established in 1887 after Torakusu Yamaha (the founder of Yamaha) made his first reed organ. Since then, the company has grown to be one of the leading brands in the music industry. Yamaha produces various high-quality music instruments, gadgets, devices, accessories, and more.
HS5 is one of Yamaha's most popular models. It is a single-unit two-way bass-reflect monitor with bi-amplification, which allows it to offer a strong output. This HS5 measures only 6.7″ x 11.25″ x 8.75″ (WxHxD) and this makes it perfect for small rooms.
It also features a 1-inch dome tweeter and a 5-inch cone woofer which are bi-amplified to make them sound as loud as possible. Its tweeter and woofer size and a flat response make the Yamaha HS5 studio monitor ideal for mid-sized producers or engineers because it can fit in small studios including home studios.
The woofer and tweeter are powered by a 45W amp and a 25W amp respectively, and this makes them sound very clear. This studio monitor also includes TRS and XLR phone jacks inputs, allowing various input options when producing music.
The HS5 can work with both unbalanced and balanced signals and will offer more sound deviations at the input stage. With this model, you can get a frequency range of 54Hz to 30 kHz. This range will give you access to strong low and high ends when making or listening to music.
Yamaha HS series uses re-designed transducers that offer listeners an even response over an extensive series of bandwidths. The cutting-edge magnetic field design helps to regulate the monitor's magnetic response to offer a smooth sonic transition.
The monitor also features high-performing amp units that perfectly match the transducers. Using the bi-amp design and a detached dedicated amplifier for the woofer and tweeter will make the monitor deliver high-resolution sounds consistently.
The room control features will provide you with 2 or 4dB of low-shelving cut below 500Hz, to compensate for that speaker-boundary effect that can result from placing it near a wall. For a more flat response, Yamaha recommends that the monitor be placed at least five feet from the nearest wall.
The HS5 frequency response is 74Hz to 24 kHz, –3dB (with 10dB-down points at 54Hz and 30kHz). Therefore, if you are only using the HS5 in your studio as your wide-range monitor, you made need to include the right subwoofer to be able to mix bass instruments properly. This is because the monitors' response drops off below 200Hz. You can also experience a significant dip around 2dB and this will make vocal sibilance sound understated.
Advantages of the Yamaha HS5
It is very portable
Has trim response and room control
Offers a wide frequency response range
It offers bass reflect, two way, bi-amplifies nearfield variant
Has a high-performance 70W amplification
Cons
Check Latest Price
JBL LSR305 Review
Founded in 1946 by James Bullough Lansing, JBL is an equally reliable brand in music accessories, instruments, and devices. Even though JBL is relatively new in the market, it has been able to take on industry leaders and major competitors like Yamaha.
It is no surprise that one can find it challenging when choosing between the Yamaha HS5 and JBL LSR 305 studio monitors. The JBL LSR305 is the right studio monitor for anybody who wants a more complete sound in music production.
The JBL LSR305 can deliver a smooth and rich sound at several frequencies without distortion. It is especially good at managing higher frequencies. This monitor offers effective bass that several music producers love in their studios.
This monitor is the 1st generation model of the JBL professional 3 series monitors and is manufactured on the flagship M2 Master Reference features, which includes the image control waveguide technology.
The JBL features a 1-inch dome tweeter which is designed to control any sound coming from the monitor in the horizontal and vertical planes. This ensures an accurate and neutral sound for great music production.
Its 5-inch woofer uses the Slip Stream low-frequency port located at the rear of the cabinet to deliver powerful bass. The monitors' double-flared shape is engineered for maximum low-frequency extension and minimum turbulence
JBL LST305 has a patent-pending design and can accurately control outgoing sound waves that emit from it, ensuring a neutral output position that optimizes it for mixing. This also makes it perfect for mixing hip hop. The monitor has a broad sweet spot that allows it to deliver a broad and neutral sound in diverse environments irrespective of the acoustics.
With the JBL LSR305, you will have access to¼ inch TRS inputs and XLR which will offer better modifications during production. You can tailor its response in both low and high frequencies to suit your taste. However, the monitor may not be ideal for recording vocals or mixdowns.
For an extended bass, you can pair the monitor up with the right studio subwoofer.
Pros
It has dual input channels
Features an increased high-frequency detail design
It is more affordable
Has excellent bass
It features a broad sweet spot
It is room-friendly
Cons
Can be noisy when turned on
It is not ideal for recording vocals
Check Latest Price
Yamaha HS5 VS JBL LSR305 Feature Comparison
Both Yamaha and JBL studio monitors offer great features and specs. They have an identical design and some similar features too. To help you decide on the best device for you, let's see how these two studio monitors compare.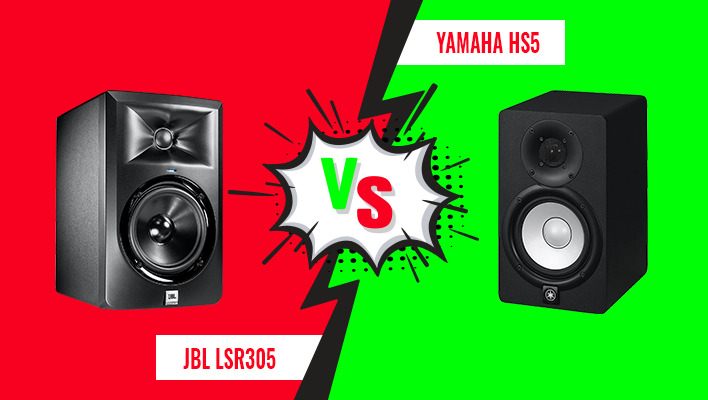 1. Design
The JBL LSR305 features an image control waveguide technology that allows it to produce a wider stereo image. It is 11.75 inches and is magnetically protected with a 1-inch soft-dome high-frequency transducer and a 5-inch low-frequency transducer. It weighs 14 pounds and has an elegant design that will look good in any studio.
On the other hand, the Yamaha HS5 weighs 24 pounds, has round shape edges, and measures 11.2 inches. It is ideal for small to medium size studios. The monitor is designed to block air and is also splashproof.
2. Sound
While the Yamaha monitor utilizes a noise-reduction technology in its ports to reduce air vibrations and produce great sound, JBL relies on its double-flared shape to improve its low frequency and bass effect.
Yamaha HS5 monitor utilizes a small enclosure layout in the cabinets and this heightens sound accuracy. So, while the JBL LSR305 monitor focuses on even sound distribution, the Yamaha focuses on improving clarity.
Yamaha produces a clean, neutral, and flat sound that helps to enhance mixing and vocals and this makes it ideal for the studio. With Yamaha HS5 beginner producers or sound engineers can easily detect lousy mixing or sound and create a more quality sound.
The JBL LSR305 acts as an entry-level studio speaker and can match the producer's needs. The monitor allows excellent sound production with no distortion even at a high volume. The monitor also offers a piercing bass and sharp treble which is better than the HS5.
The JBL LSR205 studio monitor is ideal for sound engineers and music producers who are looking for sound quality. This monitor has a complete sound and is good for producing in a full studio and bedroom setup
3. Features
When compared to JBL LSR305, the Yamaha monitor is newer in the market. Therefore, it has more features and is also more expensive. Yamaha HS5's power configuration is integrated with a bi-amp that has a high-frequency power amp of 25W and a low-frequency driver power of 45W for optimum performance.
Yamaha's system generates a frequency range of between 54Hz to 34 kHz which amplifies sound signals. A set of these studio monitors can consume power of approximately 70W, and can also operate at a lower power. However, doing this will affect the quality of sound it produces.
The HS5 monitors can also connect easily with the TRS cables, which also double up as the transmitter.
The JBL LSR305 monitors are cheaper and offer the best recording experience. They are integrated with increased high-frequency details, are room-friendly, and can deliver sound from 3-series speakers even in a large studio.
Final Verdict
Though both monitors are excellent for sound production, powered externally, and bi-amped, the HS5 has a flatter response. If you want to mix and master recording, record instruments, want to work with high-frequency and mid-range genres, or want advanced technical support, but you lack enough space, the Yamaha HS5 is the right pick. This monitor offers a very flat response that makes it ideal for music production.
Also Read: Klipsch R-12SW VS R-100SW: Choose the Right One
However, if you want more bass, great sound quality and clarity, have enough space, but you're on a budget, the JBL LSR305 is the right studio monitor for you. It's lightweight, high-performing, and offers excellent quality mixing.