With the invention of premium cinema technologies, movie watching has never been the same again. Ideally, the availability of a wide variety of digital formats in movie theaters has revolutionized the way we enjoy movies while ensuring the best movie experience possible.
Dolby Cinema and IMAX are some of the best digital movie formats offered by most theaters today. The two technologies not only provide great value but also offer the best sound and image quality available today.
In this article, we'll discuss the difference between IMAX and Dolby Cinema to help you determine which theater is worth your cash. We'll also highlight what each movie experience constitutes so you can make an informed decision for your next movie night.
Dolby Cinema vs IMAX
Overview of Dolby Cinema
Dolby Cinema, as the name implies, is a premium movie format produced by Dolby Labs. The cinema offers a combination of the company's digital technologies, including Dolby Atmos and Dolby Vision. Furthermore, the engineering of this technology employs intrinsic Dolby design features.
Dolby Cinema is a worthy competitor of other premium cinema formats, including IMAX, Regal's RPX, and Cinemark's XD. Since its invention, Dolby Cinema has been available in several theaters across the world including, AMC theatres, Vue Cinemas, Reel Cinemas, Odeon Cinemas, Wanda Cinemas, among others.
Highlights Dolby Cinema
Dual 4K laser projectors
One feature that makes installing Dolby Cinema quite expensive is the inclusion of Dual 4K laser projectors. Dual means that it comes with two projectors, each providing 4K resolution. The projection system used in this technology is similar to the one found in Dolby Vision, thus allowing it to deliver four times more resolution.
The laser projector is also engineered to accommodate any film that is color graded/optimized for the original Dolby Vision HDR. This means viewers will get to enjoy pure black levels, twice the brightness, and up to 500x contrast ratio when compared to traditional movie projectors.
Dolby Atmos
The incorporation of Dolby Atmos is yet another feature that makes Dolby Cinema a force to reckon with. Dolby Atmos helps to add 3D object-oriented surround sound so you can experience sound coming from every direction and one that is moving around you.
Furthermore, this technology accommodates multiple audio inputs for enhanced viewer immersion. The 3D sound also helps project objects in real-time, meaning you can experience real elements, such as a bird flying above you in a movie scene set right in the middle of a rainforest. This is pretty amazing!
Dolby Atmos also help ensure that you can experience deep rumbles such as a lightning crash or loud explosion from the comfort of your seat. A typical Dolby Cinema theater setup supports up to 64 individual speakers for a definitive movie experience.
Sound systems
The sound systems employed in Dolby Cinema theaters are also something that's worth noting. This technology utilizes more speakers than you would find in an ordinary movie theater, plus it includes in-ceiling subwoofers. The cinemas also incorporate Dolby Atmos setups, which is more than enough reason to justify the price of Dolby Cinema tickets.
Pros of Dolby Cinema
Better image quality overall
Wide selection of movies and films
Comfortable seating arrangement
Dolby Atmos-enabled speakers are an incredible addition
Cons of Dolby Cinema
Pricier than IMAX
Limited access- only available in a handful of countries worldwide
Overview of IMAX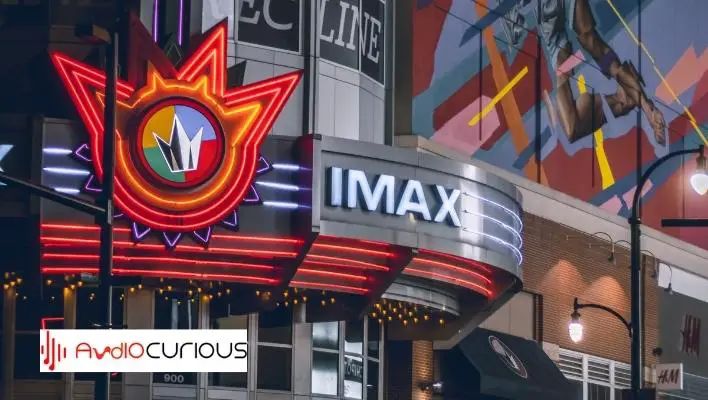 IMAX is yet another high-ranking movie technology popularly used in film formats, hi-res cameras, and theaters. IMAX is characterized by relatively massive screens, which translate to a tall aspect ratio and a steep seating arrangement.
An increase in screen size and aspect ratio means you can see the full pictures instead of the typical black bars found below or above the projector screen. In addition, IMAX has also provided filmmakers with an opportunity to tell stories with a sense of originality. This begs the question, "Is IMAX the best way to watch a movie?"
Ideally IMAX movies are shot using high-resolution cameras to provide outstanding picture quality. IMAX theaters also use larger screens than those used in traditional theaters, a design that offers a more immersive movie experience.
Highlights of IMAX
Laser projectors
Just like Dolby, IMAX utilizes dual laser projectors, which are designed to offer up to three times the resolution of standard digital films. This design also helps to bring the audience closer to the screen than ever before. In addition, this construction makes it easy to project smoother and clearer images than what we experience in standard formats.
IMAX high-quality cameras
Perhaps one of the main reasons why moviegoers love IMAX films is the high-quality cameras used to shoot the scenes. The shots are so good, plus they allow movie directors to bring out their stories just the way they intended. Perhaps the only downside of IMAX cameras is that they are quite bulky and also more expensive to replace.
High-end sound systems
When it comes to audio, IMAX uses premium audio systems as part of the overall movie experience. IMAX theaters are fitted with a large network of speakers and subwoofers for crystal clear sound and a bass experience that draws your attention into the movie like never before. The massive speakers are often placed behind the screen for an immersive cinematic experience that isn't possible in standard theaters.
Optimized audio
IMAX theaters are built in such a way that every seating position is optimized for the best audio experience. This means you can sit just about anywhere within the movie theater room and still enjoy the same audio reproduction. What's more, most IMAX theaters are often customized to adapt to the varying needs of different sound setups.
Pros of IMAX
IMAX movie theater tickets are generally affordable
Provides a wide range of digital projectors
Readily available no matter where you stay
The large screens are an added advantage
Cons of IMAX
The picture quality can be better, but it is still impressive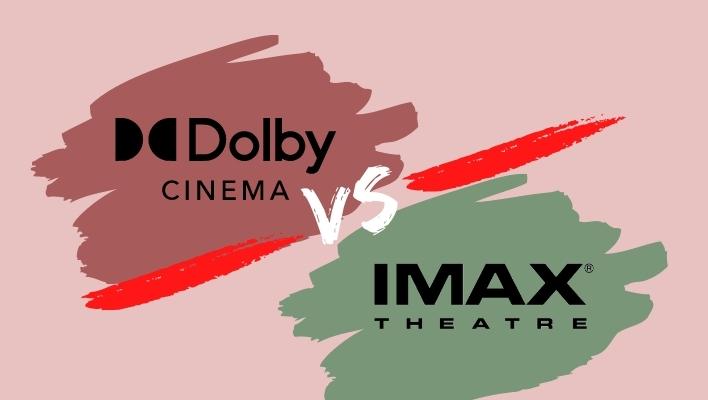 Which is Better—IMAX or Dolby
Both Dolby Cinema and IMAX offer an enhanced viewing experience over traditional movie theaters, and it is for good reasons. Both theaters guarantee viewers a fantastic movie experience regardless of the type of movies you love to watch. There is also a high probability of finding most new film releases in either of the two formats.
However, your movie selection is also going to play a critical role when choosing one movie format over the other. As such, you may want to research beforehand to determine if the new release that you may be interested in is available in your preferred format.
Generally, Dolby Cinema tends to have an upper hand when it comes to the quality of audio and visuals. Ideally, Dolby Cinema is designed with a true cinephile in mind while allowing viewers to enjoy their movies just the way creators intended.
Dolby Cinema theaters also offer a more immersive experience thanks to the incorporation of Dolby Atmos 3D surround sound. Nearly every Dolby Cinema theater utilizes Dolby Atmos speakers for a fully immersive audio-visual experience.
Enhanced picture quality coupled with better audio gives Dolby Cinema a competitive advantage over its IMAX counterpart despite the latter having bigger screens. The Dolby technology also provides sharper images, original colors, and enhanced blacks.
And unlike IMAX theaters which come with a sharp and massive screen, the former uses relatively small screens, and the result of this is clearer audio and better picture quality. The format is best suited for horror movies, dramas, indie films, etc. Dolby Cinema screens also have relatively better picture quality than the one offered in average digital theaters.
The seating arrangement of Dolby Cinema theaters also tends to be more comfortable. Although the seating arrangement does not affect your movie experience directly, the level of comfort is still a critical consideration.
Dolby Cinema theaters are fitted with premium seats to ensure that you remain comfortable, especially when the films are longer than usual. You can also recline your seat until you achieve an optimum viewing angle.
On the contrary, IMAX movie theaters use more or less the same seats used in standard movie theaters. The seats are not quite as plush as those you'll find in a Dolby Cinema theater, plus they hardly recline around. So, if you prioritize comfort or prefer luxurious theater seats, Dolby Cinema theaters are your best fit.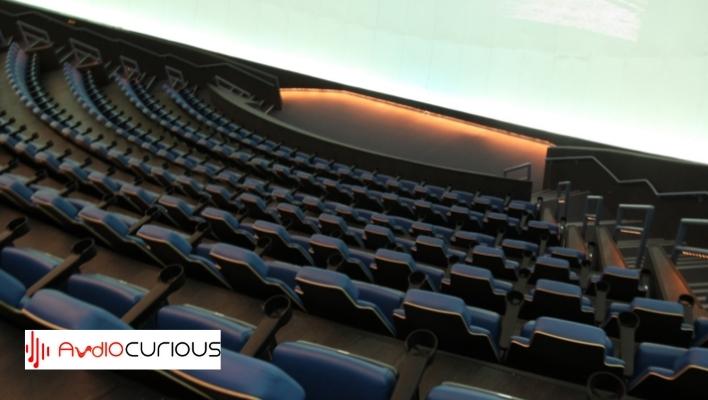 IMAX is a popular choice for action-packed films, but you'll be happy to know that most films shown in Dolby Cinema theaters are also available in IMAX format. In addition, IMAX theaters are also relatively affordable and readily available in many countries compared to Dolby Cinema.
The Bottom Line
There is no doubt that both IMAX and Dolby Cinema are some of the best movie formats of our time. The two offer one of the best movie experiences that you've always dreamed of, plus they are the most widely available movie theaters. When all is said and done, the ultimate choice between the two cinema technologies will come down to the movie goer personal preferences and movie choices.