When installing a new home theater system or upgrading the existing one, dealing with sound reverberation can get incredibly frustrating. External noise and other undesirable sounds are the main culprits, and unfortunately, trying to increase the volume of your system does not help the situation. This is where home theater soundproofing curtains come in.
Home theater curtains are not only stylish but are they also a critical component for any home theater room. These curtains come in a wide range of sizes and styles, from glamorous curtain sets and heavy-duty fabrics to light versions that allow you to cancel out noise and unnecessary light in your entertainment space.
Generally, soundproof curtains are heavier than your standard living room curtains. When installed properly, they allow you and your family to enjoy the best cinematic experience. The good thing is that cinema room curtains are readily available from local home theater retailers, but you can also shop your curtain set from online stores.
Benefits of Home Theater Sound Curtains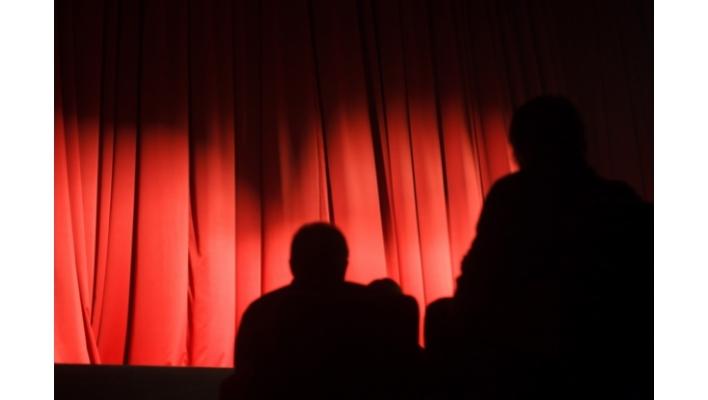 Treating your home theater room with new soundproof curtains helps to deaden/dampen noise from your external environment. Here are other benefits that are worth noting;
Improved acoustics
Ideally, home theater rooms should act as reserved spaces where occupants can enjoy the action displayed on the screen with minimal distractions. Home theater curtains are soundproofed to keep a great deal of outside noise from finding its way into your entertainment room. This means that any noise from outside won't distract your viewing experience.
In addition, they help key sound reverberation and room echo at bay. This is especially helpful when trying to prevent your hardwood floor from bouncing movie soundtracks all over the space. The curtains also come in handy when you are looking upon to enjoy your movies without disturbing your neighbors.
Additionally, they help ensure that noise from your dishwasher or running shower does not distract your guest from the movie scene. However, it is important to note that acoustic curtains may not be entirely effective if you live near an extremely noisy street or neighbors who are fond of throwing a party now and then.
If you live in an extremely noisy environment, you may want to invest in more advanced soundproof methods, such as installing soundproof drywall and windows. You can also consider using soundproof thermal blankets to block the excess noise from outside.
Darkening the room
The ability of home theater curtains to block light out of your home theater room is perhaps one of their biggest benefits. In fact, some curtains are designed to block up to 90% of the light from entering your room. This helps to minimize light glare and reflections, especially during the daytime, thereby allowing you to improve your movie experience.
Improved ambiance
When looking to buy soundproof curtains for your home theater room, selecting stylish ones will help achieve an atmosphere that you and your family will enjoy. So besides canceling out noise and or /light within your home, you can use these curtains to add a touch fashion to your entertainment room.
Another essential function of home theater curtains is that they help keep dust and debris from reaching or scratching the big screen. So apart from enhancing the quality of your viewing experience, the soundproof curtains can potentially lengthen the life of your equipment.
Energy efficiency
Generally, most home theater curtains offer thermal insulation capability. On average, they help to save your overall energy costs by improving energy efficiency by up to 25%. Such curtains help keep your room warm during bitterly cold winter months, and block the heat out during the hot summer months.
Tips for Choosing Home Theater Curtains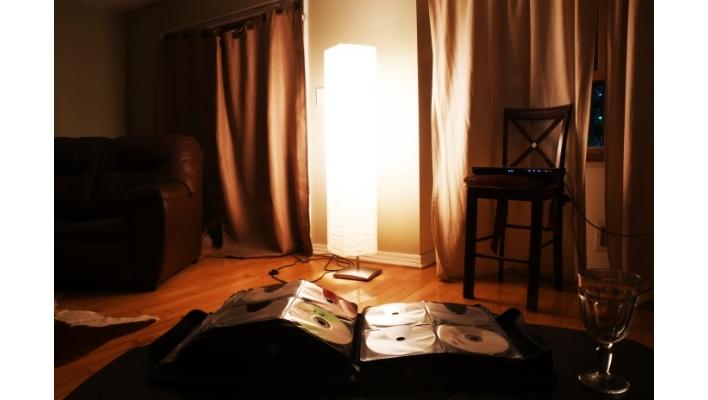 If you're looking to buy perfect soundproof home theater room curtains, here are some crucial tips to consider;
Type of material
Most home theater curtains, especially the blackout ones, are made from pure Polyester or a blend of Polyester fabric. Polyester is a high-quality fabric, and it is arguably one of the best materials for curtains, and it is for good reasons.
In addition, it is relatively affordable, mold-resistant, durable, easy to maintain, and does not shrink or stretch. Other materials available include cotton and velvet, but their price tag may be out of reach for budget-minded users.
Fabric thickness and weight
Thicker and heavier curtains tend to be more effective at blocking light and noise than lighter curtains. Furthermore, the former provides superior acoustic performance while allowing you to enjoy your movies to the fullest.
Heavier fabrics or curtains with an extra layer of lining are often efficient in absorbing sound from outside. They also do a great job of reducing sound from reflecting off the windows and other furniture in the room.
Size
The size of the curtains also plays a big role in ensuring that your entire listening space is soundproofed. For effective operation, you may want to ensure that the curtains cover the windows fully as well as overlapping the sides, the top of the window, and the bottom part.
In addition, choosing the correct size will help ensure that your curtains do a great job blocking most of the light and noise from entering your home theater room. It is also a good idea to go with curtains with extra-long draping to provide an extra layer of noise protection and add to your décor.
If your budget allows, you can also invest in soundproof curtains for door to minimize the amount of noise entering through cracks and small gaps on the door. Cracks, even the minor ones, can compromise your soundproofing efforts, and that's why we recommend you soundproof your door as well.
Darkness shade
As a general rule of thumb, the darker the shade, the more effective the curtains are at blocking out extreme light. In addition, dark curtains give your space a sense of privacy while making your room feel more enveloping. For instance, curtains coated with up to three-pass acrylic foam offers just the perfect setting for you to sit back and enjoy your favorite movie without interference from sun rays.
When it comes to colors, the curtains come in a wide range of colors, so you don't necessarily need to choose black ones. Although black does a good job of blocking light and preserving heat, you can always go with a color that compliments your décor while allowing you to create a real cinematic experience.
Mounting styles
When it comes to installation, you can either use rod pockets or grommets to mount your soundproof curtains. Curtains with metal grommets are by far the easiest to mount since you can simply slide them over your existing curtain rod.
On the other hand, rod pockets use holes to slip the curtain rod through. Basically, the choice between the two styles comes down to personal taste and preferences. To get the most out of your investment, you may want to hire a professional to install the curtains for you.
If your regular curtain rods can't accommodate the soundproofing curtains, you can install some kind of ceiling brackets to support the curtains. Additionally, the brackets will help extend the curtain to the ceiling, which also helps block noise coming from above.
Insulation level
The best soundproof curtains offer several insulation layers sewn into the curtain panels. As we mentioned earlier, these layers help to preserve the much-needed heat during the cold winter season and block out the extreme summer heat.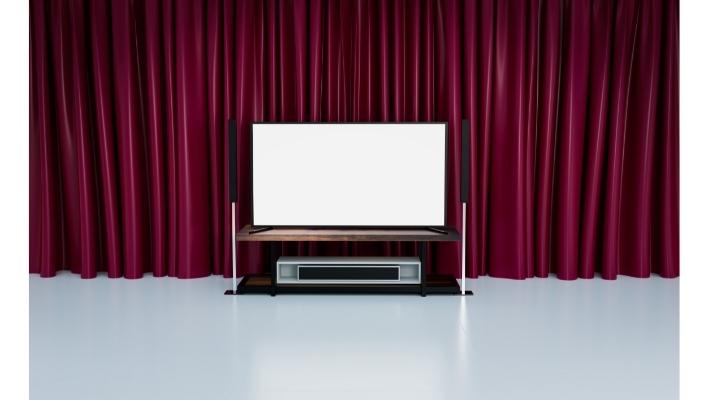 Best Home Theater Soundproofing Curtains
If you're in the market for soundproof curtains for your new home theater room, you should be careful not to be tricked into buying any curtain just because it is labeled 'soundproof'. If you're a newbie, it is important to pay attention to the pointers we've highlighted above, before you make any purchase decision. That said, here are some of the best home theater soundproofing curtains on the market.
1. Amazon Basics Room Darkening Blackout Window Curtains
Amazon Basics room darkening curtains are a popular choice among home theater enthusiasts, and it is for good reasons. The curtains are made of 100% Polyester to help block and reduce noise from outside, block sunlight, UV rays as well as ensure total privacy in your listening room. Furthermore, the two-panel curtains come in multiple colors to let you customize your home theater room.
What we like
They are machine washable
They helps save energy, especially during winter
Meets the set standards on safety and environmental conservation
Available in both grommets and rod pocket styles
What we don't like
In terms of aesthetic appearance, they are not the best, but they are not completely unattractive either
Check Latest Price
2. NICETOWN Sound Barrier
Nicetown sound barrier, just as the name suggests, are designed to block sound up to two and a half times more than standard curtains. While most blackout and soundproofing curtains come in plain solid colors, these Nicetown offers you a wide range of attractive colors and patterns to help you add some style to your home theater room. Besides, you can use these curtains in your bedroom for daytime sleep.
What we like
The curtains offer 100% blackout from sunlight and UV rays
Excellent thermal insulation
Easy to wash and maintain
Maximum privacy
Modern look
What we don't like
Quite heavy- you'll require to install strong rods to support the curtains
Check Latest Price
Conclusion
If you've invested heavily in your home theater system equipment, then you'll need to find ways to make the most of your setup. Learning how to make theater curtains will help ensure you enjoy an enhanced sonic experience. The best thing about the curtain is that they only cost a fraction of your entire home theater setup.
So if you're looking to build a dedicated home theater room or just want to recreate an authentic display from your TV, adding soundproofing curtains is a necessity. Besides, acoustic curtains allow you to experience the best performance from your new home theater. Adding soundproof curtains also means less outside world distraction and a more engaging movie experience.