Edifier is a big name in the audio industry, and it has manufactured some of the best bookshelf speakers, from compact budget models to complex high-end powerhouses. Regardless of your preferences and budget, they have a product that suits you. However, choosing from their wide range of bookshelf speakers can be challenging, especially if the products are almost identical.
Today we take an in-depth look at Edifier R1280DBs vs R1280DB. Both models are budget speakers, but that does not mean you need to sacrifice sound quality. In addition, they deliver enough power to satisfy bass lovers.
Edifier R1280DB is suitable for just any home theater setup, and it delivers excellent detail and clarity than similarly priced speakers. On the other hand, Edifier R1280DBs is an upgraded version of the Edifier R1280DB, which touts better sonic performance and the best balance between sound quality and build quality.
Let's begin with a quick overview!
Preview
Product Title
Edifier R1280DB Powered Bluetooth Bookshelf Speakers
Edifier R1280DBs Active Bluetooth Bookshelf Speakers
Drivers
13mm silk dome tweeter
4-inch woofer
13mm tweeter
4-inch woofer
Input
Line in 1, Line in 2, Optical, Coaxial,
Line in 1, Line in 2, Optical, Coaxial,
Amazon Prime
Preview
Product Title
Edifier R1280DB Powered Bluetooth Bookshelf Speakers
Drivers
13mm silk dome tweeter
4-inch woofer
Input
Line in 1, Line in 2, Optical, Coaxial,
Amazon Prime
Preview
Product Title
Edifier R1280DBs Active Bluetooth Bookshelf Speakers
Drivers
13mm tweeter
4-inch woofer
Input
Line in 1, Line in 2, Optical, Coaxial,
Amazon Prime
Edifier R1280DB and R1280DBs are top-rated bookshelf speakers for Hi-fi or TV sound, but which is better? Let's see which pair remains the last man standing!
Edifier R1280DB Review
The Edifier R1280DB is a compact pair of bookshelf speakers with a solid sound output that leaves you yearning for more. Despite their small size, the speakers provide clean and refined sound, plus some decent low-end sounds. Their warm sound makes a compelling choice for anyone looking for something that combines exquisite detail with affordability. Let's see what Edifier R1280DB has to offer!
Key features
Studio-quality audio
If you are looking for a set of bookshelf speakers that can deliver great detail and clear sound, look no further. The R1280DB delivers natural and fine-tuned sound for movies and music, and it is one of the most natural-sounding speakers we've tested.
Each speaker comes with a 4-inch bass driver that ensures a detailed performance in the mids and the lows. With these speakers, the bass frequencies reach sufficiently far down, and they do not sound boomy even with poor-quality audio files. The set pack a total of 42 watts RMS (21 watts each), which is more than enough for most home/studio applications.
Wireless Bluetooth connection
The main selling point of these classic bookshelf speakers is the inbuilt Bluetooth connectivity. This function allows you to enjoy a wireless operation while making it easy to stream music from enabled devices.
Pairing with streaming devices is hassle-free, plus the speakers are unfussy about placement. However, the Bluetooth connection is not compatible with aptX, which offers more high-quality audio than standard Bluetooth.
On-board controls
On the right (active) speaker, you'll find controls for bass, treble, and volume adjustment knob. You can use the controls to adjust various EQ settings or switch between inputs without much hassle. An LED display is also included in the mix to let you know which input is currently active. And as if that's not enough, the included remote control allows you to toggle between inputs from the comfort of your seat.
Advanced connectivity options
The Edifier R1280DB offers a fully-featured set of inputs, making it one of the best bookshelf speakers you'll find. It features two RCA inputs for Line 1 and Line 2 input connections. The speakers also allow you to make lossless connections using either the optical or coaxial input. We especially loved that they are easy to set up, and they look good with most living room setups.
Check Latest Price
What we like
Tons of input options
Great value for money
Perfect for newbies and audiophiles alike
HD audio quality
Extraordinary clarity
What we don't like
The bass is somewhat underpowered
It lacks a sub out port for adding a subwoofer for more bass
Basic design— the design may not appeal to those who value aesthetics than anything else
Edifier R1280DBs Review
The Edifier R1280DBs is the identical twin of the Edifier R1280DB. They have the same positioning for the drivers and almost the same finishing. They only tend to compete in sound quality, price, and perhaps the inclusion of a subwoofer port in the R1280DBs.
The pair performs best when used as a component of a surround sound system. It is rare to find a set of bookshelf speakers with impressive sound quality as the R1280DBs in the price range it is in. What's more, they are small enough to fit on a small bookshelf or a dedicated pair of speaker stands.
Key features
Balanced 4-inch woofer
Each bookshelf speaker is fitted with a 4-inch woofer dedicated to the low-end frequencies. The bass sounds natural with no boominess to distract you from enjoying your music. Additionally, the unit provides up to 42 watts RMS (21 watts each) for room-filling and undistorted sound.
The speakers also come with a front-facing bass reflex port that helps to boost the volume of bass frequencies. Furthermore, the ports direct the punch towards the listening area for smooth and deeper bass response.
Silk dome tweeters
Unlike the traditional tweeters used in most cheap speakers, the Edifier R1280DBs use high-grade silk dome tweeters to add a life-like tone to the higher frequencies. These tweeters are also capable of playing more accurately with less distortion. Moreover, the tweeters provide a wider high-frequency range, which gives you an extensive sweet spot to work with.
Supports Bluetooth 5.0 for wireless connectivity
The Edifier R1280DBs is compatible with Bluetooth 5.0 to let you pair your speaker with any Bluetooth-enabled device and stream music wirelessly. The speakers are designed to save you the hassle of wire clutter while letting you enjoy an audiophile-quality sound for movies and music.
Multiple inputs
The R1280DBs come with multiple inputs that allow you to connect a range of devices from home audio systems and PCs to TVs and smartphones. The inputs include two RCA inputs, one coaxial input, and one optical input.
The package comes with all cables you need to establish connections, including speaker connecting cable(for connecting passive speaker to the active speaker), 3.5 mm-RCA cable, RCA to RCA cable and, Fiber optic cable.
Dedicated sub out
For an optimal listening experience, you'll need to pair your bookshelf speaker with a good subwoofer. The R1280DBs come with a sub-out port which you can use to connect a subwoofer to enable the speakers to produce rich and deep bass.
Side control panel
The Edifier R1280DBs sports a side panel with all the controls you need to customize your sound output. The panel features controls for volume, bass, and treble for precision tuning and maximum convenience. An updated remote control is also included to allow you to switch between different settings/modes effortlessly.
Classic MDF construction
The MDF cabinet helps prevent resonance, so you can place your speakers on any raised surface and enjoy music from anywhere in the room. Furthermore, the wood finish blends well with any furniture in the living. The design also includes a removable mesh grille that helps prevent dirt from entering the speakers while still giving the speakers an elegant look.
What we like
Elegant wood finish to complement any furniture
It comes with most features found in most audiophile-grade speakers
Realistic vocal reproduction
High-quality MDF parts—build quality is impressive
Rich and full-bodied sound
What we don't like
They tend to lack a bit in the low end
The remote is still old school, but it gets the job done
Price is a bit higher
Check Latest Price
Edifier R1280DB vs R1280DBs—Our Take
Edifier R1280DB compares favorably against the R1280DBs, with the latter offering a dedicated subwoofer out port and better sound quality. When it comes to design, we find both models visually pleasing and easy to integrate into any décor.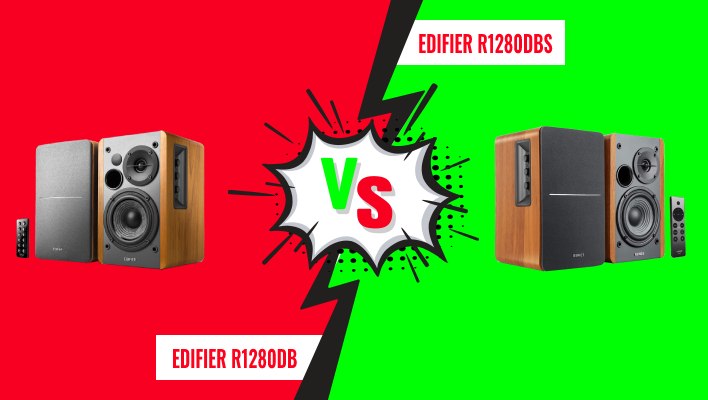 The Edifier R1280DB is best suited for a small room setup or general computer use. For their size, you can't expect booming bass, but the overall sound quality is amazing. On the contrary, the R1280DBs is an excellent pair for serious music and bass lovers looking for outstanding and enveloping sound but don't have the space or budget for larger and expensive tower speakers.
Overall, the speakers are a worthy upgrade for anyone looking to replace their small Bluetooth speakers. The speakers are versatile, and they offer a wide range of connections and built-in Bluetooth to expand your entertainment options. In the end, it all comes down to personal preferences.