The Klipsch Reference and Synergy are two of the best-sounding lines of home theater speakers you can buy. The two speaker lines are manufactured by Klipsch, a global audio brand with a rich history of innovation and leadership. Klipsch Audio has been around since 1946 and has grown to be the world's largest manufacturer of high-performance speaker systems leading in technology and design.
The Klipsch Reference is among the most expensive and high-end speakers in the Klipsch line-up. They offer a very detailed sound with an emphasis on vocals. This makes them ideal for music lovers who want to hear every detail of their favorite songs. Additionally, they are a great surround sound speaker system for the home theater enthusiast who wants to be fully immersed in their favorite movies and games.
Contrariwise, Klipsch Synergy is a more affordable option compared to Reference. These speakers are better suited to small rooms and are designed to provide the best sound quality, combined with powerful bass and clear treble. These speakers are targeted to provide high-quality audio experiences for music lovers or those who love listening to audiobooks.
With that in mind, lets delve into a review of Klipsch Synergy vs Reference to help you understand them both and determine which one most meets your needs.
Klipsch Synergy Overview
The Klipsch Synergy is a home theater speaker system that offers a good balance of performance, value, and aesthetics. The Synergy uses the same drivers as the flagship Klipsch R-15M bookshelf speakers, but produces them in an even more attractive design.
The Synergy system includes wireless speakers and an optional subwoofer. They are set up to offer high performance and deliver an immersive audio experience.
The speakers are large enough to fill any room and have a solid soundstage without sacrificing detail or being boomy. They also include two full-range, two midrange, and two high-frequency drivers for amazing stereo imaging. The bass drivers have been downsized, while the mids and highs are slightly larger.
The main selling point for Synergy is its ability to produce a wide range of sound from your TV or computer by using different types of speakers and subwoofers. This means you are not limited when choosing what kind of sound you want from your system. You can choose whether or not you want to use a subwoofer or use different types of speakers.
Features Klipsch Synergy
1. Digital Signal Processing
DSP enhances the sound by adjusting the frequency response of the speakers to compensate for room effects and other variables. DSP also optimizes bass, mid and treble frequencies for maximum musicality.
2. Cable Management System
A cable management system is integrated into the back of each speaker, allowing you to hide unsightly wires behind the speaker.
3. Easy Installation
The Klipsch Synergy Series In-wall/In-ceiling Loudspeaker System is designed with an easy installation process that makes it simple for you to install your new system in minutes.
4. DTS Virtual
They also feature a new technology developed by DTS to create an immersive surround sound experience with just one or two channels.
5. Dual Drivers
Synergy offers two drivers in each channel, so this feature gives you twice as much power as most other models. This means you can hear more details and deeper bass than before.
6. High-end sound quality with a bass boost
The Klipsch Synergy speaker system delivers accurate high-fidelity audio with a wide range of deep bass, clear highs, and clean midrange.
7. Bluetooth connectivity
The Klipsch Synergy wireless Bluetooth speaker system is the perfect way to enjoy your music wirelessly. You can stream your favorite tunes from your smartphone, tablet, or laptop.
Pros and Cons of Klipsch Synergy
Pros:
Sleek design. The Klipsch Synergy speakers are available in matte black, white, and gray. They have an elegant and sleek design, making them a good choice if you want to add style to your home theater without compromising sound quality.
Good value for money. Additionally, the Klipsch Synergy speakers deliver good value for the price and are not very expensive.
Good sound quality. These speakers' sound is smooth and clear at all volumes, with no serious dips at any frequency range. They also have enough bass to satisfy most people's tastes.
There are multiple speaker sizes to choose from.
Includes an adapter for non-standard size speakers.
Some models also have inbuilt subwoofers and Bluetooth connectivity.
Cons:
Their soundstage is narrow. The soundstage of the Klipsch Synergy isn't very wide; thus, they are not ideal for big rooms since you will lose sound clarity.
They can be heavy and bulky, which may be a turn-off for some users.
Klipsch Reference Overview
The Klipsch Reference is one of their newer line of products that are great for listening to music on your computer or TV. Their designs are simple, and the look is sleek, but they don't compromise on sound quality.
The Klipsch Reference Series is a premium speaker line focused on high performance and fidelity. It utilizes innovative technologies, including Klipsch's proprietary Air Motion Transformer (AMT) technology, to deliver crystal clear sound. This uses dual voice coils to achieve the smooth and extended bass response synonymous with Klipsch speakers.
The Reference Series includes models ranging from bookshelves to large towers that are perfect for any room setting.
Features of Klipsch Reference
1. Wireless remote control
You can use the included Bluetooth wireless remote control to adjust the volume, turn up the bass, and switch tracks from across the room. The wireless remote also features a built-in microphone, so you can take calls on your smartphone or tablet.
2. Bluetooth connectivity
They can connect wirelessly with other Bluetooth-compatible devices such as smartphones, tablets, and laptops. You can even connect your mobile phone to the system via Bluetooth technology for hands-free calling when listening to music through the system's speakers.
3. Dual 5" woofers
The dual 5" woofers deliver deep bass with no distortion even at maximum volume levels while providing precise high frequencies that let you enjoy clear dialogue even at low volumes.
4. Front-firing satellite speakers
The front-firing satellite speakers easily fill the room with rich sound.
5. Dolby Digital Plus
They also features Dolby Digital Plus decoding and two HDMI inputs, so you can connect your cable or satellite box straight to this particular unit without using any other equipment. You can even connect a DVD player or game console directly to the system if you have one of those devices.
6. They also have a high-power handling capability with no physical size limit.
Pros and Cons of Klipsch Reference
Pros:
Wired and wireless connectivity is good.
They have good designs and look premium.
They have incredible sound quality with crisp highs and deep bass.
Some come with dual subwoofer and tweeters.
They have a wide soundstage.
Reference speakers have great power handling and high frequency response.
It is very durable, and it can last for a long time.
Cons:
They are quite expensive.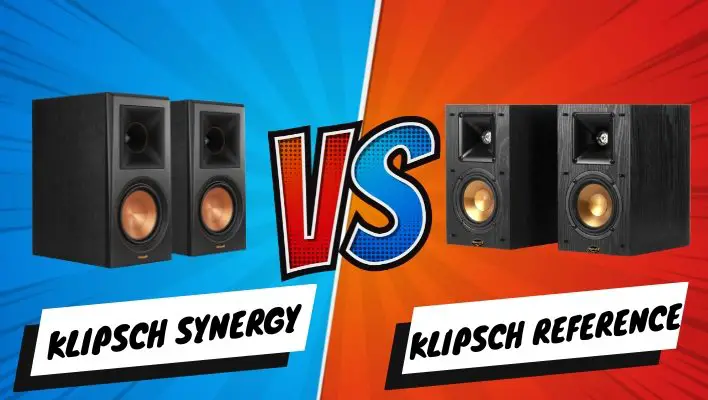 Differences Between Klipsch Reference Vs Synergy
Here are some of the differences between Klipsch Synergy vs Reference:
The Klipsch Reference are large speakers that provide a more immersive experience for listeners in large rooms. They have 7/10/12-inch woofers and over 100 watts of power handling capacity, which makes them ideal for large rooms that need to be filled with sound. They also have an adjustable bass port to allow for better control over your bass response.
The Klipsch Synergy are smaller speakers perfect for small rooms or when you want to crank up the volume without disturbing others around you. They have 5/6/8-inch woofers and about 60 watts of power handling capacity. This makes them great for small spaces where you don't need as much output power but still want excellent sound quality.
The Synergy includes a DSP (Digital Signal Processing) chip that allows for equalization functions to tailor your audio to your specific room conditions (e.g., if you have hardwood floors). The Reference does not have this functionality.
Synergy speakers have a smaller front-baffle, whereas Reference have a larger front-baffle which mounts more or larger speaker tweets.
The Klipsch Synergy has a lower frequency response and power handling compared to the Reference, making them a less powerful speaker system.
The Synergy is more affordable compared to the Reference, and it features a much smaller footprint for its designs.
Final Verdict
The Klipsch Reference and Synergy are both packed with high-quality components that deliver deep bass, clear mids, and crisp highs.
In general, however, Reference speakers have the edge over Synergy. Synergy speakers sound amazing and look fantastic. Their mid-range sounds very good, and the bass is hard-hitting when called upon. However, their sound signature is much more laid back than Reference speakers. If you're looking for something friendlier with all-around greater usability and a cheaper price tag, Klipsch Synergy is the way to go.
On the other hand, Reference speakers sound better overall and have a better build quality. They are fantastic speakers. This brand would be hard to beat if you are looking for a system with great sound quality, power and equally great aesthetics.