The Yamaha TSR 700 is an embodiment of cutting-edge technology and immersive entertainment. This AV receiver transcends the ordinary, inviting you to experience a world of captivating audio and visuals within the comfort of your own home.
The receiver is meticulously crafted to deliver a symphony of sound and an array of visuals that leave a lasting impact, setting the stage for an unparalleled home theater adventure. With a blend of advanced features and seamless connectivity, the TSR-700 opens the door to a world where movies, music, and gaming come to life in ways you've never imagined.
That said, let's break down its key specifications and features;
7.2-Channel Surround Sound
The TSR-700 boasts a remarkable 7.2-channel surround sound configuration that brings a heightened level of immersion to your audio experience. With its intricate arrangement of speakers, this setup is designed to envelop you in sound from all directions, making you feel as though you're right in the middle of the action.
Power is a crucial element in delivering a captivating audio experience, and the TSR-700 certainly doesn't fall short in this aspect. With 100 Watts of power assigned to each channel, this AV receiver ensures that your sound is not only encompassing but also impactful.
Advanced Video Capabilities
The Yamaha TSR-700 showcases a remarkable range of advanced video capabilities that promise to enhance your visual experience to a whole new level. At the forefront of its video capabilities is the support for 4K120AB and 8K60B HDMI formats, which offer exceptional resolution and smoothness.
The inclusion of HDCP 2.3 ensures a secure and seamless connection between your devices, allowing you to enjoy your content without any interruptions. This becomes particularly significant when streaming high-resolution videos or playing the latest video games that demand both high resolution and quick refresh rates.
The eARC functionality is a game-changer for audio transmission. The feature facilitates the transmission of high-quality audio signals via the HDMI cable, eliminating the need for additional audio cables. This results in a streamlined setup and an optimized audio experience that complements the impressive visual quality.
Another key highlight of the TSR-700 is its compatibility with Dolby Vision, Hybrid Log-Gamma, and BT.2020. Dolby Vision brings a dynamic range of colors and contrasts to your screen, which enhances the realism and depth of every scene.
On the other hand, the Hybrid Log-Gamma format ensures compatibility with both standard and high dynamic range content, providing a seamless transition between the two. Additionally, BT.2020 offers a wider color gamut, bringing more lifelike and vibrant hues to your display.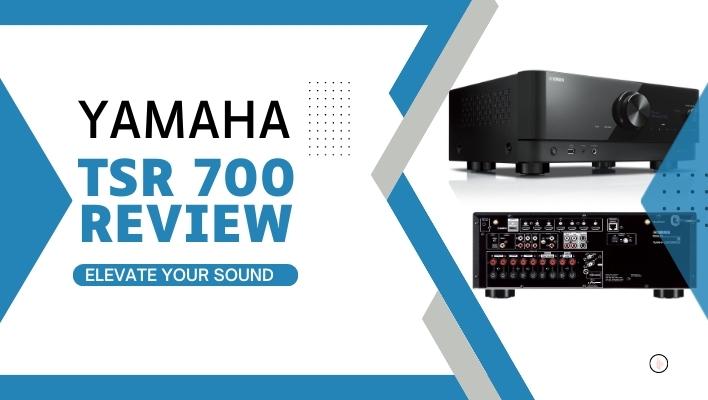 Enhanced Media and Gaming Support
The Yamaha TSR-700 demonstrates its dedication to catering to both media enthusiasts and avid gamers by incorporating a range of features that enhance the overall experience. Auto Low Latency Mode (ALLM) is a standout feature designed specifically for gamers. This technology detects when a gaming console is connected and automatically switches the TV or display to its lowest latency mode.
In simpler terms, it reduces the delay between your actions on the controller and their corresponding effects on the screen. This reduction in input lag is crucial for a responsive and fluid gaming experience, ensuring that your gameplay commands are executed in real time.
Variable Refresh Rate (VRR) is another noteworthy addition that benefits gamers. The work of VRR is to synchronize the refresh rate of your display with the frame rate output of your gaming console. This helps eliminate screen tearing and stuttering, thus creating a smooth and visually consistent experience.
Immersive Audio Technologies
The Yamaha TSR-700 is designed to take your audio experience to new dimensions with its support for immersive audio technologies. These advancements bring a whole new level of depth and realism to your entertainment, be it movies, music, and any form of audio content.
Dolby Atmos and DTS: X are two of the most prominent technologies supported by the TSR-700. These technologies enable a three-dimensional audio experience, allowing sound to move freely around you and even above you.
With technologies, you're no longer confined to traditional channel-based audio; instead, you're enveloped in a sphere of sound, where every whisper, every explosion, and every musical note comes from precisely where it should be in relation to the action on screen.
Dolby Atmos Height Virtualization is another exciting feature that helps enhance the audio experience. While traditional Dolby Atmos setups require overhead speakers for the full effect, Height Virtualization achieves a similar effect using standard speakers.
This feature is designed to simulate the height channels, adding a vertical dimension to your audio setup even without dedicated ceiling speakers. This means you get the benefit of immersive sound without the need for extensive speaker configurations.
Wireless Streaming and Connectivity
The Yamaha TSR-700 embraces the modern era of entertainment with its robust wireless streaming and connectivity features. This AV receiver makes it effortless to enjoy your music and content by integrating it with your devices and favorite streaming platforms.
Using Wi-Fi connectivity, the TSR-700 lets you tap into your home network. This means you can stream your favorite music from your smartphones, tablets, or computers directly to the receiver .With Wi-Fi connectivity, your entertainment options become virtually limitless, plus you can enjoy your favorite tracks and playlists without any cords or cables.
AirPlay 2 compatibility is another highlight of the TSR-700. If you're using an Apple device, this feature allows you to stream music directly from your devices, such as iPhones, iPads, and Macs, directly to the receiver. This integration ensures that your music is available at your fingertips, plus you can easily switch from personal listening to sharing with friends and family.
Spotify Connect is yet another convenience that the TSR-700 offers. If you're a Spotify user, this feature enables you to control your Spotify playback directly from the receiver's interface. This means you can navigate through your playlists, skip tracks, and control the volume without the need to interact with your smartphone or other devices.
Voice Control
Voice control integration takes convenience to the next level. Using voice assistants such as Amazon Alexa or Google Assistant, you can simply use your voice to command the TSR-700. This might involve asking to play specific songs, adjust volume levels, or even switch between different sources. This hands-free approach further enhances the ease and comfort of using the receiver.
MusicCast Multi-Room Audio
The Yamaha TSR-700 introduces you to the world of MusicCast multi-room audio, a feature that transforms your home into a harmonious symphony of sound. With this technology, you can synchronize and manage music playback across various rooms, creating a seamless and immersive audio experience that resonates throughout your entire living space.
At the heart of this innovation lies the MusicCast multi-room audio app control. This dedicated app acts as your conductor's baton, giving you complete authority over the music playing in different rooms. With just a few taps on your smartphone or tablet, you're able to orchestrate a synchronized audio journey that immerses you in your favorite tunes no matter where you go.
The beauty of MusicCast multi-room audio lies in its simplicity. As you move from room to room, you can maintain a continuous music flow that complements your activities and mood. Whether it's playing energetic beats during a workout or setting a relaxing ambiance for a quiet evening, the TSR-700 empowers you to curate your surroundings through the magic of synchronized audio.
Furthermore, this technology embraces a wide array of Yamaha devices, not just limited to the TSR-700. This means that you can extend the multi-room experience to various Yamaha MusicCast-enabled speakers and components, thereby integrating them into your audio landscape. The result of this is a customizable network of sound that adapts to your preferences and amplifies your enjoyment of your favorite music.
Wide Range of Streaming Services
The Yamaha TSR-700 redefines your access to entertainment by seamlessly integrating with a diverse array of streaming services. This AV receiver acts as a gateway to an expansive world of music and audio content, offering you a direct connection to some of the most popular streaming platforms available.
With support for streaming services like Pandora, Spotify, Amazon Music, SiriusXM, TIDAL, Deezer, Napster, and more, the TSR-700 ensures that your audio preferences are catered to without limitations. Furthermore, each of these services boasts a vast library of songs, albums, playlists, and curated content, catering to a wide spectrum of musical tastes and genres.
Beyond traditional radio or your personal music collection, these streaming services keep you up-to-date with the latest releases, provide customizable playlists, and even recommend tracks based on your listening habits.
Automatic Room Calibration
The Yamaha TSR-700 takes a sophisticated approach to audio optimization with its YPAO automatic room calibration technology. This innovative feature is used in conjunction with Reflected Sound Control (R.S.C.) and multipoint measurement to ensure that your audio experience is finely tuned to your unique space.
YPAO uses advanced algorithms and measurements to analyze the acoustic properties of your room, and then fine-tunes its audio settings accordingly. This process involves adjusting various parameters like speaker distances, levels, and frequency response to achieve a balanced and accurate sound stage that complements your room's specific characteristics.
The addition of R.S.C takes this optimization a step further. This technology is designed to identify and compensates for sound reflections that can disrupt the purity of your audio. It also helps mitigate the impact of walls, furniture, and other surfaces that can cause audio waves to bounce unpredictably, resulting in clearer and more focused sound.
On the other hand, the multipoint measurement is added to the mix to elevate the precision of the calibration process. By measuring audio at multiple points within the room, the receiver ensures that the audio adjustments made are accurate and effective across various listening positions. This means that whether you're seated in the center of the room or off to the side, you'll experience consistent audio quality.
Phono Input
For vinyl enthusiasts and aficionados of analog audio, the Yamaha TSR-700 extends a warm invitation to experience the warmth and richness of vinyl records in the digital age. Central to this invitation is the inclusion of a dedicated phono input, a feature that pays homage to the timeless charm of turntables and vinyl playback.
By offering a dedicated phono input, the TSR-700 extends an open invitation for you to connect your beloved turntable directly to the receiver. This means you can experience the distinctive crackles, pops, and warmth of vinyl playback, all while benefiting from the TSR-700's advanced audio processing capabilities.
Zone2 Capability
The Yamaha TSR-700 brings versatility to your audio experience with its Zone 2 feature. This capability allows you to extend your audio to different areas of your home, creating a seamless audio flow that adapts to your surroundings.
The TSR-700 empowers you to transmit the same or different audio content that's playing in the main room to another designated area using Zone 2 compatible speaker terminals. With the Zone 2 feature, you can move to these spaces and continue listening to the same audio source or even switch to something entirely different.
For instance, if you're hosting a gathering in your living room and playing music through your home theater setup, you can use Zone 2 to extend that music to your outdoor patio, allowing your guests to enjoy the same tunes while mingling outside. Alternatively, you might choose to have a different audio source in each area, catering to different preferences and activities.
Expandable to MusicCast Surround
The Yamaha TSR-700 is designed to evolve with your evolving audio preferences. One of its standout features is its expandability to a MusicCast Surround setup, which offers a dynamic way to enrich your home theater experience.
The TSR-700 lets you integrate optional MusicCast speakers, allowing you to enhance your current setup. This integration creates wireless surround sound, transforming your audio from standard stereo to a more encompassing surround sound configuration.
With the addition of these MusicCast speakers, the audio extends beyond the confines of the primary unit, enveloping you in a multidimensional soundscape.
How to Setup Yamaha TSR 700
Setting up the Yamaha TSR 700 is user-friendly and straightforward, thanks to the AV SETUP GUIDE application. The app provides step-by-step instructions, which guides you through the process of connecting cables between the AV receiver and playback devices, setting up speakers, and configuring various settings.
This streamlined approach is aimed at making the setup process as simple as possible, even for users who may not be experienced in audio and video setups. Additionally, the app's intuitive interface and on-screen prompts help ensure you are able to complete the setup effortlessly, making it accessible to a wide range of users.
What We Like
Powerful speaker performance
Seamless Bluetooth connectivity
What We Don't Like
Relatively large size and weight
Lack of IMAX Enhanced support
Does Yamaha TSR-700 have Atmos?
Yes, the Yamaha TSR-700 supports Dolby Atmos technology. This technology enhances the immersion of movies, music, and games by creating a more realistic and enveloping audio experience. With Dolby Atmos support, the Yamaha TSR-700 is capable of delivering an enhanced and immersive audio experience that adds depth and realism to your entertainment content.
Can I control my Yamaha TSR 700 from my phone?
Yes, you can control the Yamaha TSR-700 AV receiver using your smartphone through the MusicCast app. The MusicCast app is developed by Yamaha and provides you with a convenient way to control various aspects of your TSR-700 and other compatible Yamaha devices.
To control your Yamaha TSR-700 using the MusicCast app, ensure that both the receiver and your smartphone are connected to the same Wi-Fi network. Next, download and install the MusicCast app from your device's app store. Follow the setup instructions in the app to connect and control your TSR-700 seamlessly from your smartphone.
Parting Shot!
The Yamaha TSR 700 stands out as a remarkable AV receiver, boasting an array of impressive features and substantial power that contribute to its exceptional performance. Its performance is exceptional, leaving no doubt that it deserves the high praise it receives. If you're considering this receiver, there's a high likelihood that its performance will resonate with you, making it a strong contender for your audio and entertainment needs.