In a rapidly evolving landscape of home and car audio, the relentless march of modern technology continues to reshape the way we experience sound. As traditional speaker systems make way for the emergence of high-performance hi-fi setups, audio product manufacturers find themselves navigating a dynamic terrain of innovation and consumer demand.
If you're planning to upgrade your audio system, the road ahead can be tricky to navigate. There are a lot of options out there, but enthusiasts and audiophiles often find themselves amid a captivating debate– Skar Audio vs JL Audio.
These brands offer different products with varying levels of quality and price ranges. Making the right choice between them is crucial, as it can affect both your listening experience and your wallet. Let's take a closer look at what sets these brands apart in terms of design, performance, and cost.
JL Audio vs Skar Audio
Both brands have etched their names in the industry by delivering high-quality sound experiences to diverse audiences. However, Skar Audio and JL Audio represent distinct approaches to achieving sonic excellence, each with its own set of technologies, design philosophies, and devoted fan bases. But, which of these two brands seems to have an upper hand? Let's cut to the chase!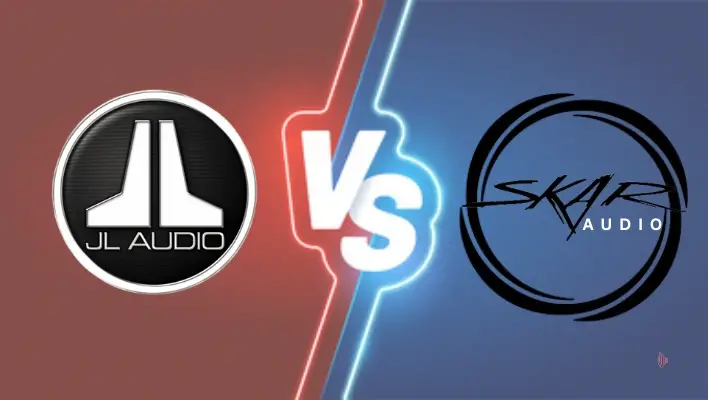 Skar Audio
Skar Audio is an American audio company that specializes in designing and manufacturing car audio systems and accessories. Founded in 2010 by Kevin Schlenker, the company quickly gained recognition for its commitment to delivering high-performance and affordable audio solutions.
In its early years, Skar Audio focused on producing subwoofers, amplifiers, speakers, and other car audio components. The brand gained popularity among car audio enthusiasts for offering products that provided impressive sound quality and power handling capabilities without breaking the bank.
Skar Audio gained popularity within the car audio community through online forums, social media, and word of mouth, attracting a loyal customer base. It aimed to strike a balance between affordability and performance, making its products accessible to both newcomers and experienced enthusiasts.
Skar Audio Key Features
Performance-oriented designs- Skar Audio prioritizes performance in its design approach. The company focuses on creating products that deliver powerful and accurate sound reproduction, particularly emphasizing deep and impactful bass response. The engineering team is committed to exploring new ways to optimize components like subwoofer cones, voice coils, and enclosures to ensure maximum efficiency and fidelity.
Durability and longevity- Skar Audio products are designed with durability in mind. The brand uses robust materials and construction methods to ensure its products can withstand the rigors of high-volume and high-impact sound reproduction over time.
Customized designs- Skar Audio offers a range of customization options within its product lines. This allows consumers to choose products that align with their desired audio preferences, vehicle type, and available space.
Sleek aesthetics- The brand pays attention to the visual aspects of its products. Skar Audio products often feature sleek and modern aesthetics that can complement various vehicle interiors while maintaining a balance between form and function.
Size variability-Skar Audio offers a variety of sizes for its products, enabling users to find components that fit their specific vehicle dimensions while maintaining optimal audio performance. Additionally, many Skar Audio products are designed with user-friendly features for straightforward installation.
Balanced audio quality- Skar Audio is known for its emphasis on powerful bass, but it also strives for overall audio balance. Its designs aim to provide full-range sound with well-defined highs, mids, and lows, contributing to a comprehensive listening experience.
Skar Product Range
Skar Audio offers a diverse range of products tailored for car audio enthusiasts and those seeking to upgrade their sound systems. Their product lineup spans various categories, each designed to enhance different aspects of the audio experience. Here are some key categories within Skar Audio's product range;
Subwoofers
Skar Audio is renowned for its subwoofers, which are available in various sizes and configurations. These subwoofers are designed to deliver powerful and deep bass responses, making them a favorite among bass enthusiasts and those looking to add impact to their music.
Amplifiers
Skar Audio offers a selection of amplifiers designed to power their subwoofers and other speakers. These amplifiers come in different power ratings to match various audio setups and preferences.
Speakers
The brand offers speakers for mid-range and high-frequency reproduction. These speakers can be integrated into the existing audio system to enhance the overall sound quality and provide a well-rounded listening experience.
Component systems
Skar Audio provides complete component systems that include speakers, tweeters, and crossovers. These systems are designed for users who want a more comprehensive upgrade to their car's audio setup.
Accessories
Skar Audio offers various accessories to complement its main product categories. This includes items like wiring kits, grilles, and enclosures designed to optimize the installation and performance of their products.
Subwoofer Enclosures
Skar Audio offers pre-built subwoofer enclosures that are specifically designed to match the performance characteristics of their subwoofers. These enclosures help optimize the subwoofer's performance and ensure proper acoustics within the vehicle.
Marine Audio
In addition to car audio, Skar Audio also provides marine audio solutions for boats and watercraft. These products are engineered to withstand the challenges of aquatic environments while delivering high-quality sound.
Sound Processors
Skar Audio offers sound processors that allow users to fine-tune and optimize their audio setups for the best possible sound quality. These processors often include features like equalization and crossover adjustments.
JL Audio
JL Audio is a prominent American audio company renowned for its high-quality audio products, particularly in the fields of car audio and marine audio systems. Founded in 1975 by Jim Birch and Lucio Proni, JL Audio has established itself as a leader in the industry through a commitment to innovation, craftsmanship, and superior sound reproduction.
JL Audio's journey began with a focus on producing high-performance subwoofers. In the early years, the company gained recognition for its innovative designs and dedication to delivering deep and accurate bass. This reputation helped JL Audio become a preferred choice among car audio enthusiasts and professionals alike.
Throughout its history, JL Audio has introduced several groundbreaking technologies. One of the brand's significant achievements was the development of the patented W7 subwoofer series, which garnered critical acclaim for its exceptional bass response and engineering excellence.
JL Audio Product Range
JL Audio boasts an extensive array of products tailored to elevate both car and marine audio experiences. The brand's commitment to innovation and precision engineering is evident across its diverse product categories. They include;
Car Audio
JL Audio is dedicated to enhancing your car audio experience by offering a range of modern and customizable solutions tailored to your space and budget. Their car audio products include;
Reference-grade amplifiers- These car amps are designed to significantly elevate sound quality by providing a power boost to your car audio system.
Full-range car speaker systems (C7, C3, C2, and C1 series) – JL Audio provides some of the best full-range car speaker systems that promise optimal sound quality from your car stereo.
Subwoofers- JL Audio subwoofers are designed to provide accurate and deep bass, with features like advanced technologies, slim profiles for tight spaces, and custom-fit options for specific vehicle models. They offer various subwoofer series, including the W6v3, W7AE, TW5v2, and TW3.
Bluetooth receivers- JL Audio also provides Bluetooth receivers designed to integrate wirelessly into your car's audio system seamlessly.
Stealth Boxes- JL Audio Stealthboxes are a line of custom-fit subwoofer enclosures designed to provide enhanced bass performance in specific vehicle models. These enclosures are precisely engineered to fit seamlessly into various parts of your vehicle's interior, such as under seats, in cargo areas, or other unused spaces, without taking up valuable room.
Digital signal processors- These processors help improve the overall driving experience by fine-tuning and optimizing your car audio system.
Home Audio
JL Audio extends its expertise to the realm of home audio, offering a comprehensive range of products, including in-room powered subwoofers, in-wall speakers, in-ceiling speakers, and wireless audio systems. JL Audio home audio allows you to elevate your home theater or audio setup without compromising your home's aesthetics.
Marine Audio
For boat enthusiasts seeking exceptional sound on the water, JL Audio provides an extensive array of marine audio solutions. These include source units and marine receivers, which let users upgrade the boat's audio system with components designed for marine environments. JL Audio also offers marine speakers that can withstand the challenges of water and weather while delivering high-quality sound.
Powersports Audio
JL Audio also offers audio solutions designed specifically for powersports vehicles, such as ATVs, UTVs, motorcycles, and marine vehicles. These products are engineered to withstand challenging outdoor and marine environments without compromising sound quality.
Similarities between Skar Audio and JL Audio
Skar Audio and JL Audio are both well-known companies that specialize in manufacturing car audio products, specifically car speakers, subwoofers, amplifiers, and other related accessories. They are both prominent players in the car audio industry and have built reputations for producing high-quality audio equipment for car enthusiasts and audio professionals.
Both companies are recognized for their dedication to engineering and designing products that deliver excellent sound quality and performance. They often cater to different segments of the market, with varying product lines that cater to different preferences, budgets, and levels of audio expertise.
Key Differences Between Skar Audio and JL Audio
Performance
Both Skar Audio and JL Audio are esteemed players in the car audio industry, renowned for producing robust and top-tier sound experiences. JL Audio holds a longer history and established reputation, while Skar Audio is rapidly gaining recognition, particularly for its subwoofers. While JL Audio benefits from its historical advantage, Skar Audio is making a mark with its impressive sound quality and powerful handling capabilities.
Product Line
JL Audio enjoys an upper hand in terms of product diversity by offering an extensive array of car audio components, encompassing subwoofers, speakers, amplifiers, signal processors, equalizers, and more. This breadth of options grants customers greater flexibility to tailor their car audio setup. On the other hand, Skar Audio's more focused product line allows them to excel in their specialized areas, resulting in superior sound quality and performance.
Quality
Both brands are synonymous with crafting top-tier car audio equipment. However, JL's extensive history in the industry gives it a heightened reputation for quality. Their decades of experience are evident in the durability, reliability, and exceptional sound quality of their products. Skar Audio has also earned acclaim for its quality, but JL's longstanding legacy positions it as a frontrunner in this aspect.
Value
Skar Audio products generally come at a more budget-friendly price point compared to JL Audio, making them a favored choice for economical consumers. Skar Audio's commitment to providing affordable yet high-quality products has cultivated a loyal customer base, especially in the car audio market. On the contrary, JL Audio caters to diverse budgets by offering a range of products, spanning both economical and high-end options, thereby accommodating varying customer preferences.
Notable Products
Skar Audio SDR Series Subwoofers
The SDR series is known for delivering powerful and accurate bass in an affordable package. These subwoofers are designed for those who want to enhance their car audio system without breaking the bank.
JL Audio W7 Series Subwoofers
The W7 series is renowned for its exceptional bass performance and innovative design. These subwoofers are known for delivering deep, powerful, and accurate bass in high-quality enclosures.
Skar Audio TX Series Speakers
The TX series includes coaxial and component speakers that aim to provide clear and detailed sound reproduction. These speakers are designed to work well across a range of musical genres.
JL Audio C5 Series Component Speakers
The C5 series offers premium component speakers designed to reproduce detailed and dynamic sound. They are known for their exceptional imaging and clarity, making them a favorite among audiophiles.
Skar Audio RP Series Amplifiers
The RP series amplifiers offer a combination of power and efficiency, making them a popular choice among car audio enthusiasts. They are designed to provide clean and reliable power to your speakers and subwoofers.
JL Audio HD Series Amplifiers
The JL Audio HD Series Amplifiers are a line of high-performance audio amplifiers designed to deliver exceptional sound quality and power output for car audio systems. These amplifiers are known for their advanced engineering, efficient design, and premium components.
Frequently Asked Questions
Why is Skar Audio so cheap?
Skar Audio's affordability can be attributed to factors like its direct-to-consumer sales model, efficient production processes, target audience focusing on budget-conscious consumers, lower overhead costs, and strategic market positioning within the competitive car audio industry. This doesn't necessarily mean lower quality- the company focuses on delivering value to cost-conscious consumers.
Are Skar speakers any good?
Skar Audio has managed to carve out a niche for itself in the car audio market by offering a range of speakers that strike a balance between performance and affordability. Many users have reported being pleasantly surprised by the sound quality and power handling capabilities of Skar Audio speakers, especially in their subwoofer lineup. Their commitment to value is reflected in their direct-to-consumer model, efficient production methods, and competitive pricing.
Conclusion
Skar Audio and JL Audio are prominent players in the car audio industry, offering a diverse range of products to cater to various audio preferences and budgets. Skar Audio stands out with its focus on delivering affordability without compromising on sound quality, making it an attractive choice for budget-conscious consumers.
On the other hand, JL Audio's extensive history, innovative design, and commitment to high-quality audio have solidified its position as a top-tier brand, favored by audiophiles and enthusiasts seeking uncompromising performance. Ultimately, both brands provide ample opportunities for enthusiasts to enhance their car audio systems and enjoy exceptional sound quality on the road.