Plenty of brands are available in the car stereo brand market today. However, if advanced audio equalization and superior sound quality are your thing, then JVC and Kenwood are two brands you cannot overlook.
Over many decades now, both brands have successfully earned and retained an outstanding reputation for producing audio devices with exceptional performance and distinctive features. Interestingly, both brands are under the same parent company – JVCKenwood.
With awesome reviews to the credit of the two car stereo giants, telling which brand is better is always a hard nut for most people to crack. If you fall into this category, this piece will answer all your queries.
In the next few sections, I will walk you through a side-by-side comparison of JVC and Kenwood and recommend which would best serve your needs.
JVC – Who Are They?
Japan Victor Company, popularly known as JVC, was initially established in 1927. They were originally known as the Victor Talking Machine Company of Japan, Limited, and started producing radios in 1932.
With a rich legacy dating back to its establishment, JVC has consistently stood as a pioneer in pushing the boundaries of sound innovation. The brand's commitment to delivering high-quality audio experiences has always distinguished itself as one of the best audio manufacturers.
JVC line of stereos includes car sterile receivers, subwoofers, and speakers. The products all boast an array of unique selling points that set them apart from competitors. The company's head units also offer connectivity options that allow users to integrate their devices easily.
Kenwood – Who Are They?
Kenwood was established in the 1940s as Kasuga Radio Co. Ltd. The brand name was coined from the combination of 'Ken' and 'Wood.' 'Ken' is from Kenmore appliances, and 'wood' was incorporated to signify strength and durability.
Like the sister brand – JVC – Kenwood is known for how their products bridge between entertainment, communication, and navigation systems seamlessly. Although Kenwood has plenty of audio devices in the market, their best products are subwoofers and car stereos.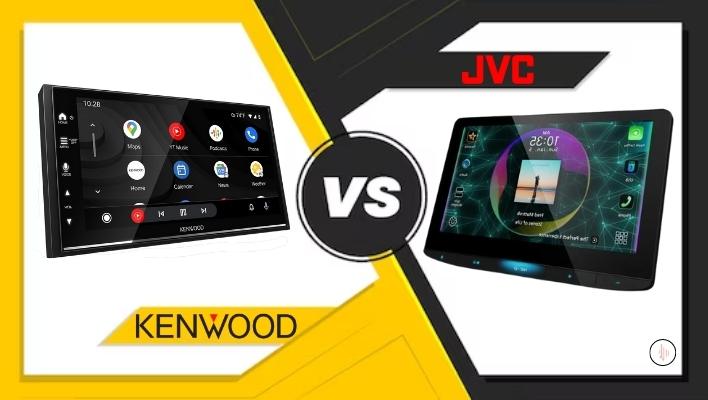 JVC Vs Kenwood
JVC and Kenwood are two distinct brands, but they were integrated to form JVCKenwood in 2008. Despite their merger, both brands operate independently and, hence, have different target markets.
Below, we undertake a side-by-side comparison of the two legendary brands:
Price
JVC speakers are slightly more affordable when compared to their Kenwood counterparts. But one thing we can assure you of is that the quality is worth the cost. With as low as $15, you can get a medium-end speaker from JVC. On the other hand, the cost of Kenwood speakers starts from about $15 $20.
Frequency Response Range
JVC and Kenwood speakers have been praised for their frequency response ranges. However, in a head-to-head comparison, JVC wins. JVC stereos excel in delivering crisp highs and well-defined frequency responses, ranging from 28 Hz to 36,000 Hz. Conversely, Kenwood devices have a frequency response range of 800 Hz to 23,000 Hz.
Controls (Buttons and Remote)
All Kenwood units come with physical buttons, but their JVC counterparts do not. Even though this doesn't affect the performance of appliances, it can significantly impact the ease of use for many people. Kenwood will make a perfect choice if you love your audio systems with physical buttons. 
When it comes to the remote control system, both Kenwood and JVC are on top of the game. Apart from the remote control that comes with every appliance, you can also use your smartphones to operate car receivers made by both stereo giants. All you need to do is install your brand's remote control app and connect the phone and the car receiver via Bluetooth. 
User Friendliness
JVC units feature friendlier user interfaces and well-set controls. With only a few tapings, you can easily connect them to your iOS or Android device using Android Auto and Apple CarPlay support. The best part yet, you can always consult the user manual to guide you through the connection.
The Kenwood units, on the other hand, have intricate audio controls and operations. While they are preferred for precise tuning options, navigating their control and tuning processes can be challenging for some people.
For example, the connection of Kenwood stereos to iOS and Android devices isn't as straightforward as with JVC stereos. Most Kenwood stereos come with up to three inputs for cameras, which may not be easy to handle for an average user or someone without a flair for ICT. The navigation system for the high-end/modern stereos is even more complex.
As such, if you prioritize user-friendliness, buying from the JVC brand will make a good decision.
Size of Units
Kenwood and JVC units differ in their size. While receivers, earphones, and headphones made by both brands are compact and will easily fit into spaces, there's a significant difference in their speaker sizes.
Kenwood speakers are generally compact and can fit into factory-designed spaces without protruding. On the other hand, plenty of old-model JVC speaker boxes are cumbersome and require bigger spaces.
If you are buying a speaker and would like it to fit into position perfectly, it is best to buy from Kenwood. JVC will only make a good pick if you get a recent model.
Connectivity Options
In terms of connectivity options, both JVC and Kenwood are on top of their games. Users of JVC and Kenwood devices have a wide range of options to connect their audio units to other devices like laptops and smartphones.
For instance, JVC units support Bluetooth, RCA, HDMI, USB, Wi-Fi, and AUX input. As for Kenwood, users can connect using Bluetooth, RCA, and HDMI.
JVC Vs. Kenwood – Which Should I Patronize?
JVC and Kenwood are top-class brands with a record of producing durable, high-performance audio devices. When it comes to choosing which brand to buy from, your decision will ultimately depend on your personal preferences. That said, JVC products tend to be better in terms of price, frequency response rate, and user-friendliness. But regarding performance and durability, both brands stand tall.
Conclusion
JVC and Kenwood are two renowned giants in the audio technology market. Even though both brands' products are high-quality, several things set them apart. Their differences have to do with the sizes of their unit sizes, frequency response rate of speakers, pricing, etc. So, you will need to review these and other features discussed above to see which of the brands perfectly fits your requirements.
New advancements will continuously influence how we judge and experience sound. Thus, we can't leave an absolute verdict on which brand is better. The right choice for you today might change as technology progresses. But with a side-by-side review of the brand features and your requirements, you can easily decide which will make a better pick for you.