If you love music or are a movie fanatic, chances are that you have come across both NAD and Marantz audio devices now and then. Both companies have deep roots in the audio world thanks to their commitment to providing a wide range of loudspeakers for all kinds of listening. But, which manufacturer produces better audio products than the other?
In today's article, we'll explore these two iconic brands to help you get more insight into their products. Generally, Marantz audio devices, in particular the AV receivers, tend to outperform their NAD counterparts of similar specifications and price range.
On the other hand, NAD offers great build quality and outstanding warranty on all its products. That said, let's get started with our detailed comparison of both brands , focusing on some of their best products as well as the notable differences in sound quality.
Overview of Marantz vs NAD
Brief History and Review of NAD
NAD Electronics, an abbreviation for New Acoustic Dimension, is a known manufacturer of audio products, including home hi-fi speakers, amplifiers, AV receivers, and other related products. The audio brand was founded in 1972 by a British electrical engineer, but it was later sold to Lenbrook Group whose headquarters is in Ontario, Canada.
NAD Product Line
For four decades now, NAD has been producing world-class audio products such as home amplifiers, preamplifiers, turntables, home theater receivers, headphones, and a range of audio accessories. Production happens in Ontario, Canada but their products are available in most distribution outlets across the world.
In general, NAD audio devices are all-time favorite buys, thanks to their warm and non-fatiguing performance. For instance, NAD amplifiers are exceptionally powerful, making a perfect pick for anyone looking to enjoy a lot of detail and deep bass.
In addition, NAD has greatly improved its AV receivers thanks to the inclusion of robust features that deliver an undebatable listening experience. Among the features that make NAD receivers a force to reckon with include:
Support for HDMI CEC/eARC
The Dirac Live room correction capability
4K UHD video pass-through
ROON enabled
Modular Design Construction (MDC0 capability- basically this is the ability to accommodate future digital upgrades
Full compatibility with MQA content
Support for Apple AirPlay 2
Spotify and Tidal Connect
Enhanced ergonomics thanks to the user-friendly touch screen
Some of the best-selling NAD receivers include;
NAD T 778 AV Surround Sound Receiver
NAD T 778 is a nine-channel surround sound receiver that is designed to accommodate any modern sound format. The developers designed this receiver using premium grade parts whose aim is to allow you to enjoy movies/music just the way the artist intended- including mood, emotions, and expressions.
Important specs
Channels- 9.2
Power output- 140/ 8 Ohm per channel
HDMI in/out- 6/2
Bluetooth/ Wi-Fi- enabled/enabled
NAD T 758 V3i A/V Surround Sound Receiver
The NAD T 758 V3i is one of the most after-sought receivers for movie lovers looking to build a premium surround sound home theater setup. The receiver packs modern features, including room correction software (Dirac Live) and ultra-clean power, which helps deliver NAD's signature audio quality. It also includes multiple surround sound formats, including Dolby Atmos and DTS for accurate placement of special sound effects.
Important specs
Channels- 7.1
Power output- 110/ 8 Ohm per channel
HDMI in/out- 3/1
Bluetooth/ Wi-Fi- enabled/enabled
Brief History and Review of Marantz
Marantz is an old name in the audio world, and it has spent several decades developing and designing premium-grade audio products. The company was initially based in New York, but its headquarters has since been moved to Kanagawa, Japan. The brand has since excelled in the production of hi-fi audio systems, among other high-end audio components.
Marantz Product Line
Marantz is an experienced audio products manufacturer, and it is known to make excellent AV receivers. The best thing about Marantz receivers is that they deliver exceptional sound quality and also tend to be more durable than their NAD counterparts.
Marantz, as a brand, has a reputation for producing high-quality audio products that have claimed a niche for themselves in the entertainment industry. Over the years, the products have continually maintained affordable and budget-friendly prices.
Despite the fact the brand has had different owners since its inception, its products have maintained their signature sound quality and premium price. Furthermore, Marantz receivers provide a considerably detailed sound that is not only high-quality but also accurate. Other features inherent in Marantz receivers include;
The Dolby Atmos Height Virtualization capability
Compatibility with NTFS on the USB input
Support for HDCP 2.3 on the available HDMI outputs/inputs
Inbuilt Bluetooth
Support for Zone 2 speakers
ROON ready- can utilize either Airplay or USB port
A mute icon is included
Attractive Marantz icon during periods of inactivity
Auto rename capability on all HDMI inputs
Some of the best AV receivers from Marantz include;
Marantz SR6015
The SR6015 is designed to satisfy the needs of any movie lover looking for a robust home theater receiver capable of filling any room with high-quality sound. Furthermore, the nine-channel unit delivers enough power for larger living spaces, and it is also designed to accommodate future upgrades. Another selling point for this receiver is the support for both Dolby Atmos and DTS: X surround sound formats.
Other specs include;
Channels- 9.2
Power output- 110W/8 Ohm per channel
HDMI in/out- 7/3
Bluetooth/ Wi-Fi- enabled/enabled
Marantz SR8015
Marantz SR801 is a premium 11.2 AV receiver with the capability of decoding multiple audio formats. The receiver is packed with all features you may want in a modern receiver, plus it incorporates many cool features for ardent movie lovers. In addition, the unit allows you to customize your sound depending on the size of your living space.
Important specifications
Channels- 11.2
Power output- 140W/8 Ohm
HDMI in/out- 8/3
Bluetooth/ Wi-Fi- enabled/enabled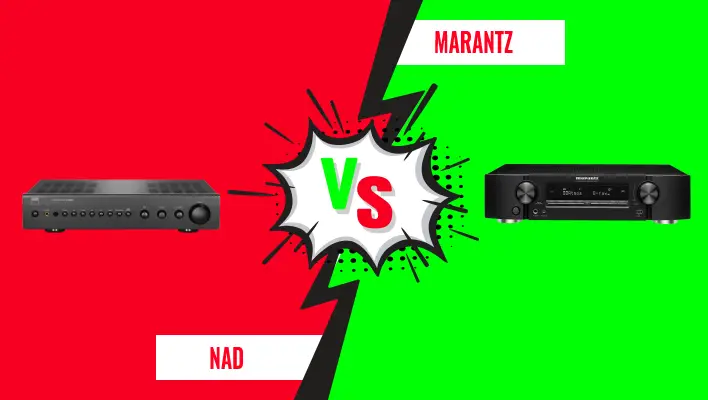 NAV vs Marantz- Which is Better?
The choice between these two audio giants comes down to usage as well as compatibility with the existing components. Considering that satisfaction level varies from one user to the other, it might be tricky to conclude that one brand is better than its counterpart.
When choosing between the two manufacturers, there are some special considerations that you may want to keep in mind. These include the external design, availability of customizable features, (e.g. bass and treble level, frequency range, etc.) as well as the speaker/amp capabilities.
The best thing about both brands is that they are committed to cater to the audio needs of all consumer categories. This means that whether you are looking for an AV receiver with a budget-friendly price tag or a high-end model, both brands will meet your expectations.
What's more, AV receivers from both brands offer an outstanding stereo and surround sound experience while delivering a cinema-inspired listening environment. In addition, NAD and Marantz receivers are enough proof that high fidelity audio and build quality do not always have to cost a fortune.
To conclude, it is almost impossible to establish which brand will work for you. The only way around this is to examine the demo models available in different stores till you determine the most suitable choice. At the end of the day, both brands shine over most boutique brands that cost way more.