You have a big party coming up and can't wait to excite the guests with entertaining music. While choosing a playlist you come across terms like WAV, MP3, ACC, FLAC and so on dubbed on the songs. You have no idea what they are, all you need is good music that your guests can dance and sing along to. These are called audio codecs.
An audio codec, also known as a sound codec, is a digital electronic device or computer software program that helps compress and decompress audio information. The hardware or device-based audio codec primarily deals with the decoding and encoding of analog audio data. In contrast, the software program-based audio codec consists of an applied algorithm that encodes or decodes an audio stream.
The purpose of using an audio codec is to reduce the size of an audio file with little or no effect on the sound quality. It compresses or decompresses digital audio information from a live stream (radio) or a stored audio data file. It also helps to keep high-quality audio data in devices such as hard drives, using a minimal amount of space. The same sound quality is restored by decompressing the compressed file using the same codec before replay.
So, what are AAC and FLAC, and how do they work? We first need to understand the compression techniques they use to answer these questions.
There are mainly two types of compression methods: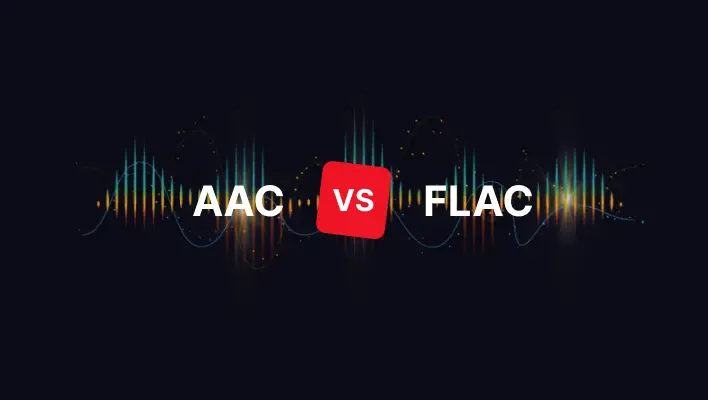 Lossy audio format
This is a compression algorithm that reduces the size of the original audio file by discarding or 'losing' audio information, thereby the name 'lossy.' Due to the scrapped data, the audio file produced is much smaller than the original.
Lossless audio format
As the name suggests, the 'lossless' compression algorithm maintains all data information as the original file. The produced audio file may be larger than its lossy equivalent but smaller than the uncompressed WAV file.
What is FLAC?
FLAC, or what others call 'Free Lossless Audio Codec,' is an audio file format that compresses lossless sound to small sizes without affecting its quality. Therefore, the FLAC file size is smaller than the original audio file but retains all audio information.
What is AAC?
AAC is a short name for 'Advanced Audio Coding.' It is a format for coding lossy audio and storing them in compressed file sizes.
Being specifically designed to succeed in the mp3 format, the AAC uses similar but modified principles of 'lossy' compression. It loses much audio information when discarding inaudible sounds during a contraction but offers better quality in sound than the mp3 at a similar bit rate.
AAC vs. FLAC File Size
AAC files use a lossy format in compression. It shreds off audio data considered less perceptible and unnecessary. The lossy files are therefore smaller than the original file. This is advantageous as they can be easily stored in portable devices. Their small size makes them quicker and cheaper to download online.
FLAC files, on the contrary, use a lossless format in compression. It does not shred audio data but maintains the same information as the original file. For this reason, there is a minimal reduction in file size.
In many cases, FLAC files are about three to five times the size of their equivalent AAC files. This might be disadvantageous if one was to store them in portable devices. The compressed FLAC file would consume much space compared to the AAC version of the same file. This also implies that the FLAC file would take longer to download from online sites and is more expensive than an AAC file.
AAC vs. FLAC Sound Quality
The sound quality of an audio file is dependent on several elements. For example, the quality of a music file may depend on the quality of musical instruments used, how well they are used, the quality of the studio room, how well the musician sings, and how well the music is edited and mastered, to mention a few.
Considering all factors of good sound production are applied, the type of audio codec used will significantly influence the listening experience. This is because different codecs use different means of processing which affect the bit rate, sample rate, and sample depth, thereby giving other qualities of sound.
Bit rate
It is also called "data rate," It measures the transfer rate of digital data in bits per second (abbreviated as bps or bit/s). It gives the audio file a more 'crisp' and focused quality. Audio files with a high bit rate, therefore, have high quality but are much more significant. Those with a low bit rate have poor sound quality but a considerable amount of storage space due to their smaller size.
The FLAC file, being a lossless compression codec, will have a high bit rate and sound quality since it maintains all audio information. The AAC lossy format losses audio frequencies from the bit stream during compression, resulting in lesser sound quality.
Sample rate
This refers to the number of audio samples recorded per second. It is measured in Hertz (Hz/kHz) or samples per second. The more samples per second, the greater the audio signal.
FLAC files offer very high sample rates of up to 192 kHz, while AAC offers sample rates of 8-96 kHz. The human ear, however, receives audio signals of up to 20 kHz, meaning FLAC and AAC can meet the maximum hearing sample rate.
Sample depth
It is also known as sample precision or sample size. It refers to the quality of each recorded sound sample per second. The greater the sample depth, the higher the audio quality.
A FLAC file would have a better sample depth than the AAC file. This is because the lossy compression format by the AAC cuts away much of the audio data. Therefore, the AAC file will sound of lower quality than the original or its equivalent lossless FLAC file.
FLAC vs. AAC: Uses
Being royalty-free, FLAC is the most preferred format for downloading high-resolution audio files and storing them. However, it has limited playback support in dedicated audio systems and portable audio devices compared to mp3 or AAC.
The PonoPlayer is one example of a portable music player that supports FLAC. Other supports include macOS High Sierra, iOS 11 and Windows 10 operating systems, and Blackberry 10, Android, and Jolla devices.
AAC, also being royalty free, is the most preferred for music streaming on portable devices. It has a much broader support base than FLAC as it is the audio component in MP4 videos and the default format used in YouTube streaming services. Apple also uses it in its devices and software, such as Apple Music Streaming and iTunes, to mention a few.
Also Read: Headphones Over or Under Beanie: The Complete Guide
Conclusion
Choosing which is best between the AAC and FLAC depends entirely on your specific audio needs. If your primary concern is the storage of your audio files and the versatility of playing your files from a wide range of devices, then AAC would likely be better. However, FLAC would be a better choice if you place more value on high sound quality for your high-definition equipment or are looking to archive high-resolution music.