FLAC and WAV are types of digital audio formats used to transmit and store audio recordings for playback. These audio technologies have become quite popular since their inception, and they have made it easy to share songs and music over the internet without having to pay for them.
Choosing file format is key to preserving audio quality and to determine which format is best for you, you'll need to understand what each constitutes. If you've been involved in music or movie production before, then you may have come across the WAV vs FLAC debate.
Both file formats are designed to let you get the most out of your music collection. However, choosing the right one is going to determine how well your files are preserved. That said, let's start with a breakdown of each file format to help determine which is best for your applications.
What is FLAC?
FLAC (Free Lossless Audio Codec) is one of the most used digital file formats, specially designed to stream and preserve audio files. From the description, FLAC belongs to the lossless audio codecs family, whose goal is to compress files without resulting in a noticeable loss in quality.
FLAC provides a small file size (data size), which allows the user to store a lot of music files on the same disc. With the advent of FLAC, music distribution is now less expensive and easy to distribute than ever before.
The best thing about FLAC is that you can share files via the internet or through physical media such as USBs and CDs. The ability to maintain the original sound quality is perhaps one of the reasons that make FLAC popular among music companies and individual artists.
The compression ratio of FLAC is not fixed, so the users have the freedom to compress audio files to their desired size. As a rule of thumb, FLAC allows you to compress audio by up to 40-50% of the original size, but this may vary depending on the characteristics of your individual audio file.
When it comes it comes to compatibility, you'll be delighted to know that FLAC offers universal compatibility, meaning it supports almost all media players. In addition, you can easily convert FLAC files to other file formats, including WAV, MP3, etc. So, are FLAC files better than WAV?
Well, this is entirely subjective, and your choice of the best file format will depend on your application needs. And just like any other digital file format, FLAC is not foolproof. This file format offers limited bitrates and sample rates, which might limit you when using this file on certain devices. Luckily, you can use a file converter to bypass compatibility issues.
Advantages of FLAC
Reduced file size- meaning they take up less space
Compressed files retain the original quality of sound recordings
Sending files is swift, thanks to the smaller file size
Universal compatibility- you don't need special programs to play FLAC files on most devices
Disadvantages of FLAC
Occasional compatibility issues
Limited sampling rates
What is WAV?
WAV, which is sometimes referred to as WAVE, is a type of uncompressed audio format purposely designed for PC applications. In addition, WAV is the standard for CDs meaning there are no limitations when it comes to bit-depth.
WAV files are characterized by higher bitrate than their FLAC counterparts, plus they are compatible with just about any audio application. Although FLAC is compatible with most modern media players, WAV tends to have an upper hand, especially when working with unfamiliar operating systems.
The best thing about this file format is that you don't need to be an expert to work with WAV files, and it has many striking advantages over FLAC. A typical WAV file can play music for hours on end without repeating while allowing you to share your music anywhere.
So, is WAV better than FLAC? Well, this will depend on the trade-off you're willing to make between audio quality and file size. Uncompressed files offer larger file sizes but better-quality audio. On the other hand, compressed files will give average sound quality but smaller file sizes. This makes WAV the ultimate winner when it comes to audio quality.
The major drawback of WAV is that the files are way bigger when compared with FLAC. This is because, the former is uncompressed, and this could be a big problem if your device or hard drive is running out of space.
Advantages of WAV
Effortless to work with
WAV files are often uncompressed – this translates to incredible audio quality
Extensive bit-depth
WAV is compatible with devices across the board
Disadvantages of WAV
Larger file size when compared to FLAC
Some platforms do not support WAV file formats, so ensure to check compatibility with your specific device before choosing this file format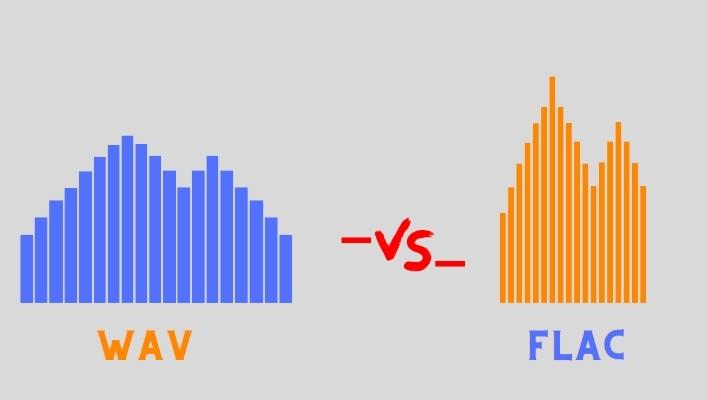 FLAC vs WAV- Different or Same
As we've already mentioned in our discussions above, FLAC comes in a lossless audio format. This implies the files do not record a noticeable loss in quality while being compressed or converted to other audio formats. This also means that it is quite possible to recreate an exact replica of the original audio file.
On the other hand, WAV is uncompressed, meaning the files are identical to the original sound recording. As such, you don't require to compress your files when converting or storing them using the WAV format.
So, when it comes to audio quality, the two are at par. However, WAV tends to have an upper hand since it is in a purely uncompressed state. On the contrary, FLAC requires the files to be compressed, and they might still lose some information during compression.
In most consumer-based sound systems, it is unlikely to perceive any difference in terms of audio quality. However, if you have a trained ear, you might be able to pick a marginal difference, especially when using a high-end sound system.
Considering that FLAC files are compressed, they tend to occupy less space than identical WAV versions. FLAC comes with inbuilt compression, but this does not necessarily affect audio quality. On average, FLAC is able to reduce the file size by up to 50% of the original source.
Because of this, FLAC files are often half the size of WAV files of similar content. So, if saving space is your top priority, consider going with FLAC over WAV. Equally important, it is important to note that FLAC files are faster to download and share between devices.
It is also worth noting that some devices may handle one format better than the other one. When this happens, it might alter how each format sound when played on the said devices. For instance, a media player with a slower network may experience more problems with WAV since they require more bandwidth to transfer files between devices. On the other hand, players with little processing power may experience hitches while handling FLAC files.
WAV is basically a universal file format, and it is compatible with most devices and programs. Similarly, FLAC is supported by almost all media player devices and audio software across the board. However, Apple devices do not support FLAC, but you can also consider getting an add-on to allow you to run FLAC files.
The Bottom Line
Both WAV and FLAC are ideal for applications that require you to download or store files without altering the audio quality. In addition, converting from FLAC to WAV and back will not have a significant impact on the quality of your audio as long as the file have the same bit-depth and sample rate. This is because both formats are non-degrading in nature, (though WAV is uncompressed), so they maintain all of the data of the original recording.