Investing in high-quality home theater speakers is a great way of enhancing your home entertainment system, but that's the easier part. Home cinema has undoubtedly become the best companion for most families, but all that changes when the speakers inadvertently become the center of attention.
This might not be a big issue if you like to show off your sleek gear, especially when hosting family gatherings. However, if the speakers don't really blend with your home décor or your partner and family members don't like the idea of having visible speakers, you might want to consider creative ways to hide speakers without compromising audio quality.
Luckily, there are many ways you can conceal or keep your speakers out of sight so that they are not the first thing you see when you get into a room. So, if you are looking for ways to ensure that your home theater speakers aren't immediately noticeable, the following tips will come in handy.
How to hide speakers in living room
1. Choose in-wall speakers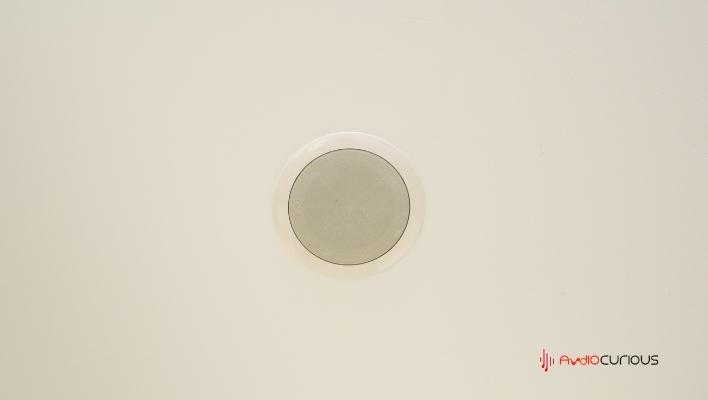 An in-wall setup is by far the easiest and the most convenient way to hide speakers in your living room. Furthermore, in-wall speakers help to save floor space, especially when installing speakers in small living spaces.
Installing in-wall speakers is a fairly simple process, provided you've prior experience cutting into the drywall of your living. First off, you'll need to gather the appropriate tools and supplies you need to do the installation. The next thing you'll need to do is to determine the best location for the speakers and how to run the speaker wires.
The best thing about in-wall setups is that you can paint the speaker grilles and frames to match your living room décor or to blend them with the surroundings. Furthermore, painting the speakers helps to make them inconspicuous while giving your home theater setup a customized appearance.
2. Placing speakers behind wall hangings
If you don't like the idea of cutting through your drywall, placing the speakers behind your wall hangings or pictures is another alternative. Using wall hangings and other wall art is a great way to add life to your room, but you can also use them to conceal your speakers without altering the sound quality.
However, while doing so, you may want to ensure that the pieces are acoustically transparent to allow sound waves to go through. In addition, this method may not be the most ideal for standalone speakers or if you're looking for the best way on how to hide large speakers in living room.
3. Putting speakers behind indoor plants
Setting home theater speakers behind indoor plants is yet another great way of disguising your speakers. Luckily, most bookshelf speakers are generally compact, which makes it easy to place them behind indoor plants.
If you're setting up a pair of bookshelf speakers, you can place them on either side of your TV, and then place your plants in front of them. Using your existing indoor plants is a great way to hide your speakers without the need to make a lot of modifications.
Alternatively, if you don't have plants within your room, you can still opt to place the speakers on a bookshelf and stack some books in front of them. However, you may want to ensure that there is enough space between them to avoid blocking sound waves.
4. Try camouflaging the speakers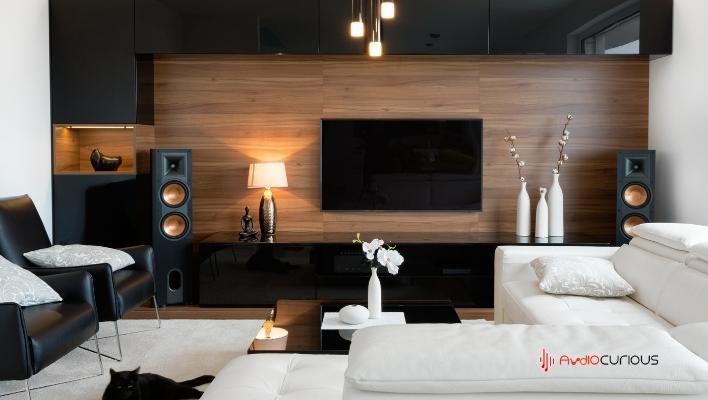 Camouflaging the speakers is by far the easiest and most popular way of hiding speakers in the living room. One way you can achieve is this by choosing small and inconspicuous speakers. It is a no-brainer that large speakers take up a lot of space, and this can further limit your options when it comes to hiding them. On the contrary, small speakers are easy to hide, and they don't take up a great deal of space.
Note: Smaller speakers are not necessarily less powerful. The latest technologies have made it easy to develop smaller speakers with outstanding sound quality. As such, the days when large and bulky speakers were associated with great sound are long gone.
Another way you can make your speakers less conspicuous is by buying speakers that blend with the furniture or the color of the décor. For instance, if you have black furniture, you can consider buying black speakers or a color that is more in line with your interior décor. If your bookshelf is made from unpainted wood, you can try and get speakers with wood cabinets.
The bottom line is, blending your speakers with your existing décor will help to camouflage them while ensuring that they are not too conspicuous. Luckily, this method is relatively inexpensive, plus it allows you to maintain your home decoration theme.
5. Utilizing the cabinet space
Apart from using wall art and indoor plants, you can also utilize cabinets with closable doors to hide your speakers. For best results, you can switch the traditional cabinet doors with a perforated doors/ speaker cloth or panels with metal grilles to help maintain the acoustic characteristics of your speakers.
You can apply the same technique for glass-framed doors by replacing them with acoustically transparent material. The best part yet, swapping cabinet doors is a fairly easy project, even for the DIYers, and it is also quite safe.
6. Explore different ideas
If you feel like the speakers are dominating your living, you can try different placement positions and see if the trick will work. You can start by receding them deep inside your cabinet, thereby making them less noticeable.
Another brilliant idea is making custom-made framed speakers. This requires you to perform some modifications to your speakers, but the end result is super awesome. You can achieve this by adding a decorative frame and a fabric that will go along with your décor.
7. Consider a wireless setup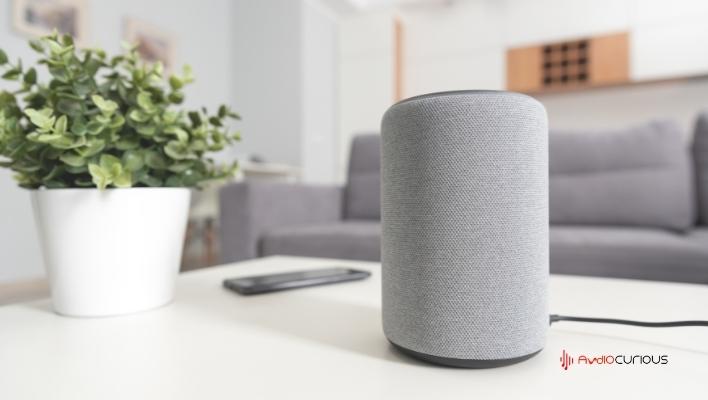 If the above six tips don't work for you, then you can consider going wireless. Ideally, wireless speakers use either Bluetooth or Wi-Fi to connect to the source unit. The speakers are easy to install since you don't need to run wires from the speakers to the receiver.
The biggest advantage of wireless setups is that they also offer a lot of freedom when it comes to placement options. For instance, you can choose to tuck them behind your couch, put them under your work table or even hide them in the kitchen or another room. However, most high-end wireless speakers come with a hefty price tag, but they will definitely pay off.
How to hide speaker wires
Once you have found a convenient way to hide your speakers in the living, you will also need to determine the best way to manage the speaker cables. Having the speaker wires lying unattended on the floor can be a tripping hazard and unsightly mess, especially when running multiple surround sound speakers.
Luckily, there are plenty of ways to obscure the speaker wires to ensure that they are completely out of way and out of sight. While some of these measures cost a lot in terms of money and time, the reward of a tidy look and safe environment is worth it.
Some of the best ways to hide speaker wires include using a cable concealer. Cable concealers are plastic tubes that are used to run speaker cords in an organized manner. The tube is often installed along the baseboard to make the installation easier.
Alternatively, you can choose to go with binder clips or cable hooks to hang the cables on the wall or at the back of your furniture. Using hooks is one of the easiest ways to hide speaker wires since the hooks are easy to attach or remove whenever needed.
Last but not the least, you can choose to run your speaker cords through the walls to hide them permanently. You can achieve this by drilling a hole through the drywall to run wires to different speakers.
The only downside of this method is that it will limit you when you need to change the speaker location, but it is one of the best ways to disguise speakers especially if you don't intend to move the speakers quite often.
Parting Shot!
To enjoy a truly immersive and thrilling home cinema experience, you'll need to get speakers that recreate the sound signals accurately. Fortunately, there are plenty of creative ways to hide speakers in the room so that you can focus on enjoying your music or watching a movie. However, you will need to be mindful when hiding the speaker to avoid covering them in a way that might completely alter the sound quality.