Which mistake do you often make when shopping for speakers to incorporate in your home theater sound system? Let me guess. You enter an electronic shop and look for prominent and fancy-looking speakers without considering whether the engineers tailored the speakers for your needs or not. In regret, you end up getting a massive speaker that can't fit in the limited spaces in your room. Or worse still, it fails to meet the level of sound performance you were craving for.
However, we've got some good news that will save you the hassle of going for the unknown, especially when shopping for in-wall speakers vs bookshelf speakers. Both are great options, but it all comes down to your room requirements and projected budget.
In-Wall Speakers
The name of these speakers says it all! In-wall speakers are designed to be placed inside the wall in your living room. The speakers are budget-friendly with a carefully thought-through design. If the size of your room is a challenge, then these compact speakers can be an excellent inclusion in your home theater system since they don't take any floor space.
Why Do You Need In-Wall Speakers?
What would make you shift from regular speakers to in-wall speakers yet they both resemble each other in a home theater setup? It's simple. Instead of having cabinets, in-wall speakers have flexible mounting options that allow them to fit in already cut holes in your living room.
The wall acts as a virtual cabinet that lets the speakers deliver clean, smooth, and crisp sound.
So, amidst tons of information about audio equipment out there, why choose in-wall speakers?
1. Compact and Sleek Design
In-wall speakers top the list of the best ranking speakers in terms of compactness and a sleek design. The small size lets you place the speakers in the ceiling or wall while ensuring they are out of your sight. It also saves the floor space for the other speakers in your home theater system setup.
2. Increased Bass Frequencies
After working with these speakers for a while, we realized an increase in the bass frequencies by +6 dB. This significant increase in the bass is due to the increased boundary effect coming from the receiver's auto-EQ frequencies.
Boundary effect is the increased gain resulting from frequencies bouncing against a rigid boundary, e.g., floor, wall, or ceiling.
3. Excellent Sound Distribution
The strategic positioning of the in-wall speakers provides prolific audio due to wider sound dispersion in your entire living room. With additional features like swiveling tweeters, you can now focus entirely on the highs produced towards your direction.
4. Extended Durability
Excessive moisture in your surrounding or poor build can drastically reduce the durability of your speakers. However, that's not the case with in-wall speakers. The speakers are well-built to guarantee a strong, durable, and moisture-resistant piece of work. So, if you need a good speaker for your bathroom or laundry room, in-walls speakers is your best bet.
5. Passes the Invisibility Test
In-wall speakers, also called invisible speakers, provide impeccable sound performance without cluttering up your room's decor. This saves you frequent complaints from perfectionists who think you need something other than your current speakers. Lastly, knocking down the speakers as you move into your living room is a thing of the past because in-wall speakers are not in your walking path.
In-wall vs In-Ceiling Speakers| Are they Similar?
It's common for people to confuse between in-wall and in-ceiling speakers. Simply put, in-ceiling speakers resemble in-wall speakers in performance, aesthetics, and mounting style. The difference occurs when the discussion shifts to where the speakers are mounted.
In-wall speakers get placed in holes made on the wall, while in-ceiling speakers use holes made on the ceiling. This placement style provides a more immersive effect as you listen to your favorite music.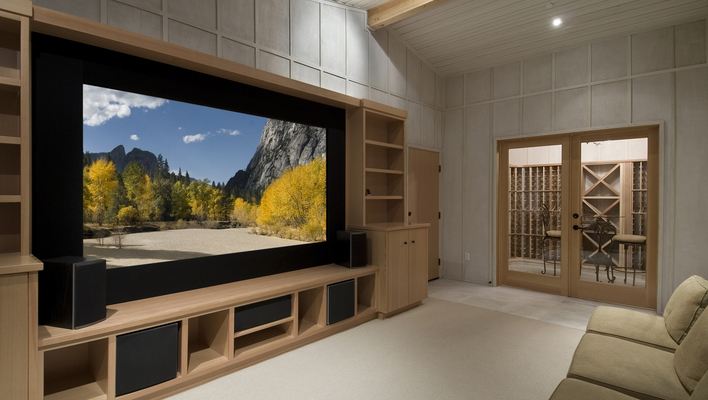 Bookshelf Speakers
Unlike the in-wall speakers, Bookshelf speakers are designed to be placed on a table, shelf, or any elevated surface. The speakers are designed to deliver excellent performance in small to medium-sized rooms.
Therefore, if you need a specially geared speaker for movie buffs or high-end music quality, these are the speakers to go for.
As always, research before making up your mind on the audio equipment to buy for your home theater system. Companies that have built a name in releasing top-rated bookshelf speakers such as Polk Audio and Edifier can be a perfect place to start.
Types of Bookshelf Speakers
Bookshelf speakers come in two different styles: passive and active bookshelf speakers. So, what's the difference between passive vs active bookshelf speakers?
Passive bookshelf speakers don't have an in-built amplification. This means they have to be connected to a stereo receiver for excellent performance. On the other hand, active bookshelf speakers are all-inclusive. They come with volume controls, input ports, and preamps that allow you to plug your devices into the speaker and feel that music experience.
Why Do You Need Bookshelf Speakers?
Bookshelf speakers are designed to deliver clean and high-quality sound in small and mid-sized rooms. However, if you need more power, you can use more advanced models and feel the vibe. Let's get into why you may need to purchase a bookshelf speaker.
1. Compact and Portable Dimensions
Just like the in-wall speakers, bookshelf speakers are compact and offer better placement in the smallest spaces of your kitchen or living room. Also, you can carry the speakers to retreat camps with ease due to the portability they offer. If the source of power is an issue, worry not because some of the models in the market today provide an option to use batteries.
However, for more oomph from your bookshelf speakers, buy a larger model (let it be large enough to provide excellent power and performance, but small enough to maximize on floor space.)
2. Wide Range of Design Options
Finding a different design for any speaker can get challenging and tricky. However, these speakers offer varied design options such as matching designs, custom-made, and creative designs that give your speakers a personalized and futuristic outlook. For instance, you can go for a gaming design model if you're looking for a speaker to handle some of your gaming vibes.
3. May Include a Separate Subwoofer
To maintain their compactness and lightweight, bookshelf speakers lack low-frequency drivers inside their cabinets. And we can't shy away from the fact that deep bass immensely adds more quality to your sound. That's why most of the bookshelf speakers out there come with a separate subwoofer to handle the lows coming out of your sound system.
4. Worth Addition to your Sound System
Buying home theater entertainment systems that come with bookshelf speakers can be costly. But don't despair because you can go for a pair of standalone bookshelf speakers and feel the same punchy effect as when you watch movies and your favorite music. It's never a dull day with stand-alone speakers.
In-wall Speakers vs Bookshelf Speakers: Final Verdict
Let's put the battle between in-wall speakers vs bookshelf speakers to rest. If you're on a budget and have limited space in your living room, making those holes in the walls and mounting in-wall speakers can be the perfect option. On the contrary, bookshelf speakers bring along stellar performance and extended design options, depending on your sound needs. You'll spend more bucks but I can assure you that the sound quality you get is worth every dime.
Please share any of your experiences with in-wall and bookshelf speakers.