If you work from home or are stuck at home for longer hours, it will be a good idea to invest in something that will make your stay at home more enjoyable. Modern technology has made it possible to elevate the home theater setup to a movie theater level, and at the core is the center channel speaker. This speaker holds the entire system together.
The Klipsch R-52C and R-25C are best-in-class options from the renowned manufacturer, and both speakers are a perfect match for standard home theater setups. The R-25C, in particular, has an exceptional bass response with clear and bright highs. Also, if you're looking for a fairly accurate and neutral sound, Klipsch R-25C is the speaker for you.
The R-52C delivers excellent sound quality for the price. The speaker offers a surprisingly wide frequency response and a bass performance that will blow you away. Perhaps the major downside is the average coverage of midrange frequencies.
So which of these center channel speakers is perfect for anchoring your Reference home theater system?
Now off we go!
Klipsch R-25C vs R-52C Specs Compared
Preview
Product Title
Klipsch R-52C Powerful Detailed Center Channel Home Speaker - Black
Klipsch R-25C Center Channel Speaker
High frequency driver
1" Aluminum Diaphragm tweeter
1" Aluminum Diaphragm tweeter
Amazon Prime
Preview
Product Title
Klipsch R-52C Powerful Detailed Center Channel Home Speaker - Black
High frequency driver
1" Aluminum Diaphragm tweeter
Preview
Product Title
Klipsch R-25C Center Channel Speaker
High frequency driver
1" Aluminum Diaphragm tweeter
Amazon Prime
The two Klipsch-designed speakers reproduce a sound you'll ultimately fall in love with. If you're curious to know whether these speakers are worth the money, please stay tuned till the end of the article.
Klipsch R-52C Review
As a center channel speaker, the R-52C will accurately handle a majority of the dialogue in your fav movies or TV shows. Measuring 7.3″ x 18.75″ x 7.6″, the R-52C is designed to have a modern look and to fit easily under your TV or even a bookshelf. Typically, the speaker excels in reproducing fuller and dynamic sounds from multiple sources, including high-definition sources.
Key features and benefits
Horn-loaded tweeter
The Klipsch R-52C sports a 1-inch Aluminum LTS tweeter for a full and crystal-clear high-end response. The tweeter is matched to a 90 x 90° Tractrix horn for enhanced performance. The tweeter suspension utilizes lightweight and rigid Kapton to provide you with the cleanest sound possible. This design also aims at providing high sensitivity without compromising sound output.
Tractrix horn technology
The incorporation of Tractrix horn technology translates to crystal clear movie dialogue and room-filling theater-like sound. The unique design of the horn also helps to ensure that the high-frequency waves are aimed at the listening area. In addition, the Tractrix horn is not prone to resonances meaning the speaker does not color the sound.
Dual IMG woofers
This magnificent center channel speaker is equipped with a pair of 5.25″ copper-spun woofers for head-turning bass. The woofer can handle up to 100 watts RMS (400 watts Peak), which delivers a punch you would only expect from a larger and more powerful speaker. However, if you need more oomph and rumble, you'll need to invest in a subwoofer and a pair of floor standing speakers.
Rear bass reflex port
The R-52C features a non-common rear bass reflex port, and just like the tweeter, it is Tractrix horn-loaded too. According to Klipsch, this design is somewhat more efficient since it allows faster air transfer in and out of the cabinet.
Beneath the port are two binding posts to allow you to bi-wire or bi-amp whenever needed. However, the rear-firing port means you'll need to play around with the placement to achieve the right bass balance.
Closed-back MDF cabinet
The speaker cabinet features a sturdy MDF construction to minimize undesired cabinet vibrations for improved sonic accuracy. This construction also results in less audible coloration to make your listening experience quite enjoyable and engaging. Additionally, the closed-back design offers you multiple placement options regardless of your shelving design.
What we like
Best for small spaces
Excellent compatibility
Relatively compact
Durable and attractive design
Clean front sound stage
Superb finish
What we don't like
Might struggle in larger rooms
Not mountable
It needs a powerful subwoofer for a balanced sound output
Check Latest Price
Klipsch R-25C Review
The Klipsch R-25C is perfect for viewers and listeners looking for clean sound from a stylish and unobtrusive package. It pairs pretty well with right and left channel speakers and is compatible with most stereos and home theater AV receivers.
Besides, the setup is straightforward, and it works well with other Klipsch Reference series speakers. However, it is larger than average center channel speakers, but it is quite attractive and sounds even better.
Key features and benefits
Two-way speaker configuration
Just like the R-52C, the Klipsch R-25C is a two-way center channel speaker with the capability of delivering a room-filling theater sound. The speaker comes with a pair of 5.25″ IMG woofers for optimal bass response.
It also features a 1″ LTS tweeter mated to a 90 x 90° Tractrix horn to provide unmatched speaker efficiency. The speaker can accommodate up to 400 watts max (100 watts RMS) when paired with an amplifier of your choice.
High-quality speaker cabinet
The all-MDF cabinet is designed to reduce distortion and resonance, thereby adding richness to the final sound output. The included removable grille is both elegant and slim, and it is a great addition to any home theater setup.
In addition, the speaker blends naturally into any décor and fits effortlessly under your TV or bookshelf thanks to its slim and unique shape. The speaker is available in a warm brushed black polymer veneer with a scratch-resistant finish.
Dual binding posts
One interesting thing we noted with this speaker is dual binding posts that give the user the option of bi-wiring and bi-amping the speaker. This means that the speakers will always have enough power in reserve while allowing you to enjoy maximum performance from your amplifier or receiver.
Convenient rear bass reflex port
On top of the above features, the designer incorporated a high-performance rear-firing bass reflex port to enhance the bass output while providing the best sound imaging from any listening position. Although the bass response is not overly extended, prepare to be blown away by the solid soundstage.
What we like
Attractive design
Solid and authentic bass response
Audiophile-quality sound
Full-range and rich audio
Strikingly affordable
Versatile speaker dual speaker terminals
What we don't like
Limited mounting options
A little bulky
Check Latest Price
Our Final Take!
If you're after an audiophile-level performance, you can't go wrong with either of these two Klipsch's center channel speakers. The fit and finish are exceptional, and for what they cost, they make a great addition to your existing surround sound setup.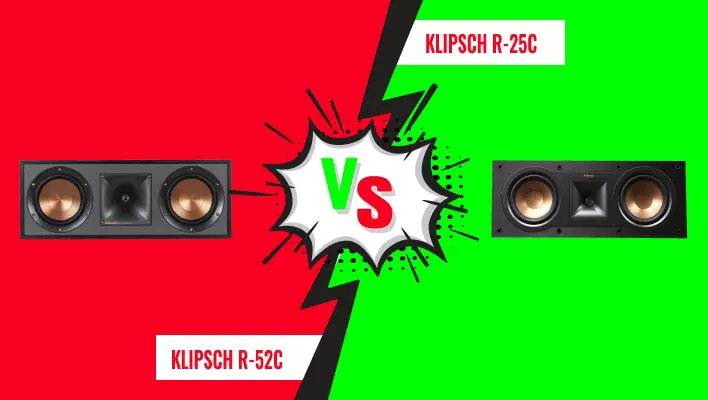 However, if you're looking for a great-sounding speaker that you can tuck into tight spaces, the R-52C is an ideal choice for you. The speaker comes in a stunning compact enclosure that won't break the bank. Additionally, its minimalist design reduces obstructions that the speaker can present in the listening space.
On the other hand, Klipsch R-25C is an exceptionally powerful speaker that is capable of reproducing incredible sound and better bass quality. What's more, the R-25C has a neutral sound reproduction making it a worthy investment for any audiophile. The speaker is also designed to deliver enough bass even as a standalone, although an additional subwoofer provides a better listening experience.
This concludes our Klipsch R-52C vs R-25C review. Hopefully, it helped you find the center channel that suits you best. Please share your thoughts in the comments section!