Both JBL and Harman Kardon have similar audio equipment, and depending on your audio needs, you might prefer one manufacturer over the other. Although you're bound to miss out on some features when you choose one brand over the other, both companies provide top-notch features and high-quality audio.
Now, considering that both brands are a subsidiary of Harman International Industries, one may ask, is JBL Harman Kardon? And does JBL own Harman Kardon? In this review, we help you get answers to such kinds of questions and compare top audio categories from both manufacturers as well as some of their top products. But first, here is a brief history of both brands.
Overview of JBL vs Harman Kardon
Brief History of Harman Kardon
Harman Kardon is an American-based audio equipment manufacturer for both home and car audio. It was founded by two business associates, Sidney Harman and Bernard Kardon, hence the name Harman Kardon.
The company is a well-known manufacturer of high-performance and premium-grade speakers, wireless sound systems, headphones, soundbars, as well car stereo equipment. One thing that makes Harman Kardon a go-to brand for audio equipment is their innovative design and the fact that they work with distinguished professionals.
Brief History of JBL
There's no doubt that JBL is a big player in the audio market, and its equipment are highly regarded by audiophile all over the world. JBL was invented by James Bullough Lansing several decades ago and used his initials (JBL) to coin the name of the brand.
The company's first invention was 6″/8″ drivers for different radio sets. Today the company has extended its range of audio systems, and they offer products for just about any application, from headphones and speakers to home theater systems, among others.
Why Use Harman Kardon Speakers?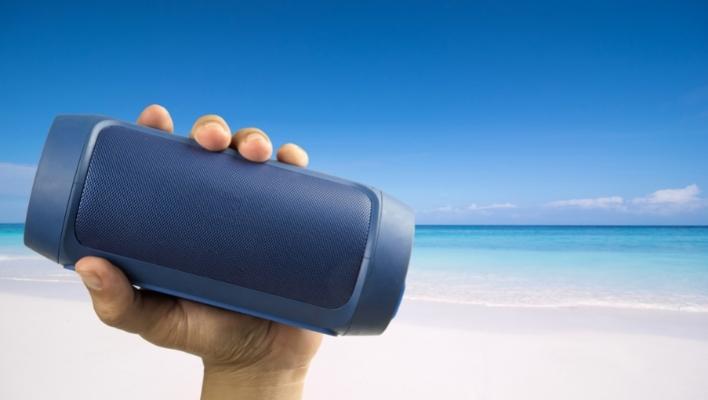 Harman Kardon audio products, particularly speakers, look and feel polished. In addition, they feature a modern build to allow them to blend with any décor. The company also excels in producing speakers that deliver incredible sound quality.
What we like most about Harman Kardon speakers is that they offer unrivaled sound quality coupled with their iconic design. From wireless Bluetooth and computer speakers to home theaters and soundbars, Harmon Kardon has something for any audiophile and newbies alike. Some of the features offered by Harman Kardon speakers include;
Unique and elegant design
Harman Kardon speakers come in a distinctive and elegant design to compliment your living space. Furthermore, the speakers come with a minimal footprint to let you place your speakers anywhere in the house.
Wireless streaming
If you're looking to enjoy room-filling audio, Harman Kardon speakers are your best bet. The inbuilt Bluetooth capability lets you stream music wirelessly from compatible devices while allowing you to connect several devices simultaneously.
360-degree audio
What we like most about Harman Kardon speakers is the fact that they deliver extraordinary 360-degree sound. This unique design allows users to experience a more dynamic and engulfing surround sound listening experience.
Multi-channel surround sound
With Harmon Hardon speakers, you can build up to a 5.1 surround sound setup for a truly immersive surround sound experience. The best part yet, you can set up your home theater system minus the hassle of wire clutter thanks to the inbuilt Bluetooth capability.
Rechargeable battery system
Harman products use a rechargeable Li-ion battery that's capable of holding the charge for up to eight hours of non-stop playtime. Furthermore, you can use the inbuilt battery to charge your phone or any other device using a USB cable.
Apart from home speakers, Harman Kardon excels in designing and producing a wide range of audio equipment including;
AV receivers
CD/DVD players
Blu-ray players
Home theater components
Computer speakers
Soundbars
Headphones
Why Choose JBL Speakers?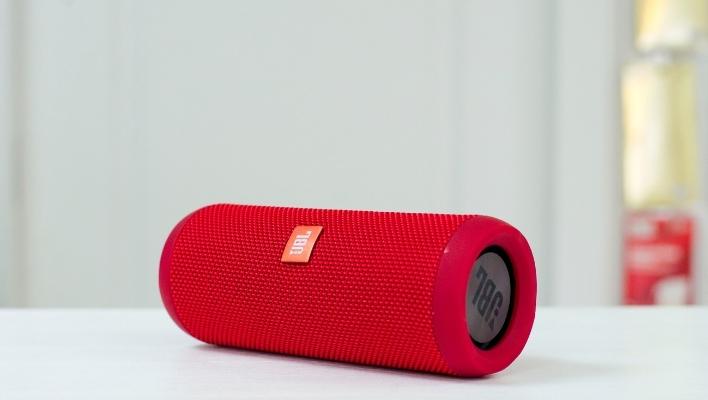 JBL is a superb audio equipment manufacturer, and they dedicate a lot of time and effort to ensure that they provide their customers with superior products. With regard to features, JBL is known to shine over Harman Kardon and other competing brands. In addition, JBL speakers offer a rich feature set plus most speakers are more modern. Ideally, the main goal of JBL is to provide its users with quality sound at a premium budget range.
The company offers some of the best-selling audio products of all time. One of the most surprising things is that several high-end brands have emerged after JBL, but they cannot compete with its sound quality. And although its price tag is somewhat higher than average brands, investing in a JBL sound system is something you'll never regret.
Some of the best-selling products from JBL include;
Home audio speakers
JBL offers a wide collection of home audio speakers, including hi-fi speakers, portable Bluetooth speakers, party speakers, kids' speakers, and smart speakers. The speakers offer a combination of cutting-edge engineering and patented technologies to provide you with powerful and long-lasting loudspeakers.
Home theater systems
JBL also excels in manufacturing some of the best home theater systems that you'll ever find. The home theater components include floor-standing speakers, soundbars, and center channel speakers. The best part about these components is that they utilize advanced sound technologies for the ultimate surround sound experience.
Car audio
JBL does not fall short on car audio products, from car speakers and car subwoofers to car amplifiers and processors. The speakers provide a superior performance making them a perfect upgrade for your stock sound system.
Marine speakers
Apart from the car and home audio products, JBL also offers great audio products for your boat and other marine applications. JBL marine speakers are designed to withstand harsh marine weather, including mud and water splashes. They also offer an assortment of marine amplifiers and subwoofers to let you turn up the music in your boat.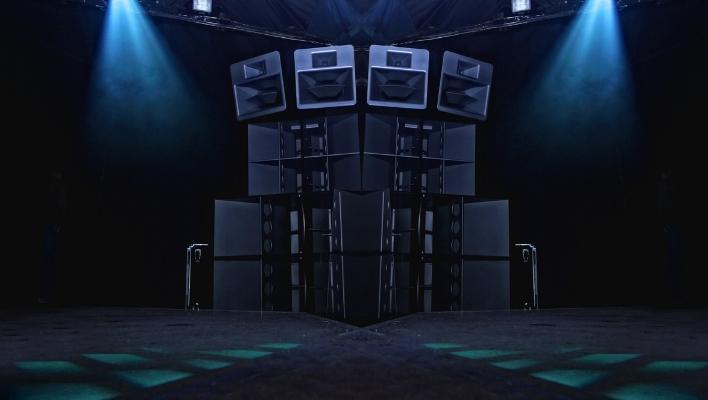 JBL or Harman Kardon
Harman Kardon and JBL are both well-known audio equipment manufacturers, and you can never go wrong with any of the two brands. However, with such a vast collection of speakers and other audio to choose from, it can get quite overwhelming to choose the best brand between the two.
Both JBL and Harman Kardon are modern brands, so one can anticipate them to provide contemporary features and advanced connectivity options for connecting to other audio systems and devices. We also like the idea that both JBL and Harman Kardon speakers support Bluetooth, which guarantees easy and fast connections.
However, from an expert point of view, JBL seems to have an upper hand plus its audio product offers good value for money. Typical JBL speakers are more powerful than other cheaper brands, including Harman Kardon, plus they are designed to accommodate relatively larger living spaces.
In addition, JBL speakers are fitted with large and powerful radiators to provide more powerful bass and the best sound quality possible. So if you're looking to enjoy a heavy punch at the low end, JBL is the most preferred option.
Apart from the car and home audio products, JBL also offers great audio products for your boat and other marine applications. JBL marine speakers are designed to withstand harsh marine weather including mud and water splashes. They also offer an assortment of marine amplifiers and subwoofers to let you turn up the music in your boat.
On the other hand, Harman Kardon speakers are equally high-quality, but they are not quite as powerful as JBL. Nevertheless, Harmon Kardon speakers are designed to deliver the best sound quality possible, and they are your best bet if you can't afford JBL speakers. Furthermore, Harman Kardon speakers provide better portability as opposed to their JBL counterparts which can be up to 5 kgs heavy.
Harman car stereos are reorganized by audiophiles and audio experts alike as being the best of some of the best options out there. Furthermore, they are applauded for being a more economical option without compromising the sound quality. Harman Kardon car stereos have also received high ratings for their crystal clear audio and clean bass reproduction.
Harman Kardon is also a proud partner of several car manufacturers, including BMW, MG Rover, Volkswagen, Hyundai, Audi, Subaru, Jeep, and many more. So whether you are looking for something to entertain you in the morning as you drive to work or something to rock your weekend drive, Harman car audio systems have all it takes to transform your driving experience.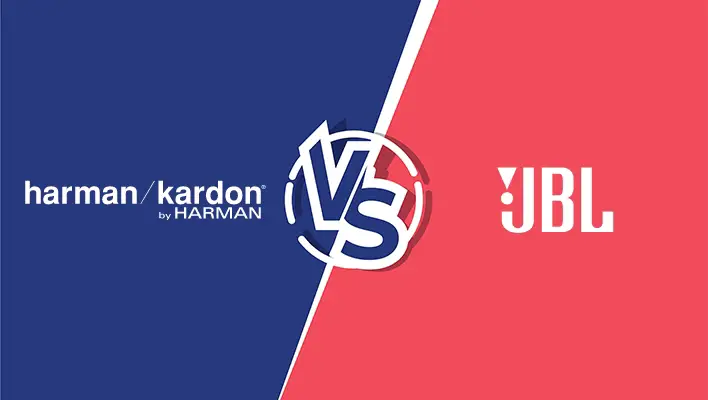 Parting Shot!
Both Harman Kardon and JBL speakers are known to deliver high-quality audio, so if you're new to the audio market, you can never go wrong with either of these two brands. So which is superior- Harman Kardon or JBL?
Well, would say it depends. If you're looking to build a powerful sound system with pronounced bass, then we recommend you go for JBL. In addition, if you love deep bass, JBL subwoofers are designed to deliver that deep punch you need to enjoy hip hop or pop music.
On the flip side, if you are a fan of wireless and compact speakers that you can carry with you, Harman Kardon is the better option. In addition, Harman Kardon home speakers come in a compact footprint so they will occupy a small space in your living space.
So, between Harman Kardon vs JBL, which one meets your audio needs? The choice is yours!