A soundbar is a compact speaker system that uses the same basic components as a full-size sound system but in a more compact size. Soundbars are designed to provide powerful, high-quality sound in a convenient package. As a result of this design, they can be mounted on a wall or placed anywhere in your room.
Sound bars may be an alternative to surround sound systems if you're looking for something more flexible or portable. You can also use them to enhance audio quality from your TV, gaming system, or another entertainment device.
So, are you asking yourself which one is right for you or which one sounds better? These two products are quite similar in many aspects. But what are some of their differences? Let's find out together, shall we?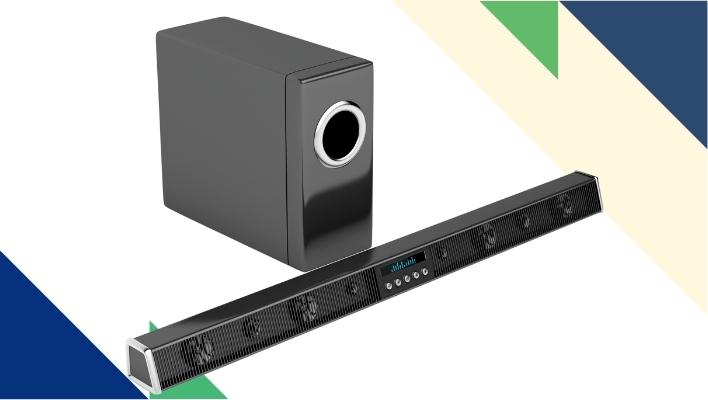 2.1 Soundbars
A 2.1 soundbar has two tweeters (right and left) for crisp highs and include a subwoofer for mid and low frequency sounds. These type of soundbars don't have the center channel that is responsible for producing crisp dialogue.
The 2.1 Soundbar is excellent for those who want something that can fill their living room but don't have the space for a full surround sound setup. It's not as flexible as some of the other options. This is because it's designed to provide powerful audio to your TV or other speakers in your home theater system.
The 2.1 Soundbars might not be as flexible as some of the other options. However, if you want something that will provide powerful audio to your TV or other speakers in your home theater system, a 2.1 soundbar is one of our favorite options.
2.1 Soundbar Features
2.1 soundbars are an excellent option for anyone who wants to add some high-quality audio to their TV. It has many features designed to make it easy to use and is available at a very affordable price.
Multi-room audio: This feature enables you play music from multiple speakers in different rooms simultaneously. The multi-room feature lets you stream music from your smartphone, tablet, or laptop to a soundbar.
Adjustable L/R channels: You can independently adjust the left and right channel volume to create a more accurate soundstage for movies and games.
Dolby Atmos surround sound: Bring your favorite movies and games to life with Dolby Atmos surround sound technology. This feature creates an immersive 360-degree audio experience that places sound exactly where you hear them in three-dimensional space.
Bluetooth connectivity: Bluetooth enables wireless music streaming from smart devices such as smartphones and tablets and wireless audio streaming. You stream from other compatible devices, such as laptops or computers with a built-in Bluetooth adapter.
The soundbar comes with an optical cable that you can connect to your television or another device, like a gaming console or Blu-ray player. The optical cable also comes with a 1/8" (3.5 mm) headphone jack, so you can listen to music without using an external speaker system.
The soundbar includes two speakers: These speakers can produce high-quality audio, but they're also small enough. They won't take up too much space on your coffee table or entertainment center.
Pros
Affordable: Soundbars are relatively inexpensive, so you can get a powerful sound for less money.
Optimized for movies: 2.1 soundbars deliver powerful bass and treble boost, so they're ideal for watching movies.
Can be used as part of a home theater setup: Soundbars can also be used as part of a home theater system, so you can use them to build a surround sound system.
The 2.1 soundbars are easy to set up and connect. They come with an HDMI cable that connects your TV and soundbar.
These soundbars also have multiple inputs, including optical, coaxial, and USB. This means that if you have a TV with multiple inputs, the soundbar can provide those signals to your TV.
2.1 soundbars have a lot of bass for their size. You won't need an external subwoofer for this one.
Cons
These soundbars don't have very clear dialogue. This is because they don't have a center channel, thus, the dialogue comes from the same tweets as effects.
3.1 Soundbars
A 3.1 soundbar has three channels, one left, one right, and an additional center channel that is absent in 2.1 soundbars. The center tweeter is fully dedicated to producing crisp dialogue. Additionally, they have one subwoofer responsible for producing the mid and low frequencies.
It is a compact soundbar that delivers rich, powerful sound for your TV. The soundbar is compatible with the latest smart TVs and includes an optical digital audio output for connecting your TV to a receiver or powered subwoofer.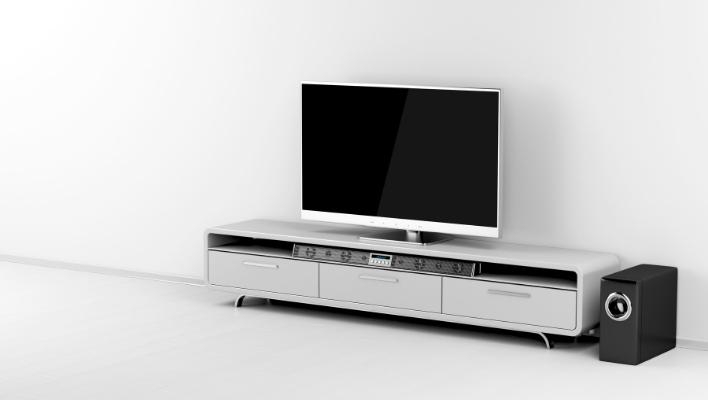 It has three separate speaker channels that can be adjusted according to your preference. You can choose between standard and high bass or turn off all three channels if you don't want to listen to much bass.
You will like this system's versatility because it can be used as a stand-alone device or hooked up to another through a cable (if you have one).
3.1 Soundbar Features
The soundbar has a 3.1 channel system for delivering Dolby Atmos and DTS: X surround sound, with two dedicated drivers for each channel.
3.1 soundbars have built-in Bluetooth speaker, which lets them connect to any device with Bluetooth capability and play music from those devices.
The soundbars also have an HDMI input, so you can connect them directly to your television and use it as a home theater system. You can also connect it to other devices via an included optical cable.
The soundbars have a headphone jack to use them in private or connect to other audio sources (such as speakers) in your home theater setup. They give you more options for sound quality than the built-in speakers on your TV will provide.
The soundbars connect wirelessly with your smartphone or tablet via Bluetooth or Wi-Fi. You can stream music from those devices anywhere in your house without cables or wires getting in the way (as long as they're within range of the wireless network).
The soundbar has FDA-approved water-resistant speakers (three tweeters and one woofer). They are designed to resist water and offer superior clarity compared to ordinary speakers.
Pros
These soundbars are a good choice for those who have a small room and want to enjoy their music but don't like the idea of having speakers hanging on the wall.
They are easy to set up and come with a remote control that allows you to adjust the volume, mute, and change the sound mode without getting up from your sofa.
You can connect to your TV using HDMI or optical cables. This means you can use them with any TV that supports 3D content and game consoles like Xbox One and PlayStation 4.
The sound quality is impressive, especially when paired with the subwoofer.
They have many inputs, including HDMI, optical, and analog audio inputs.
Cons:
The price is a bit high, but it is worth it if you want a great soundbar for your home theater system.
The Differences Between 2.1 vs 3.1 Soundbars
If you're looking for the best soundbar for your HT system, you need to know the differences between the 2.1 ch vs 3.1 ch soundbars.
The main difference between 2.1 and 3.1 systems is that 2.1 systems have a two speaker tweeters and single subwoofer. On the other hand, 3.1 soundbars have three speaker tweeters (right, center, left) and a subwoofer.
In terms of power handling, both types of soundbars can handle up to 100 watts per channel (100Wpc). Thus, it comes down to how many loudspeakers are used rather than whether they're 2 or 3-channel.
The other main difference between 2 and 3-channel systems is that 3-channel systems use more advanced technology than their 2-channel counterparts. For example, dedicated DSP processors are now available with 3-channel systems that can improve bass performance without compromising treble clarity or imaging ability.
The 2.1 version is cheaper than the larger version but doesn't deliver as much sound as the bigger model. It also has no built-in subwoofer, so if you want to add some bass to your music or movies, you'll need to buy an external subwoofer separately.
The 3.1 version has more power than its smaller cousin, so it can fill up a bigger room better than the 2.1 model (and it still sounds great). Many people buy this type of soundbar because they want something that looks good in their living room without worrying about getting wires everywhere. You will just plug it in and start listening.
The 3.1 soundbar setup also has more advanced features, such as Bluetooth connectivity, HDMI pass-through, and Dolby Atmos support. The price range for these models can vary greatly depending on your needs and preferences, so it's essential to do your research before making a purchase decision.
2.1 vs 3.1 Soundbars: Final Verdict
If you're looking for a speaker system that will fill your room with rich, full-range sound, then a 2.1 soundbar will be the right fit for you. It's easy to set up and get up and running right out of the box, but it doesn't provide as much bass as some other models do.
A 3.1 speaker system is more powerful than a 2.1 model and produces better bass response than most other speakers on the market today. This is the way to go if you want to experience true surround sound from your TV or streaming device.
The 3.1 channel soundbar also gives you more options if that's what you're looking for. The included subwoofer also works great with this system, giving you an immersive experience.
If you're looking for something that can deliver high-quality audio without being too bulky or expensive, then a 3.1-channel soundbar is probably suitable. On almost all significant aspects, the 3.1 takes the day.
Conclusion
At the end of the day, when we consider the 2.1 channel vs 3.1 channel soundbar, the 3.1 carries the day. However, with the multitude of varied price points and sound capabilities, it is crucial that you find a speaker system that fits your lifestyle.
Remember, the right choice of a soundbar is determined by your needs, so use this article to guide you toward the best fit. When making a purchase decision, remember to consider all aspects of your lifestyle, including price, performance, and intended uses. Good luck.