Rockville is a well-established audio brand that caters to a diverse range of audio needs. With a comprehensive product lineup encompassing amplifiers, subwoofers, mixers, equalizers, and audio electronic components like capacitors, the company has carved a niche for itself in the audio industry.
Rockville amplifiers have garnered significant attention in the audio enthusiast community for their affordability and high performance. As with any audio equipment, the quality of an amplifier is a critical consideration for music lovers and professionals alike. However, the question remains- Are Rockville amps any good?
This inquiry is not without merit, as the market is flooded with various amplifier options, each promising superior sound quality and power output. In this guide, we'll explore the key features and reputation of Rockville amps, analyzing their strengths and weaknesses to determine whether they live up to the expectations of audiophiles and discerning users.
About Rockville
Rockville specializes in designing and manufacturing a wide range of audio devices and equipment, catering to both home audio and car audio markets. Their product lineup includes amplifiers, subwoofers, speakers, mixers, equalizers, audio processors, and various audio accessories.
The brand is particularly well-regarded in the car audio community, where its amplifiers and subwoofers have garnered positive feedback for their performance and reliability. Rockville's car audio equipment is designed to withstand the challenges of the automotive environment while delivering powerful and clear sound.
Apart from car audio, Rockville also caters to the needs of home audio enthusiasts. Their home audio products are designed to enhance the listening experience across various setups, ranging from compact bookshelf systems to full home theater setups.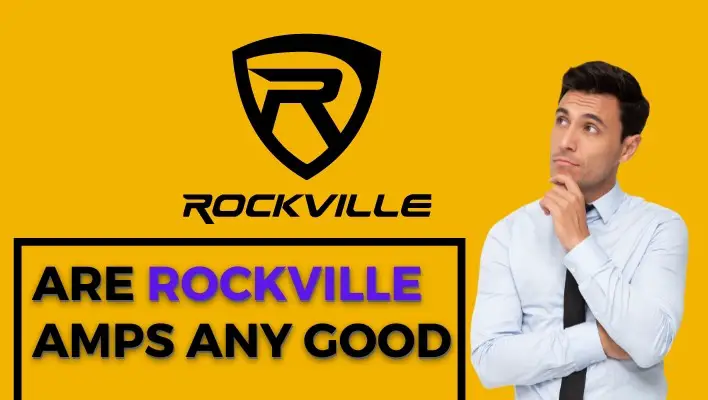 Rockville Amplifiers
As an entry-level brand, Rockville has carved a niche in the market by offering affordable audio equipment, including amplifiers. Rockville understands its target audience and focuses on providing amplifiers that are easy to use and suitable for beginners. In addition, their straightforward designs and setup make them accessible to those who may not have extensive technical knowledge.
Rockville's amplifiers are often praised for providing good value for money. For budget-conscious consumers or beginners in the audio world, Rockville offers a cost-effective option to upgrade their audio systems without breaking the bank.
Rockville manufactures amplifiers across various categories that cater to a diverse range of audio needs. These include;
Car Amplifiers
Rockville car amplifiers are specifically engineered to enhance the audio performance of car audio systems. The amplifiers provide additional power to car speakers and subwoofers, which significantly improve sound quality and increase the volume capabilities of your car's audio system.
Car speakers and subwoofers often have specific power requirements to deliver optimal performance. In many cases, the power output from the car's built-in head unit might not be sufficient to drive these speakers to their full potential.
Rockville car amplifiers address this issue by providing higher power levels, ensuring that your speakers and subwoofers operate at their best and produce clearer, more robust, and distortion-free sound.
Home Audio Amplifiers
Rockville home audio amplifiers are designed to cater to the needs of home audio enthusiasts looking for quality amplification to power their passive speakers or bookshelf speakers in home theaters or stereo setups.
The company offers a range of amplifiers with different power ratings to accommodate various speaker setups and room sizes. In addition, the amplifiers come in different channel configurations, such as 2-channel for stereo sound or 4-channel for complex surround sound home theater setups.
Pro Audio Amplifiers
Rockville is also a renowned manufacturer of pro audio amplifiers intended for professional audio applications, such as live sound setups, recording studios, and other commercial audio environments. These amplifiers were geared toward meeting the demands of professional audio engineers, musicians, DJs, and audio enthusiasts who require high-quality, reliable, and powerful amplification for their professional setups.
Marine Amplifiers
Rockville Marine Amplifiers are well-suited for marine enthusiasts who want to enjoy high-quality audio entertainment while on the water. These amplifiers are built to withstand the harsh conditions of marine environments, making them suitable for boats, yachts, and other watercraft. They are built to be corrosion-resistant and are often coated with specialized materials to protect against the damaging effects of saltwater, humidity, and other environmental factors.
Mini Amplifiers
Rockville Mini Amplifiers are a great choice for users who need a compact and portable solution to enhance their audio experience in various settings. The company offers compact amplifiers designed for portable audio systems, desktop setups, motorcycles, ATVs/UTVs, and other small-scale applications.
Rockville Amps Review
Rockville offers reasonably good amplifiers at a fair price point. While they may not be considered the highest-end or top-tier amplifiers in the market, they are well-suited for smaller applications, such as car stereo, small live events, and home use. The amplifiers deliver satisfactory performance and serve the needs of users who are not looking for premium-grade audio equipment.
Best Rockville Amps
Rockville RXA-F1 Car Stereo Amp
No products found.
The RXA-F1 is a Rockville 4-channel amp designed to deliver excellent audio performance. The RXA-F1 has a peak output of 1,600 Watts and an RMS output of 800 Watts (4 x 200 Watts @ 2 Ohms). When bridged, it can provide 2 x 400 Watts RMS @ 4 Ohms.
The amplifier's circuitry is designed with Class A/B technology, which is renowned for providing a balance between efficiency and sound quality. Furthermore, it features a high-speed MOSFET power supply, which provides efficient power delivery and helps ensure stable performance.
Rockville dB15
The dB15 has a peak output of 6,000 watts and a Dyno-Certified power rating of 1,500 watts. This means it is tested and verified to deliver the specified power reliably. The amplifier features a fuse with a rating of 150 Amps, capable of handling the power requirements of the amplifier.
The dB15 comes with a dashboard subwoofer control, offering added convenience to adjust the subwoofer's volume level directly from the front of the vehicle. Other additional features include the subsonic filter, adjustable bass equalizer, and soft start technology, which provide enhanced control and protection for a better user experience.
The Rockville RPA16 is a 2-channel professional/DJ rack-mount amplifier designed for high-power audio applications. It boasts a substantial 10,000 Watt peak power output, making it capable of delivering high levels of audio amplification.
The RPA16 offers a stereo mode for powering (2) speakers or (4) speakers in a left and right configuration. In parallel mode, it provides dual mono output, perfect for monitor use with all sounds coming out of each speaker.
That's not all. The amplifier can be bridged to combine the power of both channels into one channel, making it suitable for use with a subwoofer.
Is Rockville a Good Brand?
Rockville is generally considered a good brand for audio equipment, particularly for users who are looking for budget-friendly options. Their products can be suitable for various applications, including entry-level setups, small-scale events, and budget-conscious users. If you're on a budget and looking for reasonably good audio gear, Rockville could be a viable choice.
Here are some factors that contribute to Rockville's reputation as a good brand;
Affordability- One of the significant advantages of Rockville products is their competitive pricing. They offer audio equipment at lower price points, making them accessible to a wide range of customers, including those on a budget.
Wide product range- Rockville has a diverse product lineup that includes amplifiers, speakers, subwoofers, mixers, microphones, and other audio gear. This allows customers to find suitable products for various audio applications, such as car audio, home audio, pro audio, and marine audio.
Decent performance- While not considered high-end audio equipment, many Rockville products deliver decent performance for their price. Their products provide satisfactory sound quality and power for everyday audio needs.
Features and specifications- Rockville products often come with desirable features and specifications, such as multiple connectivity options, adjustable settings, and power ratings that cater to different audio setups.
Versatility- Rockville products are designed to cater to various audio applications, providing solutions for both casual consumers and hobbyists, as well as for small-scale events and professionals on a budget.
User-friendly- Rockville products typically come with straightforward and user-friendly controls, making them easy to set up and use, even for those with limited audio experience. Many users who have purchased and used Rockville products leave positive reviews.
Innovative designs- Rockville occasionally introduces innovative features and designs in its products, which incorporate modern technology to enhance user experience and convenience.
However, like any brand, Rockville does have its limitations. These include;
Build quality- Some users may find that the build quality of certain Rockville products is not on par with higher-priced competitors. While they offer affordability, some units might not be as durable or long-lasting as premium options.
Audio quality- Rockville products deliver decent performance for their price, but they cannot match the audio quality and precision engineering of higher-priced premium brands. Audiophiles and professionals seeking the highest-fidelity audio experience may prefer other higher-end options.
Limited selection for professional applications- Rockville's selection for high-end or professional audio applications is often limited compared to specialized pro audio brands.
Limited warranty- Most Rockville products often come with warranties, but it does not provide as extensive coverage or customer support as more established high-end brands.
The Parting Shot!
If you are looking for unmatched sound quality, then you can count on Rockville amplifiers. The company offers a range of amplifiers from entry-level to mid-level, providing excellent value for the price. The amps deliver impressive sound quality and integrate well with other equipment. However, Rockville is generally considered a beginner-level brand so you might not experience the highest-fidelity sound from them.