Vizio sound bars are renowned for their impeccable audio quality and a fully immersive surround sound experience. Investing in a Vizio sound bar allows you to get great value for money, plus its functional design always stands out when you stack it against other similar brands of the same value.
For instance, Vizio Elevate is undoubtedly one of the best sound bars in its class. This 5.1.4 sound bar offer premium features, including multiple channel audio, Dolby Atmos, DTS: X and Bluetooth connectivity for the ultimate home theater experience. This means you can enjoy explosions, crisp dialog sounds, and sonic details in your favorite movies like you've never experienced before.
However, like any sound bar, your Vizio sound bar may experience issues resulting from incorrect connection, improper device settings, inappropriate physical setup, etc. Most of these issues are fairly simple to fix, but some may require you to reset your sound bar. Below we'll teach how to reset a Vizio sound bar to help you resolve any underlying issue while allowing you to save money and time.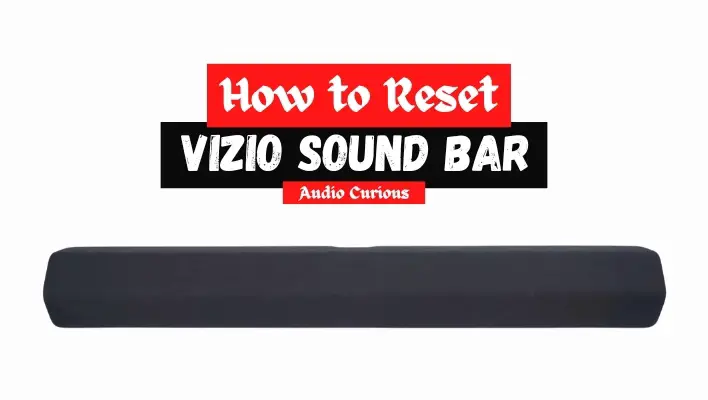 How to reset Vizio sound bar
Resetting a Vizio is often a challenging endeavor, and in most cases, it entails a trial-and-error method. As we mentioned earlier, most of Vizio sound bar fixes are relatively simple, so you should first attempt to troubleshoot your device and only perform a reset only if needed.
That said, a Vizio sound bar reset involves restoring the device to its factory settings, a move that helps to solve most of the problems you may be experiencing with your sound bar. During a factory reset, all the existing settings will be lost, which means your sound bar will be in the same state as it was when you bought it.
If you've tried all troubleshooting ideas, but your device still won't work, you can try the following resetting steps;
Before you restart your sound bar, you can first attempt to switch it off for a few seconds (approximately 10 seconds) and see if it helps solve the underlying issue. If this does not solve whatever problem you're trying to resolve, then move to the next step.
Now, to successfully reset your Vizio sound bar, press and hold both the Volume and Bluetooth buttons at the same time for not less than five seconds. Release the buttons and wait for your sound bar to reset itself.
At this point, the LED lights will illuminate three times to let you know that the reset is complete.
Disconnect the power cord (AC) from the sound bar and plug it back again. Next, press the power button on the sound bar to turn it on, and you're good to go. Ensure the cable is secured tightly to the sound bar and the wall outlet as well.
Remember resetting your Vizio sound bar is going to delete all custom settings and restore your device back to its original factory settings. So, after your sound bar has reset, you will need to reconfigure it to work with your TV or any other audio source.
How to get Vizio sound bar out of demo mode
The demo mode occurs when your device automatically turns when you plug the main power lead even when the power button is still disabled. Some of the signs that your Vizio sound bar has entered the demo mode include;
The sound bar fails to power off
Unsuccessful factory reset
The LED hovering from top to bottom in a forth and back motion
If your Vizio sound bar is stuck in demo mode, you'll need to learn how to disable the demo mode. Luckily, you can easily disable the demo mode and get your sound bar up and running again. Here are different ways you can disable the demo mode on a Vizio sound bar.
If you're using a SmartCast Vizio sound bar, you can easily deactivate the demo mode using the system menu of your SmartCast mobile app.
If you don't have the SmartCast mobile app, you can disable the demo mode by pressing and holding the Input and Bluetooth buttons simultaneously for approximately 10 seconds. If the process is successful, the LEDs should flash four times. If the LEDs don't flash or flash once only, the demo mode is still active, so you'll need to repeat these steps again.
Once the demo mode is disabled, wait for a few minutes for your sound bar to restart. Your Vizio sound bar is now out of the demo mode and ready to use.
Frequently Asked Questions
Why is my Vizio sound bar not working?
There are many reasons why a Vizio sound bar may fail to work from time to time, but the main culprit is when you fail to set the correct audio source. The easiest way to fix a sound bar that is working is by performing a factory reset. You may also want to check if your cables are damaged and replace them if needed. If you are using a Bluetooth sound bar you can try and pair your devices again and see if it will help solve the problem.
Why are the lights flashing on my Vizio sound bar?
Flashing of lights on Vizio sound bars is common, and it can arise from several reasons. For instance, if you input the wrong settings or use the wrong mode, the system is going to register the error by flashing a light. There are quick fixes you can undertake to fix this, but the easiest one is resetting your sound bar.
Can I use my Vizio sound bar with my phone?
Yes. You can control your sound bar with your phone provided that your phone is compatible with a Vizio SmartCast sound bar. All you need to do is to download the SmartCast app on your smartphone or tablet and add your Vizio soundbar or any other Vizio device. Once you pair your devices you should be able to use our phone/tablet as a remote control.
Parting Shot!
A Vizio sound bar reset can help solve a variety of problems since everything is reset to factory settings. However, most Vizio sound bars' problems are fairly easy with equally simple fixes, so resetting should be a last resort. If you have done a factory reset, but your sound bar still won't start, consider getting a professional to help troubleshoot it for probable hardware-related issues.