Klipsch has been manufacturing bookshelf speakers for years, and we strongly believe that the new Fives and Sixes are the best yet. The two are part of the company's Heritage series, whose goal is to provide the best sound quality possible. In terms of sonic performance, the two are at par, and they represent the best in the industry
The Fives warm sound makes them a captivating option for audiophiles looking a strike a balance between sound quality and size. The Sixes are equally a force to reckon with and are a terrific choice for home theaters and hi-fi systems. The bass may be slightly weak, but this does not stop them from competing with high-end speakers.
Our team spent a couple of hours testing these speakers using just about any conceivable music genre to provide you with a comprehensive comparison of these Klipsch powerhouses.
Let's begin!
Klipsch the Sixes vs the Fives Comparison Table
Preview
Product Title
Klipsch The Fives Powered Speaker System (Matte Black)
Klipsch The Sixes Powered Monitor – Walnut Veneer (Pair)
Drivers
4.5" cone woofer
1" titanium tweeter
6.5" long-throw woofer
1" titanium tweeter
Power handling
160 watts RMS
320 watts Peak
100 watts RMS
200 watts Peak
Preview
Product Title
Klipsch The Fives Powered Speaker System (Matte Black)
Drivers
4.5" cone woofer
1" titanium tweeter
Power handling
160 watts RMS
320 watts Peak
Preview
Product Title
Klipsch The Sixes Powered Monitor – Walnut Veneer (Pair)
Drivers
6.5" long-throw woofer
1" titanium tweeter
Power handling
100 watts RMS
200 watts Peak
If you're building a home theater system, the Fives and Sixes will amp up your entertainment experience, but which among these pairs is best for your music setup? Stay tuned until the end!
Klipsch Fives Review
The Fives from Klipsch is a set of powered bookshelf speakers with an awesome feature set. The unit packs a punch, and when paired with its handy connectivity options, it provides spectacular sound quality. The best thing is that you can use the Fives as a part of your hi-fi system, stereo speakers, or even as desktop speakers.
Klipsch Fives Highlights
Two-way speaker design
The Fives comes in a two-way speaker configuration to let you enjoy a true entertainment experience. Each bookshelf speaker features a 4.5″ cone woofer paired with a 1″ titanium tweeter for superior stereo sound. You'll also like the fact that they come with an LFE output that allows you to connect a subwoofer to enhance the bass output.
Versatile operation
The Fives comes in a versatile design that allows users to connect multiple inputs, including a PC, turntable, or even a smartphone. The design incorporates various inputs such as an inbuilt phono pre-amp, optical input, stereo RCA, and USB to let you connect just about any audio source.
The speakers also support HDMI ARC and CEC, meaning you can hook up your compatible TV using an HDMI cable. Furthermore, the CEC feature allows you to combine the settings and use one remote control with all compatible devices.
In-built amplifier
On top of the two-way design, the Fives comes with an inbuilt 80 watts amplifier per channel, so you don't need an external amplifier. This construction makes the speakers deliver high-fidelity audio even without a stereo receiver.
Furthermore, the inbuilt amplifier is designed to maximize each channel output while ensuring that they provide room-filling sound. You'll also be happy to know that the amplifier comes in a low-noise design to help improve the overall performance of your system.
Klipsch's Dynamic Bass EQ
The Dynamic Bass EQ is a volume control feature inherent in prime Klipsch's loudspeakers, including the Fives. This function, as the name suggests, allows your speakers to fine-tune the low-frequency sounds to match your ear's hearing range. This means that the bass will remain the same even when listening at low volume levels. Furthermore, the speakers come in a ported enclosure to improve bass performance at any listening level.
Supports hi-res decoding
Other than multiple connectivity options, the Fives are also designed to decode hi-res audio tracks up to 192 kHz / 24-bit. What's more, you can use the inbuilt Bluetooth to stream hi-res content from streaming services or your PC. So, if you're looking for a way to enjoy the best digital audio experience, the Fives are a worthy upgrade.
What we like
Versatile features
Convenient Bluetooth connectivity
Low-noise amplifier design
You don't need external amplification
Small footprint
High-end sound performance
Klipsch Fives dimensions allow you to set your system in tight spaces
What we don't like
The rear bass port makes them inappropriate for bookshelf use or placement near a wall, but you can always place them on speaker stands
The bass is somehow lacking, but it is satisfactory for a standard home theater setting
Check Latest Price
Klipsch Sixes Review
The Sixes sound fantastic as they look, and they offer way more connectivity options than ordinary bookshelf speakers. Just like the Klipsch the Fives, the Sixes are an all-around choice, plus they provide an easy way of enjoying satisfying music around the home. And unlike wired speakers, the Sixes do not require a complex setup as you only need to pair them with compatible Bluetooth devices.
Klipsch Sixes Highlights
Two-way speaker configuration
Much like the Fives, the Sixes come with drivers for the bass and high frequencies, respectively. The two-way design incorporates a 1″ titanium tweeter on each channel. In addition, the tweeter is paired to a Tractrix horn which gives the speakers an upper hand when reproducing the high-end sounds.
Furthermore, the speakers' 6.5″ long-throw woofer cone is exclusively built for the mid and bass frequencies. That's not all. The woofers also incorporate a rear port to help reinforce the bass. However, having the port at the rear side can pose placement challenges, especially if you're planning to put your speakers near walls.
Hi-Fi standards
The Sixes are designed to put out a hi-fi performance with or without an AV receiver. The drivers are finely tuned to produce audible frequencies with very minimal distortion if any. Furthermore, each speaker comes with a 100 watts inbuilt amplifier, which allows the system to fill your space with rich sound without taking up much floor space or cluttering your space with speaker wires.
Incredible design and finishing
Much like other premium Klipsch speakers, the Sixes are made by incorporating high-grade materials such as genuine wood veneer, spun copper switches, among others. Additionally, the speakers are designed to blend with your interior décor naturally. What's more, the Klipsch Sixes dimensions make it easy for you to sit the speakers directly on a shelf or speaker stands.
Multiple connection options
The Sixes engineers made it easy for you to connect just about any audio source, thanks to the speakers' versatile connectivity options. Whether you need to hook up a turntable for your record player or just want to play music from your smartphone, the Sixes provides an easy solution. The onboard inputs include a phono pre-amp, analog RCA, digital optical, and a USB port. The design also includes a subwoofer output to allow you to add a powered subwoofer.
Seamless hi-res audio decoding
If you're looking to experience better hi-res audio quality than your current system can deliver, the Sixes are your best bet. The speakers provide hi-res decoding up to 92 kHz / 24-bit for seamless streaming of hi-res audio tracks from compatible devices.
What we like
The build quality resonates with its price tag
The subwoofer output is a bonus
A removable magnetic grille is included for added convenience
The speakers come in multiple finish options
Solid MDF speaker cabinet
Portable speaker system
What we don't like
At 100 watts RMS, the pair is not the most powerful
Occasional-high end brightness due to the tractrix horn
Check Latest Price
Klipsch the Fives vs the Sixes—Final Take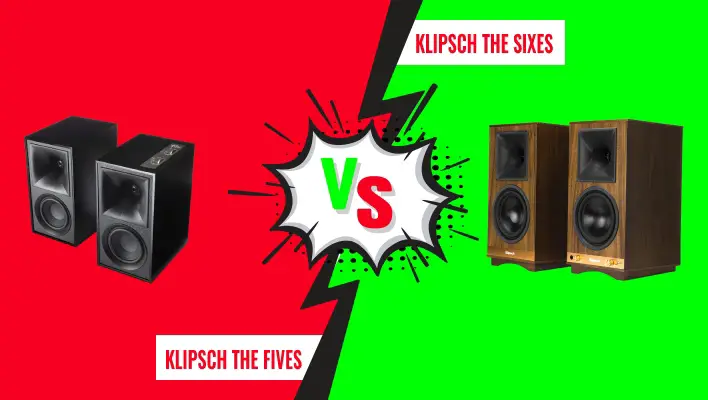 Both Klipsch the Fives and Klipsch the Sixes are almost perfect. We were fascinated by the idea that they provide a wide range of inputs that lets them handle any situation. In terms of sound quality, it is almost impossible to tell both models apart.
Both the Fives and Sixes offer clean and refined sound with improved detail, and despite their small size, the speakers are able to put out some decent low-end. Perhaps the only difference is the size of the woofer. The Sixes come with a larger low-end driver, but this does not mean they are superior.
However, as budget models, the speakers have a couple of flaws. Despite their incredible sound quality, the high-end can be fatiguing, which is attributed to the horn design. The bass is also slightly lacking, but they sound significantly more powerful than most cheap models. Regardless, the Fives and Sixes have their plus points, and we definitely recommend them over other competitor models.