When it comes to car audio, two big names often come up- Kicker vs Rockford Fosgate. If you've been shopping for new car speakers or amplifiers in recent years, you've probably come across these two major brands. These brands are practically everywhere in car audio stores, and it's not a coincidence.
The Rockford Fosgate vs. Kicker debate is a close one. First and foremost, both manufacturers produce exceptional subwoofers and amplifiers with advanced technology that is durable and reliable. Ideally, choosing between them comes down to your budget and which specifications best suit your specific needs.
In this comparison, we'll pit Rockford Fosgate against Kicker by examining audio products from each brand to see how they stack up in the world of car audio.
Kicker Overview
In the year 1973, the KICKER journey into the world of high-quality audio began with a humble start. It was a two-man operation led by company founder and current president, Steve Irby. Their venture took shape in a narrow one-car garage, where they hand-crafted professional speaker systems. Despite having limited resources, their shared passion for music drove them forward.
Steve Irby made history when he introduced the Original KICKER, a groundbreaking creation that would revolutionize the mobile stereo enclosure market. This innovation was specifically designed for cars and trucks, making it the first full-frequency range speaker box of its kind. The concept behind it was to deliver concert-like audio quality, with an emphasis on renowned bass and precise sound reproduction—a philosophy that would become synonymous with KICKER.
The Original KICKER found its initial purpose behind the seats of pickup trucks, which were abundant on Oklahoma roads due to a recent oil boom. Irby, having experience in designing and building larger P.A. speakers, went above and beyond in designing this compact speaker. As a result, it produced powerful bass that left an indelible impression. Customers who had it installed were astounded by the tremendous rumble they felt through their truck seats, dubbing it as something that 'really kicked.'
Following this success, KICKER expanded its product line to include single subwoofers known as 'Separates.' These were distinct from the KICKER subwoofer-loaded enclosures. The Competition Separates Series became a popular choice for consumers looking to build custom bass systems in their vehicles. Even today, KICKER continues to receive stories from customers who embarked on their audio journey with KICKER Comp Subs, which highlights the lasting impact of their innovations in car audio.
Kicker Design Principles and Technologies
SoloKon Technology- Kicker's SoloKon technology is a unique design principle that involves using a single, highly efficient vented back bracing design for their subwoofers. This design maximizes cone area while maintaining structural integrity, resulting in powerful and clear bass output.
Ribbed Santoprene Surround- Kicker also uses a ribbed Santoprene surround for its subwoofers. This surround not only enhances the subwoofer's durability but also allows for extended cone excursion, delivering deeper and more precise bass.
UniPlate Back Plate and Pole Piece- Kicker's UniPlate back plate and pole piece is designed to facilitate efficient heat dissipation and minimize distortion. This unique feature helps maintain consistent sound quality over extended listening sessions.
Specially Treated Cone Material- Kicker uses materials that are specially treated to withstand harsh environmental conditions. This design principle ensures that their speakers and subwoofers can endure the challenges of car audio applications, including temperature fluctuations and humidity.
Customizable LED Lighting- Some Kicker subwoofers offer customizable LED lighting options, which add a unique visual element to the car audio system. This allows users to personalize the appearance of their audio setup with various color and pattern choices.
Dual Voice Coils- Kicker's subwoofers utilize dual DVCs, which helps provide greater flexibility in wiring configurations. This construction allows users to optimize their subwoofer setup for different impedance levels and power handling.
Kicker KEY Technology- Kicker's KEY technology is a unique signal processing solution that automatically tailors the audio output to the specific vehicle it's installed in. It ensures that the audio system performs optimally, regardless of the car's acoustics.
Rockford Fosgate Overview
Rockford Fosgate is a prominent name in the world of car audio, celebrated for its dedication to delivering exceptional sound quality and cutting-edge technology. The company's roots trace back to 1973, and it has since established itself as a leader in the automotive audio industry.
One of Rockford Fosgate's standout achievements is its pioneering work in car audio amplifiers. The amplifiers are renowned for producing high-performance amplifiers that provide clean and powerful sound, making them a popular choice among audiophiles and car enthusiasts alike.
Rockford Fosgate is also recognized for its extensive lineup of speakers, subwoofers, and other car audio components. These products are designed to meet the demands of automotive environments by providing durability and reliability even in challenging conditions.
In terms of innovation, Rockford Fosgate has consistently pushed the boundaries. They have introduced features like advanced equalization, integrated Bluetooth connectivity, and compatibility with various car audio platforms to ensure an immersive and convenient listening experience for users.
Here's a timeline of some key moments in the company's history;
1970- Introduction of the concept of surround sound.
1976- Development of the first MOSFET amplifier design.
1979- Creation of the first car audio surround processor, known as the Fosgate Gavotte.
1984- Introduction of the first PUNCH woofer, manufactured by Rockford Acoustic Designs (RAD).
1986- Launch of the first Punch Verification Certificate (PVC).
1990- Development of Symmetry, the first computer designed for automotive use.
1996- Rockford Fosgate enters the source unit (head unit) business.
1997- Introduction of the Dolby Pro-Logic II decoder, which enhanced audio processing capabilities.
2000- Launch of the first MP3 player designed for cars, achieved just four years after entering the source unit business.
Rockford Fosgate Design Principles and Technologies
VAST Surround Technology- Rockford Fosgate's Vertical Attach Surround Technique (VAST) is a proprietary surround design. It maximizes the cone area and increases the radiating surface of the speaker without changing the speaker's size. This design enhances sound dispersion and improves midrange clarity, resulting in better overall audio performance.
Constant Power- Rockford Fosgate's amplifiers utilize Constant Power technology to ensure that the amplifier delivers a consistent level of power across various impedance levels. This technology helps to maintain sound quality and performance, even when impedance changes occur.
C.L.E.A.N. Set-Up- The Calibrated Level Eliminates Audible Noise (C.L.E.A.N.) set-up technology is a unique feature that simplifies the process of setting amplifier gain. It helps users achieve optimal gain settings without introducing distortion or noise into the audio signal.
3SIXTY Signal Processor- Rockford Fosgate's 3SIXTY signal processor is a powerful tool for optimizing car audio systems. It provides advanced tuning capabilities, equalization, and signal processing to fine-tune sound quality specifically for the vehicle's acoustics.
Customizable Speaker Grilles- Rockford Fosgate offers customizable speaker grille options that allow users to personalize the appearance of their car audio setup.
Patented Flex Fit Basket- Some Rockford Fosgate speakers feature a Flex Fit Basket design, which utilizes slots rather than traditional screw holes for mounting. This design makes it easier to install and align the speaker correctly, especially in vehicles with limited space.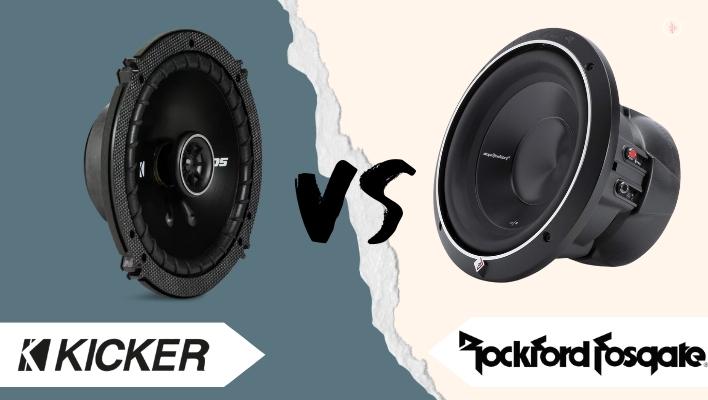 Kicker vs Rockford Fosgate Speakers
Kicker speakers are renowned for their powerful and impactful sound, particularly in the bass frequencies. They often deliver a pronounced and deep bass, making them a top choice for those seeking robust low-end performance.
Kicker offers a diverse range of speakers and tweeters, including QS, KS, CS, and DS Series, each designed to deliver remarkable audio performance. These series cater to various audio preferences and applications, providing options for enthusiasts seeking high-quality sound and clarity in their car audio systems.
In contrast, Rockford Fosgate speakers are recognized for their balanced sound quality, which emphasizes clarity in both midrange and high-frequency ranges. They tend to offer a well-rounded audio experience, which can be appealing to those who prioritize overall sound balance.
Rockford speakers' lineup includes full-range and component options for car audio, marine audio, and other audio installations. The speakers incorporate advanced technologies like Flex Fit baskets for easier installation and proprietary surround designs to enhance overall performance.
Kicker vs Rockford Fosgate Amps
Kicker amplifiers are highly regarded for their ability to produce clean and powerful sound. They offer a diverse range of power ratings, making them suitable for a wide array of audio setups. From entry-level options to high-performance amplifiers, Kicker caters to both budget-conscious consumers and audiophiles seeking robust amplification.
Kicker's lineup of car amplifiers includes five distinct series: the IQ, KX, CX, DX, and the compact PX series. These amplifiers are known for their exceptional power, precise control, and flexibility in enhancing audio performance. Beyond their performance attributes, Kicker amplifiers also feature a sleek and stylish design, making them a desirable choice for those seeking both high-quality sound and aesthetic appeal in their car audio systems.
Similarly, Rockford Fosgate amplifiers boast various power ratings and are celebrated for their efficient power delivery. These amplifiers are recognized for their ability to maintain consistent performance, even under demanding conditions. Rockford Fosgate amplifiers are often chosen by those who seek dependable amplification to enhance their car audio experience.
Rockford Fosgate's amplifier lineup includes the affordable and reliable Prime and Punch series, the high-end Power series known for top-tier sound, and marine-specific amplifiers for boat installations. This provides options for consumers seeking to enhance their car audio or marine audio systems with reliable and high-quality amplification solutions.
Kicker vs Rockford Fosgate Subs
Kicker subwoofers are revered for their ability to deliver powerful and impactful bass that leaves a lasting impression. These subs are the go-to choice for enthusiasts who have a deep appreciation for low-frequency output. What sets Kicker apart is its proficiency in producing a pronounced 'kick' of bass that can be not only heard but also felt.
This visceral bass experience is particularly appealing for music genres that rely heavily on deep, thunderous bass, such as hip-hop, electronic dance music, and rock. The subwoofers excel in creating an immersive and adrenaline-pumping audio atmosphere that resonates with bass enthusiasts.
Kicker subwoofer lineup includes the Comp series known for its affordability and reliability. On the other hand, the CompR series features dual voice coils and increased power handling. Other popular series include the CompRT series, Solo-Baric L7 series, and CompC series.
Rockford Fosgate subwoofers take a different approach by prioritizing balanced sound quality across all frequencies. These subs are engineered to provide clear and well-rounded bass without overwhelming or muddying the midrange and high-frequency ranges. Rockford Fosgate subs are favored by those who seek a more refined and versatile audio experience.
Overall, the Rockford Punch series is a widely recognized line of subwoofers. These subs deliver clear and well-rounded bass performance, making them a popular choice for multiple musical genres. On the other hand, the Prime series is designed for budget-conscious consumers looking for reliable and entry-level subwoofers. Despite their affordability, these subs offer decent bass performance and durability.
That said, here are a few comparisons of the best products from each brand;
Kicker 46CSC674 vs Rockford Fosgate R165X3
| | | |
| --- | --- | --- |
| | Kicker 46CSC674 | Rockford Fosgate R165X3 |
| Speaker Type | 6-3/4″ 2-way car speakers | 6-1/2″ 3-way car speakers |
| Sound characteristics | The Kicker 46CSC674 speakers are known for their ability to deliver a powerful and punchy bass response. They have a robust design and are capable of reproducing deep low-frequency tones. These speakers excel in providing a pronounced bass presence that can be felt and heard. | The Rockford Fosgate R165X3 speakers offer a balanced and clear sound quality. The speakers are known for their versatility and the ability to reproduce vocals and midrange frequencies with clarity. But, while they provide good bass, it's not as pronounced as the Kicker 46CSC674. |
| Power handling | The Kicker 46CSC674 speakers have a power handling capability of 100 watts RMS and 300 watts peak power, allowing them to handle a substantial amount of power for their size. | The Rockford Fosgate R165X3 speakers have a power handling capability of 45 watts RMS and 90 watts peak power. This power rating is significantly lower than their Kicker counterparts but still sufficient for most car audio setups. |
Kicker 46CXA800.1 vs Rockford Fosgate Prime R1200-1D
| | | |
| --- | --- | --- |
| | Kicker 46CXA800.1 | Rockford Fosgate Prime R1200-1D |
| Type | A monoblock amplifier specifically designed to power a single channel or speaker, such as a subwoofer | The Rockford Fosgate Prime R1200-1D is also a monoblock amplifier, known for its ability to provide high power output to drive low-frequency signals. |
| Power output | The Kicker 46CXA800.1 is capable of delivering 800 watts RMS at 1 ohms. This means that it can deliver the necessary power to drive subwoofers with strength and precision, resulting in deep and thunderous bass. | With an impressive power output of 1,200 watts RMS at 1 ohm, this amplifier surpasses the Kicker 46CXA800.1 in terms of sheer power. This makes it an excellent choice for driving high-performance subwoofers that demand substantial wattage to deliver impactful and deep bass. |
Kicker Comp R 12″ vs Rockford Fosgate P3D4-12
| | | |
| --- | --- | --- |
| | Kicker Comp R 12″ | Rockford Fosgate P3D4-12 |
| Size | 12-inch subwoofer | 12-inch subwoofer |
| Power handling | The Kicker CompR 12-inch subwoofer has a power handling capability of 500 watts RMS and 1000 watts peak power. | The Rockford Fosgate P3D4-12 subwoofer has a power handling capability of 600 watts RMS and 1200 watts peak power. |
| Sound characteristics | Kicker's CompR series subwoofers are known for their powerful and deep bass performance, making them ideal for enthusiasts seeking impactful low-frequency output. | The Rockford Fosgate P3D4-12 is designed to reproduce bass frequencies with accuracy and precision, ensuring that the bass notes are clear and well-defined. This clarity is essential for a well-rounded and immersive audio experience in your car. |
| Extra features | This subwoofer features dual 4-ohm voice coils, providing flexibility in wiring configurations to match your amplifier setup | Much like its Kicker counterpart, the P3D4-12 comes in a dual DVC design to enhance its versatility in various audio setups. |
Kicker vs Rockford Fosgate- The Verdict
Choosing the right brand between Kicker and Rockford Fosgate can be challenging if you haven't had the opportunity to listen to them firsthand. These reputable companies provide a wide range of car audio options to cater to your specific sound preferences. Whether you opt for Rockford Fosgate or Kicker, rest assured that you'll benefit from their commitment to quality craftsmanship and innovative designs.
Overall, Kicker is known for its robust build quality. Their speakers and amplifiers are designed to endure the rigors of the automotive environment, ensuring longevity and durability. Kicker speakers are also praised for their ability to deliver clear highs.
So, if you prioritize crisp and detailed high-frequency reproduction in your audio system, Kicker can be an excellent choice. Kicker is also a solid option for those looking to enhance their sound system, especially if you want to improve the clarity of your audio and enjoy distinct highs.
On the other hand, Rockford Fosgate is generally recognized for offering high-quality products at an average price point. This makes them an attractive choice for car audio enthusiasts seeking a balance between performance and affordability. Rockford Fosgate's amplifiers are especially known for their power and efficiency. The amplifiers provide the necessary wattage to drive your speakers or subwoofers effectively.
Ultimately, the 'best' choice depends on your specific audio preferences and what aspects of your car audio system you aim to improve. You may also want to consider factors like the type of music you listen to, your budget, and your desired audio experience when making the decision.