The world of home and car audio keeps on evolving each day. With the advancement in modern technology, audio product manufacturers have to adapt to the new changes while ensuring that they move away from traditional speaker systems to high-performance hi-fi systems. Furthermore, different consumers want versatile products that allow them to play music from a wide range of audio sources.
Kanto and Audioengine produce a wide collection of speakers and other audio products, from bookshelf speakers and compact computer speakers to larger sound systems, subwoofers, amplifiers, audio accessories, among others.
Ideally, both manufacturers might be relatively unknown, but as you'll find out, they do offer competition-grade audio products. Having said that, our Audioengine vs Kanto review will provide you with all the necessary information about their products. Without further ado, let's get started by taking a look at the brands history.
Brief History of Kanto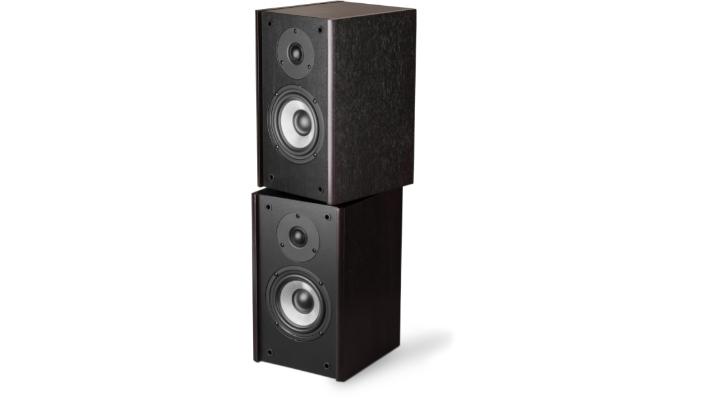 Kanto is a Canada-based manufacturer of audio equipment which is best known for its studio and home speakers. The company's headquarters is in Metro Vancouver, and it has been producing and distributing its product in North America and other parts of the world for the past few years.
Kanto has excelled in producing a wide range of audio products, including desktop speakers, ported and sealed subwoofers, speaker stands, etc. Recently, the company launched wireless speaker systems to provide an all-in-one entertainment solution in a space-saving design.
Notable Kanto products
Kanto provides some of the best entry-level and high-end audio products. Furthermore, the company boasts many years of experience engineering and producing products that provide its users with a personalized experience. In this section, we'll break down Kanto's line of products as compared with its major competing brands.
Powered speakers
Kanto powered speakers are equipped with some of the features one would expect in a high-end speaker system. The features include Bluetooth connectivity, digital inputs, analog inputs, phono preamp input, and more.
The company's attractive line of desktop and bookshelf is designed to deliver crystal-clear sound that brings your living space to life. Some of the famous powered speakers sold by Kanto include desktop speakers (YU2 series), bookshelf speakers (YU, YU4, YU6, and SYD series), and premium bookshelf speakers (TUK series).
Passive speakers
You'll also like the idea that Kanto produces some of the best passive speakers you'll ever find. The YU passive 4″ and YU passive 5.25″ allow you to fill your living space with incredible sound quality provided that you pair the speakers with a good amplifier. The YU passive 5.25", in particular, is a high-value pair of bookshelf speakers with crystal clear sound for all to enjoy.
Powered subwoofers
Kanto offers some of the best subwoofers under their popular YU series line of powered subwoofers. The powered subwoofers come in a sealed design to provide you with a tight bass response and suit the unique characteristics of your space. Furthermore, the subwoofers are easy to integrate into any sound system.
Speaker stands
The choice of your speaker stands plays a big role in the overall sound quality. Kanto speaker stands are designed to accommodate different speaker sizes while allowing you to get the most out of your sound system. Furthermore, the company offers specially designed desktop and floor standing stands for maximum versatility.
Headphone accessories
Kanto headphone accessories provide an attractive way to complete your setup using the provided headphone hooks and stands. The Kanto H1 and H2 headphone stands help you remain organized, plus they look very nice on any desk. Additionally, they are compatible with most studio applications or any other place you may want to show off your headphone system.
Advantages of Kanto
Incredible sound quality
Compact footprint
Premium-grade components
Incredible power handling capability
Great level of functionality
Disadvantages of Kanto
Limited options when it comes to car audio products
Also, the speakers are somewhat limited in style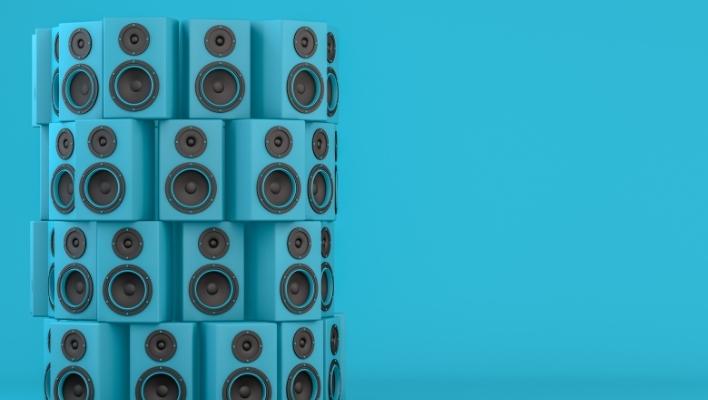 Brief History of Audioengine
Although it is not much of a household name, the America-based speaker firm Audioengine manufactures pretty eye-catching audio products. The company is known for its high-quality speakers, which last for years without degrading the sound quality.
Based in Austin, Texas, Audioengine is an independent company founded in 2005 with an aim of producing products that not only sound great but are easy to use. Today, the company has joined the class-leading competition thanks to high-quality products and competitive pricing.
Audioengine products
The principal products of Audioengine are powered speaker systems. Powered speakers come with amplification built into one box, which helps you solve the hassle of long speaker wires. Furthermore, these speaker systems allow you to integrate all your audio sources for great sound quality.
The company first powered speaker was the compact Audioengine A5+. The A5+ is a simple yet elegant wireless speaker set designed for audiophiles who are after a stellar audio experience. Its versatility also allows you to use the speakers to set up a home theater system or even as computer speakers in any workspace.
That's not all. The company boasts a complete line of audio products to offer you professional sound quality in the comfort of your living room. Audioengine's line of products includes;
Powered speaker systems
In this era of Bluetooth, you may want to go with speakers that do not compromise DSP-free audio or stereo accuracy. This is what Audioengine's speaker systems are all about. Their speaker systems combine high-quality materials and precise engineering to provide you with speakers for just about any application. Some of the powered speakers offered by this company include the A1, A1-MR, 512, HD4, A2+, HD3, HD6, and B2.
Subwoofers
If you like the bass response to be not only deep but also feel natural, then Audioengine is your best bet. The company's S- subwoofer series delivers a deep and smooth bass extension that exceeds the expectations of even the most discerning audiophiles.
Furthermore, the subwoofers come in a small footprint making it easy for you to use the sub with any application, including home theater applications, desktop setup, gaming applications, among others. The subwoofers under Audioengine's S series include the S6 powered subwoofer, S8 powered subwoofer as well as the S8 wireless subwoofer.
Passive speakers
Though Audioengine is famed for its active/powered speaker systems, they also excel in producing some remarkable passive speaker systems. So, if you recently bought an amplifier, you can try out any of the company's passive speakers and decide for yourself.
For starters, the HDP6 serves as great beginner passive speakers, plus they are compatible with different stereo receivers as well as tube and integrated amplifiers. The P4 model is also a perfect beginner-friendly option, and is also a go-to choice for anyone on a budget.
Standalone amplifiers
If you're looking for a good amplifier to pair with your passive speakers set, Audioengine produces some award-winning standalone amplifiers to improve your audio experience. Their amplifiers use the A/B power design, which translates to higher efficiency and improved sound fidelity.
Speaker stands
Audioengine's speaker stands are specially designed to make your speaker deliver their best performance by reducing vibrations and managing reflections while allowing you to control the amount of treble. So if you're looking to optimize the audio performance of your speakers, you may want to consider incorporating Audioengine speaker stands.
Accessories
Audioengine also offers high-quality replacement parts and accessories for different applications. The accessories include wireless adapters that let you transmit audio data between devices wirelessly. Other add-ons include digital-to-analog converters, elastomer isolation feet, replacement Bluetooth antennae, RCA cables, USB cables, power adapters, replacement remote, desktop stands, upgraded speaker wires, etc.
Advantages of Audioengine
The sound quality of Audioengine products is incredible
Innovative acoustic design
Sturdy build quality
Maximum flexibility
Tons of audio accessories
Disadvantages of Audioengine
Compared to high-end brands like JL or Kicker, overall sound quality is somewhat lacking, but you get what you pay for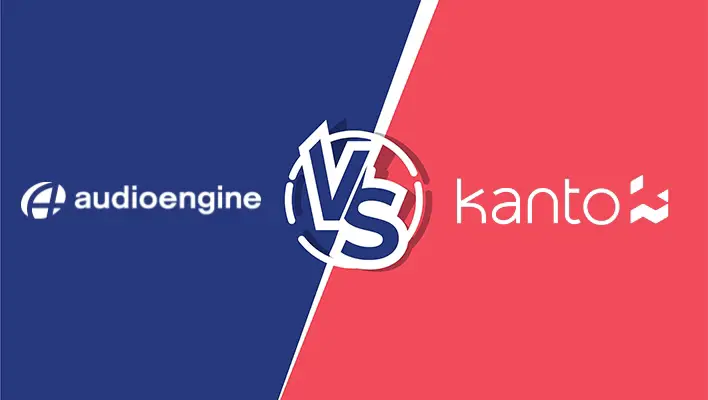 Kanto vs Audioengine- The Verdict
Regardless of not being the biggest speaker brands out there, both manufacturers manage to produce high-quality audio products. So, for enthusiasts looking to enjoy the best bang for their buck, we believe both Kanto and Audioengine are up to the task, and they work with just about any home or studio application.
Perhaps the most defining aspect of both brands is their almost identical design. Furthermore, the speakers come in a wide range of colors and designs alongside their fantastic sound quality. However, while both brands are relatively inexpensive, they do come with their own set of limitations, and there are certainly other better options that you may want to consider.