Having the best sound quality is any audiophile's dream. That's why it's essential to invest in a top brand that offers stellar performance coupled with five-star reviews. Edifier and Klipsch speakers are both known for their exceptional audio quality, but what sets them apart?
The main difference between Edifier and Klipsch speakers is that Edifier is designed to be portable and fits in with many different decor styles. It's perfect for small spaces or if you just want something effortless to move around.
Klipsch speakers go for a more classic style, designed to meet the needs of people who want high-quality sound. Klipsch speakers are perfect if you desire to enjoy your favorite music or movies in larger spaces like basements or backyards. You can just spread out and enjoy its powerful sound system.
This article will provide you with the historical overview of each brand, its pros and cons, and the best performing speaker from each brand. Follow through!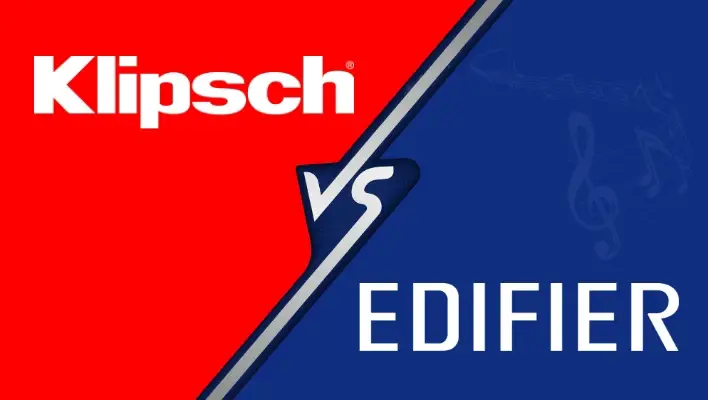 Edifier:
Historical Overview
Edifier Technology Company Limited was established in May 1996 to satisfy the unquenched demand for audio solutions in the Chinese domestic market. In August 1996, the company launched its first office in Canada, and a second production plant in Beijing, China, in April 1998.
In March 2011, the company announced a 100% acquisition of STAX— a Japanese producer of high-end audio equipment. This announcement paved the way for the release of top-quality edifier products, including gaming headphones, in 2020. Currently, Edifier boasts numerous consumers from Asia and beyond. 
Design Principles and Philosophy
The designers and engineers of Edifier build their speakers using three underlying principles: A passion for design, sound, and quality. For instance, Edifier has iconic designers working on the design structure of their speakers. These premium designs have received international recognition from Engineering Showcase Honors, Red Dot Design Award, and CES Design Award. A clear indication that design is a top priority for Edifier.
Pros
Cons
Soft bass response
Irritating high-pitched sound
Klipsch:
Historical Overview
The history of Klipsch features a story of passion and resilience by Paul W. Klipsch. In 1930, Paul discovered the greatness and efficiency of horn speakers compared to cone types while pursuing his radio passion. During his graduate studies at Stanford University between 1931 and 1933, a classmate mentioned that speakers sound better when placed in a corner. These two discoveries became the key to building his first speaker design.
In 1938, he affirmed his initial ideas that horn speakers were efficient and sounded better when placed in a corner. Consequently, the Klipschorn crude prototype was born and patented
later in 1945. A year later, Klipsch & Associates started its business, assisted by the Baldwin Piano Company and a local cabinet maker. Klipsch & Associates expanded its services until 2011, when Audiovox Corporation bought the Klipsch Group, Inc.
Design Principles
The Klipschorn technology forms the basis of Paul Wilbur's four principles of Klipsch sound.
Highly efficient: The high efficiency allows low-powered receivers and amplifiers to drive the horn-loaded speakers.
Controlled directivity of sound: This principle allows you to get directional radiation patterns rather than diffuse radiation patterns.
Wide Dynamic Range: It allows the horn speaker a good option when reproducing soft and loud sounds.
Flat Frequency Response: It eliminates unnatural emphasis on the high frequencies, mids, or bass.
Pros
Deep, strong bass response
Rich and room-filling sound quality
Immersive surround sound experience
Ideal for high frequencies
Cons
Distorted sound at high volumes
Less portable than other brands in its price range
Best Speakers From Each Brand
Both Edifier and Klipsch provide you with some top-performing speakers that sweeten your listening experience. Let's look at some of their best releases and the features that make them stand out.
Edifier:
1. Edifier R1280T: Best Budget Speaker
The Edifier R1280T is our top pick for a speaker system that provides high-quality sound within your price range. The speaker design is classy and compact, making the R1280T perfect for tight spaces in your living room. Although the speaker misses out on Bluetooth wireless connectivity, it compensates by having two stereo RCA input options(RCA, Auxiliary).
The 42 watts means the speaker isn't loud enough to rank as an entertainment powerhouse. Standing at a low-frequency response of 72 Hz makes the speaker less punchy as it works best at high frequencies.
Pros
Easy to control speaker settings using the remote control
Affordable unit
Classy finish
Light and compact speaker
Perfect for high-frequencies
Excellent entry-level speaker
Room-filling sound for small apartments
Cons
Lacks Bluetooth connectivity
Muddy sounds at extreme volumes
2. Edifier R1700BT: Super Compatible Speaker
The performance of the Edifier R1700BT and the R1280T is almost similar. However, the former is compatible with numerous connectivity options. The price range clearly defines the differences, with the R1280T being more affordable than the R1700BT.
The R1700BT features a five-pin port, making the installation and connection process straightforward. R1700BT allows you to connect up to two devices simultaneously on the RCA and auxiliary inputs. And switch the two sources effortlessly using the volume knob or the remote control.
Pros
The 5-pin port eases the installation and connection process
Sleek and beautiful design
Excellent sound quality
Bluetooth-enabled
Precise mid-range frequencies and vocals
Possible to include a subwoofer in your home theater setup.
Remote control present
Volume knob multitasks as pairing reset in multiple connections and switch between paired devices.
Cons
The positioning of the controls isn't perfect for left-handers
Lacks better options for shaping the sound
Klipsch:
1. Klipsch R-41M: Best Powered Speaker
The R-41M stands out as one of the most affordable powered speakers. Its Klipschorn technology ensures a dispersive and excellent sound quality that makes every place in your living room a sweet listening spot.
Its peak power of 200 watts allows the active speaker to deliver a powerful and crisp sound without draining out. That's not all! The R-41M performs well when used as reference speakers in a 5.1 surround sound system. Lastly, the R-41M relies heavily on wired connectivity due to the lack of Bluetooth connectivity.
Pros
The LTS horn tweeter and Tractrix Square work together to minimize audio reverb.
Perfect for tight spaces
A great addition to the 5.1 surround sound system
Budget-friendly
Sleek and beautiful design
Scratch-resistant cabinet finish
Cons
Lacks Bluetooth support
A passive speaker that requires you to buy an amplifier or receiver
The bass may not be deep enough
2. Klipsch RW-51M Powered Bookshelf Speaker: Best Wireless Speaker
Having a home theater setup that does away with a wired input all over your living room is a dream come true for every audiophile. The RW-51M is a wireless speaker that integrates WiSA technology for network streaming. With the technology, you can build a wireless multi-channel surround sound system.
Setting up the Klipsch RW-51M is simple. Connect the speaker to any WiSA-ready devices using a WiSA-certified Axiim LINK transmitter. And say goodbye to excess running cables in your room. Additionally, the left and right speakers are set apart to create an authentic stereo sound experience.
Pros
Provides a true stereo sound experience
WiSA wireless technology for Network streaming
The LTS horn tweeter and Tractrix Square minimize audio reverb.
Easy to set up any of your WiSA ready devices
A perfect alternative for a soundbar
Easy to expand to home theater to 7.1 channels
Cons
Klipsch vs Edifier Speakers: Do We Have a Winner?
Choosing between Klipsch or Edifier speakers can get challenging, considering that both brands are giants in the audio industry. Your winner will solely depend on the cost and performance of your preferred speaker brand.
Klipsch releases speakers that enable you to set up a surround sound system. The legendary Klipschorn technology ensures that your sound is dispersed everywhere in the room to give you an immersive experience. Although the speakers are costly, you have the guarantee that the sound quality is worth every dime.
On the other hand, Edifier releases speakers that stamp their authority in small and medium-sized rooms. Although the sound is crisp than in Klipsch speakers, they lack the resounding and punchy bass effect that Klipsch speakers offer. The remote control makes it easy to control your Edifier system effortlessly without tweaking the controls manually.