Since 1973, British Industries Corporation (BIC) America has strived to release hi-end sound systems for its consumers in America and beyond. Since competition in business is unavoidable, BIC comes with heavy investment in its subwoofer's drivers, amplifier, and sleek design.
Therefore, worry not if you're looking for a subwoofer that offers stellar performance because BIC has got you covered.
Here, we shall be reviewing two subwoofers, BIC Acoustech PL-200 vs F12 Powered subwoofers. Both have excellent features that will make the sound quality coming out of your sound systems worth the bucks.
The BIC Acoustech PL-200 is our top pick for audiophiles who want to add realism while playing music in bigger rooms. This is because the sub has a BASH amplifier capable of delivering 1000 watts dynamic peak output.
On the other hand, the BIC America F12 is a sturdy subwoofer with a solid build. It weighs 40.3 lbs which provides more portability than the PL-200. However, its lightweight doesn't compromise the quality of vocals and instruments coming out of this sub.
BIC F12 vs PL-200 Subwoofer General Specs Comparison
Before we get into an in-depth analysis of each of the two subwoofers, a general comparison of the individual specs can be a perfect place to start from.
Preview
Product Title
BIC America F12 12-Inch 475-Watt Front Firing Powered Subwoofer
BIC America PL-200II Acoustech PL-200 II Indoor 250-Watt-Continuous Powered Subwoofer, Black
Dimensions
17 x 14.75 x 17.25 inches
17.2 x 14.8 x 19.5 inches
Preview
Product Title
BIC America F12 12-Inch 475-Watt Front Firing Powered Subwoofer
Dimensions
17 x 14.75 x 17.25 inches
Preview
Product Title
BIC America PL-200II Acoustech PL-200 II Indoor 250-Watt-Continuous Powered Subwoofer, Black
Dimensions
17.2 x 14.8 x 19.5 inches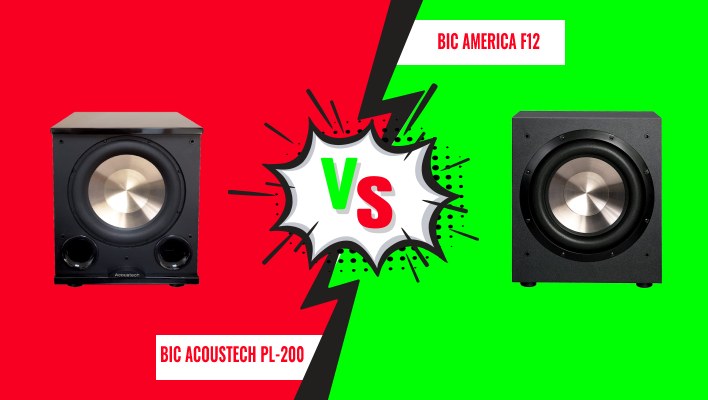 BIC Acoustech PL-200 II Powered Subwoofer Review
Simply put, the BIC Acoustech PL-200 subwoofer is an attractive, compact, and excellent-performing subwoofer. Unlike some competitors within the same price range, the PL-200 II comes with 9 x 2 inches dual ports that reduce its sonic interference. Let's get into the outstanding features of this compact subwoofer.
Sleek Design
The design of the PL-200 subwoofer is one of the features that make it stand out from its competitors out there. First, the MDF cabinet material minimizes sound distortion and allows sound resonation in your audio system.
The 12-inch poly-injected woofer driver ensures you get those punchy lows that will leave you craving for more. Also, you can place this compact subwoofer in your room without worrying about the space. Its robust construction allows the subwoofer to withstand the deep bass that can make the subwoofer vibrate.
The subwoofer has a detachable black fabric grille on the front side. Here's the good news. Removing the fabric grille exposes the shiny metallic center to give your living room aesthetic appeal and a futuristic look.
Audio Performance
We decided to put the PL-200 subwoofer into the test to determine whether the sound quality matches its price range. We weren't disappointed because the subwoofer provided just what any audiophile would need; production of good audio quality.
That's not all. The subwoofer rolls off sharply for frequencies of 30Hz instead of pushing to the recommended low-frequency response of 21Hz. Therefore, you'll never worry about distortion, port noise, or other distressing sounds coming from the woofer's driver.
Within frequency ranges of 50-70Hz, you get a whole different experience. There's some extra power to make your movie watching enjoyable because of the deep, clean, crispy-clear, and well-detailed bass.
Finally, you should consider the BIC Acoustech PL-200 if you're looking for excellent music in your home theater systems. We played several FLAC files in our collection, and the music quality was always the same – premium.
Subwoofer Controls and Expandability
The PL-200 subwoofer comes with a power auto ON/OFF control that saves on power consumption by switching off the subwoofer if it detects 15 minutes of idleness. The PL-200 II Amplifier provides numerous controls on its rear panel, such as the phase switch, volume control, sub RCA inputs, high-level inputs from the amp, and a removable fuse holder.
All these features make the subwoofer eminent in your home theater sound system. However, if you want to connect your subwoofer to a Dolby Digital digital receiver, just adjust your PL-200 crossover via the receiver, not through the adjustable crossover controls.
Pros
The sleek design gives your audio systems an aesthetic touch.
Its scratch-resistant hand-rubbed lacquer leaves your subwoofer in perfect condition for a long time.
The dual ports help to reduce sound distortion.
Perfect subwoofer for spacious rooms
Cons
The subwoofer rattles at extreme volumes.
Check Latest Price
BIC America F12 Subwoofer Review
The next subwoofer on our list is the 12-inch BIC America F12 Front Firing Powered subwoofer. This subwoofer still delivers impactful sounds despite having a low power rating. So, which features make the BIC America F12 stand out as one of the best subs out there?
Sound Performance
The F12 powered subwoofer has a constant power of 150 watts and a 475 watts maximum peak power. Although the bass produced may not be as punchy, you'll still manage to get a decently powerful and profound bass from this subwoofer.
The Dolby Digital and Dolby pro logic implementation lets you tweak the sound depending on the box placement and music. Also, the numerous controls at the sub's rear allow you to control the BASH amplifier and its 12-inch injection molded long-throw woofer.
Patented BIC Venturi Port
The patented BIC venturi port eliminates any irritating port noise from your sub. Therefore, if you're looking for a subwoofer that will guarantee excellent sound quality without any nagging muddiness and distortion, then you should start with the BIC America F12 subwoofer.
Design
The subwoofer comes with a sleek design and weighs 40.3 pounds. Other than the gold-plated terminal, the F12 Subwoofer cabinet is built of MDF material to provide a long-lasting sub. At the same time, the thick laminated walls prevent stationary waves and unwanted reverberance resulting from deep lows.
Just like the BIC Acoustech PL-200, the F12 Subwoofer dimensions of 17 x 14.75 x 17.25 inches make it solid and sturdy so that it can provide state-of-the-art performance in your living room. Lastly, removing the detachable grille on this subwoofer sets the sound free from grille diffraction while placing it protects the internal components of the subwoofer against foreign materials. Whatever the problem is, BIC America F12 has got the solution.
Pros
There's no port noise distortion
Affordable without compromising on quality
Crispy-clear and deep bass for small-sized rooms
It's a perfect subwoofer for home theater entertainment systems.
Cons
It tends to heat up sometimes
The subwoofer is powered by a low nominal and peak wattage.
Check Latest Price
BIC F12 vs PL-200 Powered Subwoofer – Final Verdict
You'll need to ask yourself one fundamental question before we settle on the winner between BIC Acoustech PL-200 vs F12 powered subwoofers. "What does each subwoofer offer?" Both subs will enhance sound quality in your home stereo. We know you may be looking for more features than just sheer sound quality, and a product review on each sub may be a perfect start.
The MDF cabinet material in both subwoofers ensures that you get a solid and compact subwoofer that will deliver deep and mind-blowing bass. The low-frequency response in both subwoofers allows them to handle low frequencies that make your movie and music listening experience worth a memory.
The BIC Acoustech PL-200 subwoofer is a top pick for audiophiles looking for something that delivers punchy lows in their sizeable rooms. The 1000 watts from this powered subwoofer allow you to get deep and powerful lows even at extreme volumes.
On the other hand, owning the BIC America F12 subwoofer can be a perfect place to start if your living room's size is a matter of concern. While the subwoofer delivers outstanding sound quality, its price range is low.