Headphones' Bluetooth audio quality alone may not be good enough to satisfy the needs of the most discerning audiophiles out there. As a result, manufacturers have come up with several codecs to compensate for the low-quality standards found on most Bluetooth headsets.
If you're the kind of person who likes to scrutinize technical specifications for speakers and headphones, you've likely come across features such as aptX, aptX HD, aptX LL, and so on. These features are often hyped as an enhancement in the quality of audio transmitted as compared to stock Bluetooth audio transmission.
aptX and aptX HD by Qualcomm are some of the most used codecs by Bluetooth devices and other audio applications. Both standards are supported by a range of smart devices, including smartphones, headphones, and tablets, among other portable devices. So, what's so good about these Bluetooth codecs?
In this article, we'll let's explore aptX vs aptX HD in detail to help you determine their differences, similarities, specific applications, and more.
What is aptX?
aptX is a form of an audio coding algorithm that is used with headphones and Bluetooth smartphone products. This codec is designed to deliver CD-like audio quality, and it offers a significant improvement over its SBC predecessor.
For instance, a standard aptX requires a bit rate of 384 Kbps and provides a compression ratio of up to 4:1, which helps to minimize latency issues and audio-coding delays. Today, aptX is common is synonymous with just about any Bluetooth device, including smartphones, computers, and a range of consumer electronics devices.
This technology works by compressing and decompressing audio signal as it is being transmitted from the source to the end device such as a pair of headphones or a wireless speaker. And like any other Bluetooth compression codec, aptX is not lossless, meaning some data may be lost, but it is usually not noticeable.
The idea behind this technology is to let the user transmit an audio signal over Bluetooth without compromising the quality while allowing you to get the most from your music files. The best thing about aptX is its ability to deliver low latency audio at the full bandwidth of 16-bit/44.1kHz (CD quality). This means that aptX is designed to offer better sound quality than a standard Bluetooth transmission.
Key Specs
Audio quality
SNR@1kHz : 93 dB
THD+N@1kHz : -67 dB
PEAQ audio quality : -0.18
Frequency response : 20 Hz – 22.7 kHz
Audio encoding
Word depth : 16-bit,
Sampling rate: 44.1 kHz
48 kHz
Bit rate
325 Kbps (@ 44.1 kHz)
384 Kbps (@ 48 kHz)
Compatibility
Backward compatible with any SBC device
What makes aptX unique?
Reduced the file size
aptX audio codec is designed to significantly reduce the amount of data you need to transmit over Bluetooth. This makes it a perfect method for streaming both audio and video files without sacrificing sound quality. Furthermore, this codec is not affected by the maximum bandwidth available for use with Bluetooth.
Reduced latency
Latency is defined as the time spent between sending an audio file and the time you hear it. aptX works by compressing and decompressing audio signals while playing them, and this helps to remarkably reduce the latency. This implies that you'll have the chance to enjoy high-quality audio minus the hassle of wire clutter.
Flawless connection
This audio technology is made to connect to a range of devices flexibly while allowing you to enjoy glitch-free audio. This means you can experience the same high-fidelity audio even in the most challenging listening environments, such as busy highways or airports.
Overview of aptX HD
Qualcomm developed aptX HD, which is basically an updated version of aptX, to address the growing demand for hi-res audio. According to Qualcomm, this codec is identical to High Resolution Audio so listeners can perceive even the slightest details in their music files.
aptX HD allows listeners to transfer or stream music in a way that facilitates better sound quality. Unlike aptX, which supports up to 16-bit word depth, this codec compresses audio at 24-bit/48kHz, but the compression ratio remains the same i.e. 4:1.
The first products to use aptX HD were android phones and tablets. Today, the codec is implemented in multiple applications, including wireless systems, headphones, music streamers, select audio turntables, and more.
The obvious requirement for using aptX HD is ensuring that your device is compatible with Qualcomm Bluetooth audio system on chips (SOCs). This hardware is not only designed to support 24-bit audio end-to-end, but it also offers better digital signal processing than similar products. It also helps to reduce signal-to-noise ratio and distortion during the encoding and decoding process.
The best part yet, there are plenty of high-end headphones that support aptX HD, a good example being the award-winning SonyWH-1000XM3. Furthermore, you don't have to worry about future or backward compatibility since aptX HD is compatible with standard aptX speakers and headphones.
Summary of Key Specs
Audio quality
SNR@1kHz : 129dB
THD+N@1kHz : -80dB
PEAQ audio quality : -0.05
Frequency response : 20 Hz – 22.7 kHz
Audio encoding
Word depth : 24-bit,
Sampling rate : 44.1 kHz
48 kHz
Bit rate
576 Kbits (24 bits @ 48 kHz)
Compatibility
Backward compatible with any aptX device
Notable features of aptX HD
Wireless HD sound quality
Unlike its predecessor which is designed to deliver a CD quality audio, aptX HD offers up to 24-bit HD audio over a wireless Bluetooth connection. So if you're looking to experience the best sound possible from new audiophile tracks, aptX HD will offer a slight improvement over its aptX counterpart.
Improved signal output
This audio codec has been designed to enhance the signal-to-noise ratio. This construction helps to reduce the background noise resulting in amazing sound quality. Because of this, portable Bluetooth devices, including wiring headphones, smartphones, and portable speakers, can now sound greater than ever before.
Reduced sound distortion
aptX HD is characterized by a lower THD (Total Harmonic Distortion) which translates to reduced sound distortion. This also implies that it is less susceptible to audio artifacts so you can listen to your favorite tracks with less interference.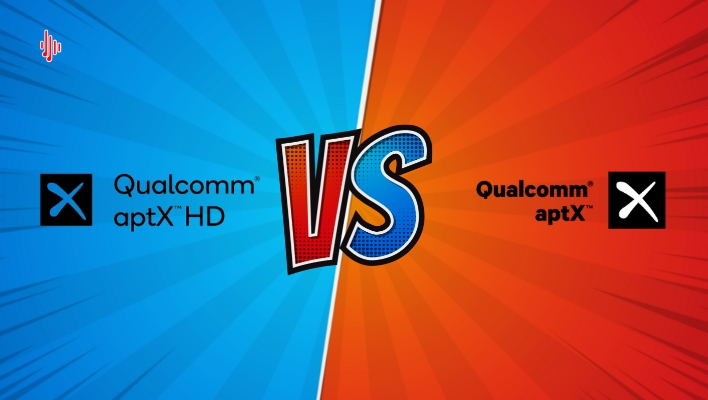 Notable differences between aptX and aptX HD
Both aptX and aptX HD are audio technologies that are designed to improve the sound quality for music tracks, phone calls, among others. The two codecs help reduce the amount of data sent over Bluetooth, and they are compatible with the industry's finest smartphones, headphones, earbuds, speakers, sound bars, and more.
However, aptX is regarded as the standard audio codec for typical Bluetooth applications. This audio technology delivers CD quality and low latency audio, making it ideal for novice users and real-time applications, such as voice recognition and making phone calls.
On the contrary, aptX HD, as the name suggests, delivers High Definition sound with a primary emphasis on wireless applications. Compared to its predecessors, the aptX HD is the most prevalent Bluetooth connection right now, and it will probably remain on top for some time. Generally, aptX HD offers lower latency than its aptX counterpart. In addition, aptX HD provides a convenient way to transmit more data without necessarily increasing the bit rate.
That said, it is critical to pay attention to the source you're listening to. On record, aptX HD may sound great, with a better sampling and higher bit rate. However, if you don't have a high-quality source, the codec is not going to result in much audible difference, if any. As such, upgrading from aptX to aptX HD won't make your music sound better, especially when using cheaply made headphones or speakers.
In other words, transmission codec is only a small part of how your music sounds. The quality of your headphones, speakers, and source material plays a much bigger role in the final sound quality than the type of codec used during transmission.
What about aptX Low Latency?
While aptX and aptX HD are the most accessible codecs out there, they are more Qualcomm's Bluetooth technologies that are worth mentioning. aptX Low Latency, also known as aptX LL, is an older sibling of the aptX HD, although it may essentially be replaced by the latter in time.
aptX Low Latency boasts premium audio and video syncing, which delivers less than 40 ms of latency when you are listening to the audio, watching a video, or playing a game on a connected device. It is also designed to provide sound in sync with what is projected on the screen resulting in better-quality synchronized sound.
So what headphones support aptX Low Latency? Ideally, any pair of headphones intended for videos and gaming applications require aptX LL to ensure seamless audio and video synchronization. Sony is one of the most prominent supporters of this codec, and it is for good reasons.
Other popular headphones models that are compatible with this codec include Sound Blaster JAMV2, AKSONIC Athlete Bluetooth Headphones, MEE audio Matrix headphones, Paww WaveSound 2.1 headsets, just to mention a few.
Parting Shot!
Wireless audio, and in particular, Bluetooth connectivity, has come a long way in the last few years. Both aptX and aptX HD aren't much hyped as they once seemed, but are still useful and result in noticeable audio improvement. However, it is important to emphasize that the two codecs are not an assurance of good sound quality. To make the most out of any audio performance, it is far more critical to invest in good-sounding gear.