The Pioneer AVH-120BT is a solid car stereo with a range of useful features that make it a good choice for those who want to upgrade their car's audio system. One of its highly desirable features is the built-in Bluetooth connectivity, which allows users to connect their smartphone or other compatible devices to the stereo wirelessly.
Once you have connected your device to the AVH-120BT, you can start streaming music wirelessly to your car stereo system. You can also use the Bluetooth menu to control playback, adjust volume, and browse your music library directly from the stereo system.
Pioneer AVH-120BT Bluetooth Memory Full
Now, when you pair a device with a Pioneer AVH-120BT car stereo system, the device's information is saved in the Bluetooth memory. This means that the next time you want to connect the same device, you do not need to go through the pairing process again. Instead, you can simply select the previously paired device from the list of saved devices.
However, the Pioneer AVH-120BT car stereo system has a limited amount of Bluetooth memory available. Once the memory is full, you will not be able to pair any new devices until you delete some of the previously saved devices to make room for new ones.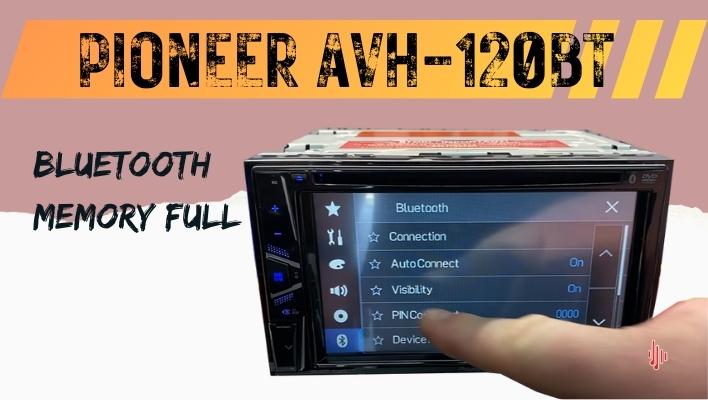 So, if you're getting the 'Bluetooth Memory Full' error message, it means that the receiver has reached its maximum number of paired Bluetooth devices. Having a full Bluetooth memory on your Pioneer AVH-120BT car stereo system is not necessarily a bad thing, but it can be inconvenient if you want to connect a new device and you have reached the limit of devices that can be stored in the memory.
If your Pioneer radio Bluetooth memory is full, you may need to clear the memory to make room for new devices. In this section, we'll show you how to clear Bluetooth memory on Pioneer AVH-120BT in simple steps.
Step 1#
Turn on your Pioneer radio to allow you to access system settings
Step 2#
Select the Bluetooth settings option from the menu
Step 3#
Scroll down and select the Bluetooth memory clear button. Press the button (clear) and click ok to confirm the deletion.
Step 4#
Close out the window to complete the process. You can now go back and try to pair your new device.
By following these steps, you should be able to clear the Pioneer AVH-120BT Bluetooth memory and free up space for new devices. Alternatively, you can also choose to delete your phone memory or a specific device from the Bluetooth device list to help free up some space.
Once you delete the phone from the device list, it will no longer be paired with the Pioneer AVH-120BT and its memory will be cleared from the device. If you want to pair the phone again, you will need to go through the pairing process from the beginning.
How to delete phone memory from Pioneer AVH-120BT
Deleting a phone memory from the Pioneer AVH-120BT Bluetooth list is generally a straightforward process, and you don't need any special technical knowledge or skills to do it. All you need to do is to go to your radio Bluetooth settings, find the list of paired devices, and then select the option to forget or delete the device you want to remove.
This will remove the device from your phone's memory and prevent it from automatically connecting to your phone in the future. Deleting phone memory from the radio can be particularly useful if you frequently switch between different phones or devices and need to add new ones.
However, if the above steps do not work and you are unable to clear the Bluetooth memory on your Pioneer AVH-120BT car stereo, you can try to reset the radio. Performing a factory reset can help to delete the Bluetooth memory on your Pioneer AVH-120BT, since it will reset all settings to their default values, including the Bluetooth memory. To perform a factory reset on this Pioneer car radio you can follow these steps;
Using your touch screen, navigate to system settings and select system information.
Scroll down the system information menu and select restore settings
Confirm that you want to perform a factory reset by selecting 'restore'.
Wait patiently for the radio to restore to factory settings
At this point, the car radio has reset to the default specs, and you're good to go
You can then go ahead and start the Bluetooth pairing process from the main menu
The Bottom Line
It can be quite frustrating when you're trying to pair a new device on your Pioneer radio but are unable to do so because the memory is full. However, this is a common issue with many car stereos and is not specific to the Pioneer AVH-120BT.
Most car radios have a limited amount of memory for storing paired devices, and when this memory is full, new devices cannot be added until existing devices are removed. To avoid running into this problem in the future, you can periodically review the list of paired devices and delete the ones you no longer use or need.