Are you a podcaster or a Youtuber and need the best microphone in the market to produce top-tier content for your audience? We are here to solve your problem. We give you an in-depth review of Audio-Technica AT2020 vs Shure SM7B.
Looking for a new condenser microphone can be an overwhelming ordeal. You see dozens of videos and reviews on your favorite podcasting accessory site, and they are totally confusing. There is a lot of information out there, so finding the right condenser mic can feel like an impossible task.
We will take an in-depth look at their specs, each mic's pros and cons, features, and functionality. Also, we'll look at how each microphone compares for certain tasks such as recording acoustic and electric guitars, vocals, voiceovers, and podcasting. This will help you make a more informed decision.
The Audio-Technica AT2020 is a stunning mic that operates best as a vocal mic. It captures the subtle and tiniest variations in voice applications. This attention to the smallest details renders it the best mic to use with stringed instruments such as acoustic guitars. The AT2020 is the perfect mic for beginners as it is easy to handle, cheap, and fully equipped.
On the flip side, the Shure SM7B is a darling of professionals and veterans since it offers the best background noise cancelation. It is a professional mic that was a favorite of Michael Jackson because of its durability and unique sound quality. It is best used for live performances, broadcasts, and voiceovers. However, you will cough some good bucks for this mic compared to the AT2020.
Audio Technica AT2020 vs Shure SM7B Comparison Table
Before we delve into an in-depth review of the Shure SM7B vs Audio-Technica AT2020 microphones, let's first look at an overview of their specs.
Preview
Product Title
Audio-Technica AT2020 Cardioid Condenser Studio XLR Microphone
Shure SM7B Vocal Dynamic Microphone
Preview
Product Title
Audio-Technica AT2020 Cardioid Condenser Studio XLR Microphone
Preview
Product Title
Shure SM7B Vocal Dynamic Microphone
Audio-Technica AT2020 Review
The AT2020 is a side-address mic that offers the same cardioid pickup pattern and frequency response as its more expensive sibling, the AT2035. It is great for recording both vocals and instruments. It features a carefully engineered diaphragm that produces a beautiful transient response. This allows it to capture all of the sound nuances in speech and music.
The AT2020 cardioid condenser mic was designed with one thing in mind, which is to make a studio-grade mic available to everyone. This microphone was designed for use in the recording studio environment more than in live performances.
In addition, the mic comes with multiple accessories that make using it even easier than before. They include a pop filter guard, shock mount holder, and XLR cable. There is also a soft case bag for storage purposes or transportation convenience when on the go.
The AT2020 also features an open acoustic environment of the ear, allowing unobstructed sound from all directions.
The AT2020 is built like a tank and does a great job of rejecting room noise. Also, you can be sure that this product will stand up to whatever life throws at it.
It has a wide dynamic range which gives you the ability to record very softly without distortion. Also, you don't have to turn up the gain levels on your recording device to hear what's being recorded.
This mic comes with a tripod desk stand, an AT8458 shock mount, an integral 3/8 "-16 thread mount, a soft protective pouch, and a 1/4" adapter. It also has a 10 dB pad switch which allows you to use it in high SPL environments.
Additionally, the Audio Technica AT2020 Features:
Large-diaphragm cardioid condenser microphone with fixed Cardioid pickup pattern.
20mm gold-sputtered diaphragm operates at 16-bit/44.1 kHz resolution and provides a smooth frequency response of 20 Hz–20 kHz.
Internal shock mounting reduces handling and background noise while maintaining stability during use.
Threaded stand mounts for compatibility with most industry-standard mic stands.
Is the Audio-Technica AT2020 Worth it?
So, is the Audio-Technica AT2020 good for voiceover and other home uses? Let's look at some of its advantages and disadvantages.
Pros
High-quality sound recording.
Very good build quality.
Best quality natural sound.
Easy to use controls.
Cheap.
Long battery life.
Works well with most smartphones.
Great clarity in the mid-range and low-end frequencies.
Cons
Doesn't have an on/off switch; requires phantom power.
Meant for studio use only, not live performances.
Check Latest Price
Shure SM7B Review
The Shure SM7B is a dynamic mic with a cardioid polar pattern. The SM7B is a professional mic used for decades by top artists like Michael Jackson and Elvis Presley because of its durability and unique sound quality.
It is a professional-quality microphone that provides excellent sound quality and rugged construction at an affordable price. It has a cardioid pickup pattern with an XLR connector, making it easy to use with most audio interface equipment.
The mic sports a functional shock mount, which minimizes vibrations when using the microphone for live performances or other loud environments. The shock mount also makes it easier to position the microphone without holding it yourself or clamping it down onto something else.
The frequency response range of this model ranges from 50 Hz up to 20 kHz, which is fairly standard for this type of model. However, it tends to slightly favor the lower frequencies, which is good for recording something like guitar bass rolls.
The microphone has an output level of -56 dBV maximum SPL, so you don't need much amplification in order to use it effectively.
Here are some of the most notable features of the SM7B:
The cardioid pickup pattern isolates your source without any background noise or feedback.
Switchable bass roll-off reduces low-end rumble without changing tonal characteristics.
The adjustable proximity effect can be turned on or off as desired.
Is Shure SM7B Worth it?
To anyone wondering, "Is a Shure SM7B good for voice acting? What about other uses? Is it worth the buy? Here are some of its pros and cons.
Pros
Easy to use (plug in, turn on, and press record).
Compact design.
Less noise than other mics
Excellent for voiceover work.
Cons
Quite expensive.
Not portable; it requires external power.
Check Latest Price
Shure SM7B vs Audio-Technica AT2020 Differences
Both mics are geared towards sound source production, but they have their differences.
1. Microphone Size
The Shure SM7B looks like a small, standard mic. The Audio-Technica AT2020 is a little bigger and doesn't look as standard.
2. Audio Range
The Shure SM7B is for dynamic vocals or high-volume instruments, while the Audio-Technica AT2020 is for acoustic and stringed instruments as well as quiet vocals.
3. Frequency Response
The Shure SM7B has a frequency response of 50 Hz to 20 kHz, while the Audio-Technica AT2020 has a wider frequency range of 20 Hz to 20 kHz.
4. Price
The Shure SM7B is much more expensive than the AT2020. However, as with most things in life, you get what you pay for, and the SM7B is definitely worth its price tag compared to other dynamic microphones in its price range.
5. Type
The Shure SM7B is a dynamic cardioid mic, whereas the AT2020 has been made as a cardioid condenser mic with a side-address microphone.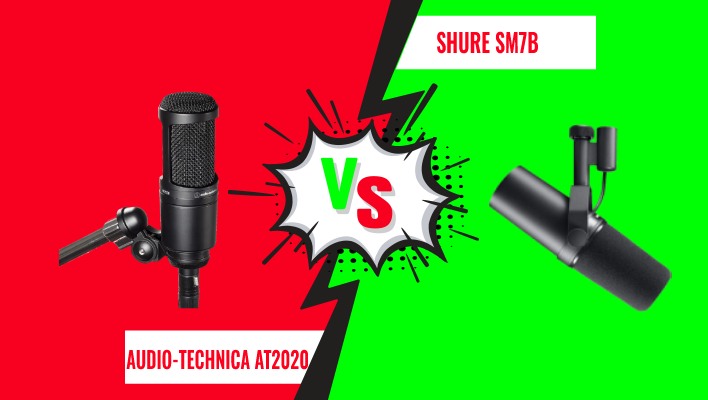 Audio-Technica AT2020 vs Shure SM7B Similarities
Both microphones have similar features, including:
Built-in shock mount.
Multi-pattern selection switch.
Internal pop filter.
Which is Better: Audio-Technica or Shure?
If you want a microphone with the best condenser type of sound at the right price, then Shure microphone SM7B is a great choice. It works best in high-end production studios or professional voiceover artists working on commercials or narration. It is the better choice due to its quality and performance superiority.
However, if you want something with the best quality of sound that has a cheaper price than SM7B, then Audio-Technica AT2020 will fit your budget. This is especially so if you want to record voiceover work or do podcasting at home. It is probably your best bet since it comes with everything you need.
Final Word
When we look at the Audio-Technica AT2020 vs Shure SM7B and which is the winner, It is all about your priorities, needs, and preferences in terms of sound quality vs price.
The Shure SM7B is the cheaper option and has a warmer, more classic sound that some people prefer. However, the Audio Technica mic sounds clearer and more detailed. Both mics are great and would make the perfect addition to anyone's mic collection.
The winner is, however, dependent on your application and needs. If you're a podcaster or YouTube creator, we highly recommend the Shure SM7B. It has that warm, retro vibe that most people look for in audio equipment.
In the end, though, the choice between the two is likely to be a subjective one. After all, both of these microphones have their pros and cons. The best course of action is for you to try each one out for yourself. Should you need to explore more options, kindly check out Rode Mics.