If you are looking for an aftermarket car radio with an impressive range of music features, the Pioneer DMH1500NEX is a worthy consideration. Pioneer car stereos are known for their reliability and performance, and the DMH 1500NEX is no exception.
The Pioneer DMH 1500NEX is a digital multimedia receiver with a 7-inch touchscreen display. The screen offers all the modern features without costing a fortune, and it is designed to fit most vehicles. Some of the key specs and features of the Pioneer DMH 1500NEX include;
A high-resolution touchscreen display that allows for easy navigation of the head unit's various functions.
Built-in Bluetooth and Apple CarPlay/Android Auto compatibility for hands-free calling and media streaming.
Support for various audio and video playback options, including high-resolution audio formats such as FLAC, among other audio formats.
It also offers a rearview camera input and an inbuilt amplifier to drive speakers.
USB input for connecting external devices such as flash drives or smartphones
The Pioneer DMH 1500NEX also offers the option to add a SiriusXM tuner and an HD radio tuner.
With tons of music streaming options and an easy setup, the DMH 1500DEX brings pure Pioneer sound to your dash.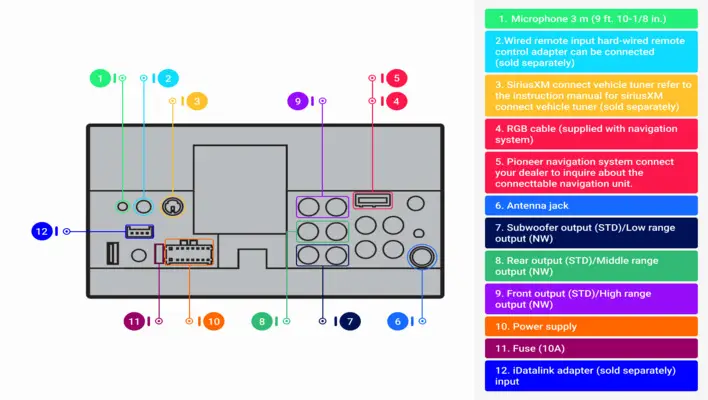 Pioneer DMH 1500NEX Wiring Diagram
The Pioneer DMH 1500NEX includes a wiring harness that is used to connect the head unit i.e., the main control unit of the car stereo to the power supply and the rest of the car's audio system. However, installing Pioneer DMH 1500NEX can be complex, and it is always a good idea to have it done by a professional.
Pioneer does not recommend you install this head unit yourself. So, if you are not familiar with the Pioneer DMH car stereo manual, it's best to seek help from authorized service personnel to avoid damaging your device or the car.
Generally, to install this receiver successfully, you'll first need to identify the purpose of each wire in the car audio system. Car audio color codes are standardized across the board, but some manufacturers can have variations. That said, the Pioneer DMH 1500NEX color codes are;
i. Power leads
Yellow – This is basically the battery wire. The cable represents the terminal supplied with battery power irrespective of the ignition switch position.
Red – The red cable offers a connection to the terminal controlled by the ignition switch. The ignition wire delivers up to 12V DC (ON/OFF).
Black – The black wire represents the ground terminal, and connects to the vehicle's (metal) body.
White/orange – The white/orange cable is for the lighting switch terminal.
Violet/white – This lead connects to the back lamp.
Yellow/black – If you intend to use the Mute function with your device, you'll need to wire this lead to the Auto Mute terminal of your device. However, the lead might not be of much use if you don't plan on muting any device.
Blue/white – This is a 12V DC wire that connects to the terminal of the power amp system control.
Light green – This lead is used to determine the status (on/off) of the parking brake. The wire is often connected to the parking brake switch.
ii. Speaker leads
White – Left front speaker (positive)
White/ black stripe – Left front speaker (negative)
Gray – Right front speaker (positive)
Gray/black stripe – Right front speaker (negative)
Green – Left rear speaker (positive)
Green/black stripe – Left rear speaker (negative)
Violet – Right rear speaker (positive)
Violet/black stripe – Right rear speaker (negative)
It is important to remember that this unit should be used with a negative grounding and a constant 12-volt battery only. Failure to adhere to this safety rule will result in malfunction or fire accidents. And to prevent electrical shocks, always ensure to disconnect the battery cable before doing the installation.
Pioneer DMH 1500NEX Pros
High-end audio quality at an affordable price.
Large and customizable screen for easy visibility and navigation
Variety of audio and video playback options, including support for high-resolution audio formats
Superior audio quality at an affordable price
Works with multiple music formats
Cons
It doesn't support CDs
Some users may experience compatibility issues with their vehicle's steering wheel controls
Similarly, the user interface may be difficult to navigate, especially for new users
Some features may be lost during driving, but you can always recover them after parking your vehicle
Frequently Asked Questions
Q: How do I reset Pioneer DMH 1500NEX?
Performing a reset will return the DMH 1500NEX to its default settings. In addition, it erases any custom settings and configurations you may have made. A factory reset is often necessary if the device fails to function properly or when there appears to be an issue with the operation of the system. To reset DMH 1500NEX, you can follow these steps.
Turn off the ignition switch
Press the reset button with a pen tip or any other convenient tool.
The receiver will display a message asking if you want to reset the unit. Select 'Yes' and confirm the reset, and you're good to go.
Q: Does the Pioneer DMH 1500NEX have WebLink?
Yes. The Pioneer DMH 1500NEX includes an inbuilt WebLink functionality. This feature allows users to access and control compatible smartphone apps directly from the head unit display. In addition, it allows you to operate the apps using different finger gestures such as dragging, tapping, scrolling, etc. However, to access this feature, you'll first need to download and install the WebLink host app on a compatible smartphone or iPhone.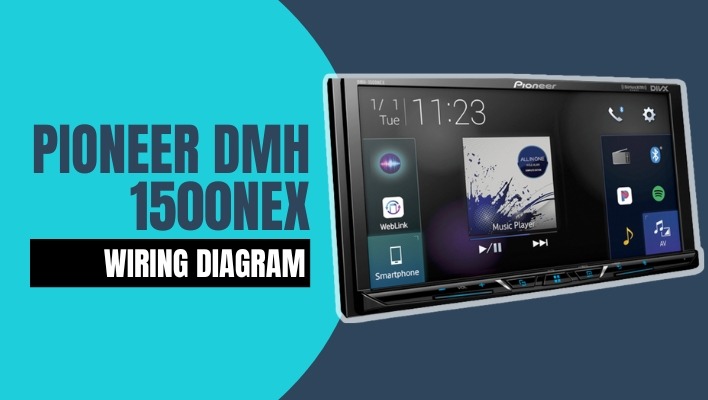 Conclusion
The Pioneer DMH 1500NEX is a great car receiver for anyone looking to explore tons of entertainment options without having to spend a fortune. Luckily, installing this device isn't intimidating, plus it comes with everything you need for the installation, including the Pioneer DMH-1500NEX installation manual.
In summary, the wiring harness of Pioneer DMH 1500NEX features the power leads, including the main power wire, the ignition wire, the ground wires, and various speaker leads. The harness also includes additional wires for features such as the mute function or the rearview camera.
Generally, we liked the idea that the receiver can be customized for your specific needs, including the ability to move icons on the display. And with its expandable features set, it is easy to see why this Pioneer car receiver is one of the most solid deals you'll ever find.