The Pioneer AVH 270BT is a double-din DVD multimedia receiver designed for in-car entertainment and connectivity. This car receiver offers a combination of touchscreen convenience, Bluetooth connectivity, among other features making it a compelling choice for car audio and video enthusiasts looking to upgrade their car audio system.
Top features of Pioneer AVH 270BT
Touchscreen display
The AVH 270BT features a 6.2-inch touchscreen display that allows for easy menu navigation, video playback, and control of various multimedia functions. The display includes responsive touch controls for easy operation while driving. Furthermore, the interface provides a user-friendly and intuitive way to interact with the receiver, making it convenient to control audio and video functions while on the road.
Media Playback
The AVH 270BT supports various media formats, including DVD video, CD audio, and USB memory devices. The unit also includes a USB port and auxiliary input for connecting external devices such as USB drives, smartphones, and MP3 players for audio and video playback.
Bluetooth connectivity
The Pioneer AVH 270BT has built-in Bluetooth technology, allowing you to wirelessly connect your smartphone or other Bluetooth-enabled devices for hands-free calling, music streaming, and audio/video control.
Customization features
Apart from Bluetooth connection, the AVH 270BT allows you to customize the audio settings using its built-in 5-band graphic equalizer and adjustable crossover network to fine-tune the audio output to your preferences. It also has built-in high-pass and low-pass filters for optimizing your speakers' performance.
Expandability
This receiver features a rear AV input, rear USB, and rear-view camera input for adding a backup camera, and two sets of preamp outputs for connecting external amplifiers and speakers. It also has preamp outputs for front, rear, and subwoofer connections, allowing for expanded audio system customization.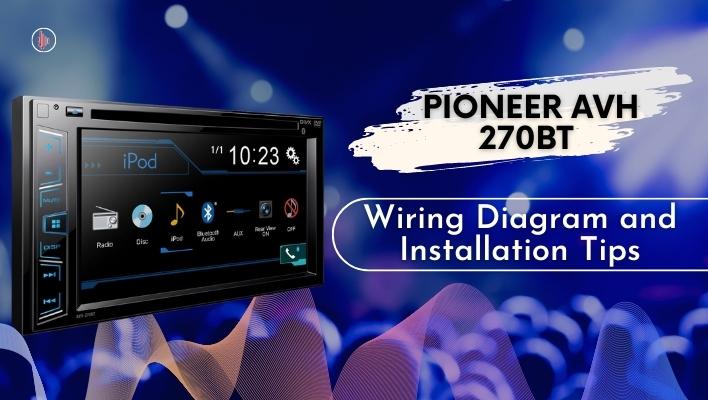 Pioneer AVH 270BT Wiring Diagram
The Pioneer AVH 270BT comes with a wiring harness required for its installation. You can use this wiring harness to connect the receiver to the electrical system of the vehicle, including the power source, speakers, and other accessories.
Steps for Wiring Pioneer AVH 270BT
Step 1# Gather the necessary tools and materials
To wire this Pioneer car stereo, you'll first need to gather the required set of tools. This includes;
A screwdriver(Philips head screwdriver) and other necessary tools for disassembling the existing stereo
Crimp connectors or soldering iron and heat shrink tubing(if you don't have a wiring harness adapter)
Step2# Disconnect the battery
Before starting any wiring work, disconnect the negative terminal of your vehicle's battery to prevent any electrical hazards.
Step3# Remove the existing stereo
Using appropriate tools, remove the existing car stereo from your vehicle's dashboard. Remember, the exact steps for removing your old car stereo may vary slightly depending on the model and year of your car. As such, it is always a good idea to consult your car's user manual for specific instructions on how to remove your car stereo.
Step 4# Connect the wiring harness
As we have mentioned, Pioneer AVH 270BT comes with a wiring harness with color-coded wires. All you need to do is to match the wires on the wiring harness to the corresponding wires on the car stereo. To achieve this, you'll need to use the wire stripper to remove a small portion of insulation from the ends of each wire.
The next thing you'll need to do is to connect each wire to the corresponding color or function, as shown in the Pioneer AVH 270BT wiring harness diagram below;
Power Connections
Key
1-Connection to power supply 7- Used to detect the reverse gear (violet/white)
2-Power cord 8- Power amp (blue/white)
3-Battery cord (yellow+) 9-Parking brake status (light green)
4-Ignition 12V (Red +) 10-Power supply side
5-Lighting switch (orange/white) 11-Parking brake switch
6- Ground (black-) 12-Ground side
Speaker Connections
Key
1-To power supply 10-Right front speaker (grey/black stripe-)
2- Power cord 11-Left rear speaker (green+)
3- Left speakers 12-Left rear speaker (green/black stripe-)
4- Right speakers 13- Right rear speaker (violet+)
5- Front speaker 14-Right rear speaker (violet/black stripe-)
6- Rear speaker 15-Connection for subwoofer up to 4 ohms
7- Left front speaker (white +) 16- Connection for subwoofer up to 2 ohms
8- Left front speaker (white/black stripe-) 17- Not used
9- Right front speaker (grey+) 18- Connection for subwoofer up to 4 ohms x 2
Step 5# Connect the wiring harness to the vehicle
At this point, you can now connect the wiring harness to the vehicle's wiring harness. Ideally, the wiring harness adapter will interface with the vehicle's factory wiring, allowing you to connect the Pioneer AVH 270BT without cutting or splicing the vehicle's wires.
Step 7# Mount the Pioneer AVH 270BT
Mount the Pioneer AVH-270BT into the dashboard of your vehicle following the reverse steps of the process you followed while removing your old receiver. This ensures that the stereo is properly reinstalled and that all connections are correctly reconnected, minimizing the risk of any issues or damage.
In addition, ensure to double-check all connections to ensure they are secure and properly connected before reassembling the car stereo. Tug gently on the wires and connectors to make sure they are firmly in place.
Step 8# Reconnect the battery
Reconnect the negative terminal of the vehicle's battery. Turn on your vehicle and test your car stereo to ensure that it powers on, plays audio, and functions correctly. Make any necessary adjustments or corrections if needed.
Step 9# Secure and tidy up the wiring
Once you have confirmed that the Pioneer AVH 270BT is working correctly, you may want to use electrical tape or heat shrink tubing to insulate and protect the wires from physical damage or signal interference. This will also help prevent accidental contact with other metal parts, which could cause short circuits or damage to the wires. Ensure that the insulation covers the entire exposed wire and is securely fastened.
Conclusion
The Pioneer AVH-270BT offers a range of features that make it a fascinating car stereo option for car enthusiasts and those who enjoy advanced audio and multimedia capabilities while on the road. And by following these steps and paying attention to details, you can be sure that your car stereo is securely connected while reducing the risk of any issues and ensuring proper functionality.