In recent years, the world of audio has experienced significant growth in terms of technological advancement and the emergence of new trends. Such trends include in-ear monitors (IEMs), which have not only become widely known and accepted, but also more accessible to many people.
IEMs are critical equipment used by audio engineers, musicians, and audiophiles, in general, to listen to music or mixes during live performances or recording applications. They are used by performers of all kinds, from professional pop stars and vocalists to hobbyist guitarists and hard rock drummers.
Apart from having a detachable cable, IEMs come with different types of connectors to allow users to customize their devices. However, IEM connectors can be a confusing topic, especially if you don't know the different types available and their applications.
If you're in such a predicament, this article is for you. We'll discuss the difference between the different types of IEM connectors and their uses. Let's begin!
IEM Connector Types
As we have already stated, IEMs are often used by musicians on stage or in the studio, as well as by audio engineers and other professionals who need to listen to audio content with high clarity and optimal accuracy.
However, it is important to note that different IEMs may use different connectors, so it is important to check the compatibility of the connector with the device you are using. The common types of IEM connectors include;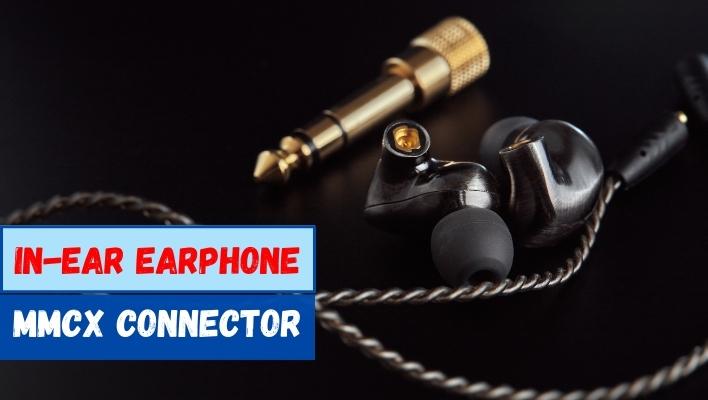 i. MMCX Connectors
The MMCX connectors are by far the most common connectors used with IEM cables. These connectors are used with removable IEM cables and are designed to be easily swapped out, thanks to the snap-in lock mechanism.
MMCX connectors are small and lightweight, and they offer a secure connection that can withstand the rigors of daily use. They are commonly used with high-end IEMs that require a more reliable and durable connection than what is provided by similar IEM connectors. What's more, most new IEMs come with gold-plated MMCX connectors for improved performance.
In addition to their use with IEMs, MMCX connectors are also used in a variety of other applications, including wireless headsets, mobile phones, and other portable electronic devices. They are best known for their reliability and versatility, and they are a popular choice for many manufacturers of audio and communication equipment.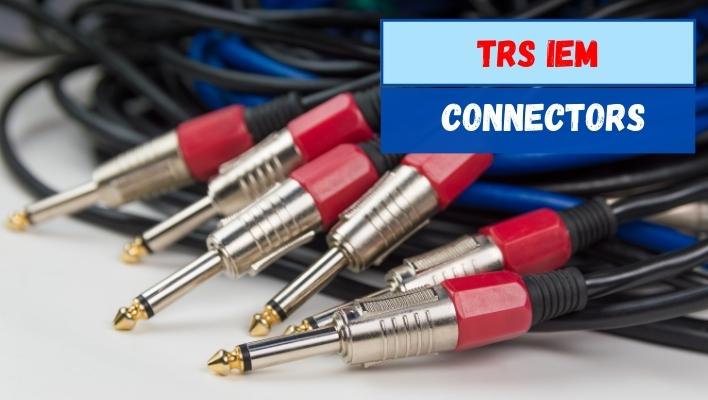 ii. TRS IEM Connectors
TSR connectors are also a common type of connector used with in-ear monitors (IEMs). TRS connectors are named after the three conductors they have, i.e. the tip, ring, and sleeve. These connectors are available in a wide range of sizes, making them ideal for use with a variety of IEM applications.
The most common type of TRS connector used with IEMs is the 3.5mm (1/8″) connector. Generally, the 3.5mm connectors are dependable, easy to use, and in addition, they are the standard size for most portable audio devices such as smartphones, MP3 players, and portable speakers, and of course, in-ear monitors.
TRS connectors are also available in 2.5mm (3/32″) connectors, which are slightly smaller than their 3.5mm counterpart. The 2.5 mm connectors come in a more compact design and are often found in older IEMs and other portable audio devices.
Like MMCX connectors, TSR connectors are known for their versatility and are used in a wide range of audio applications, including professional audio equipment, musical instruments, and home theater systems.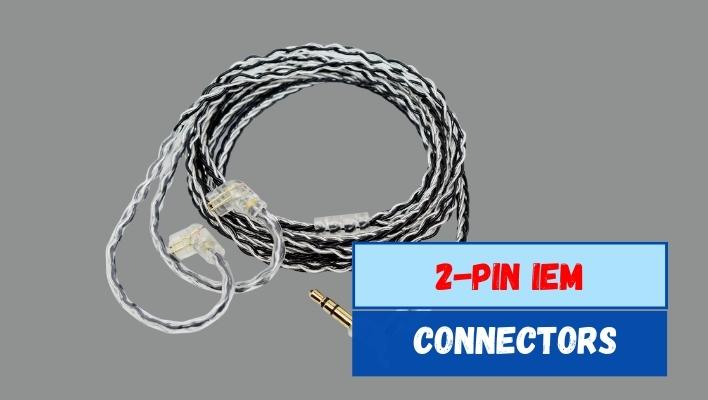 iii. 2-Pin IEM Connectors
The third type of IEM connector we are going to discuss is the 2- pin connector. The 2-pin connectors are quite similar to their MMCX counterparts, meaning they are used with removable IEM cables. Additionally, 2-pin connectors are easy to swap, which allows you to install them without any tool.
Generally, 2-pin connectors come in two types, namely angled QDC pins and straight pins. The straight pins do not offer a locking mechanism, and are often more delicate. They are also quite lightweight, and you can easily bend them by applying little pressure using your fingers.
On the other hand, the QDC variants come with a covering around the pins to help provide a more secure connection. Furthermore, QDC connectors are firm, meaning they don't rotate unnecessarily when installed on the cable.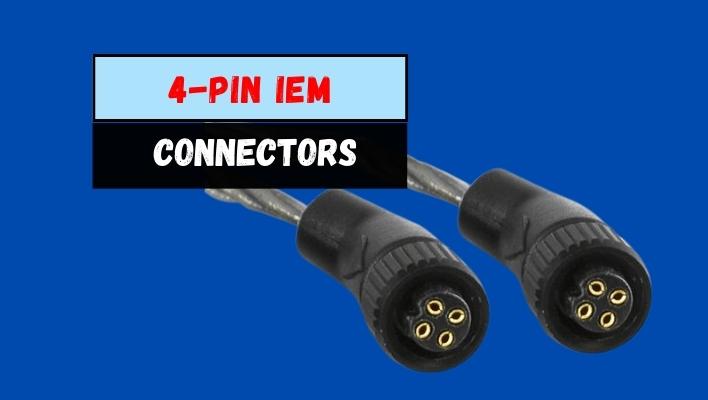 iv. 4- Pin IEM Connectors
The 4-pin connectors are not so common, but are they are the best choice for those looking for reliability and durability. These connectors are larger and more robust than other types of connectors, such as 3.5mm or 2.5mm connectors. The design of a 4-pin connector consists of four pins/conductors arranged in a square configuration, with each pin carrying a separate audio channel.
These connectors are typically used with professional-grade IEMs and other audio equipment to transmit balanced audio signals between devices. The 4-pin connectors are also popular for their ability to reduce noise and interference in the signal, making them a perfect pick for professional audio applications.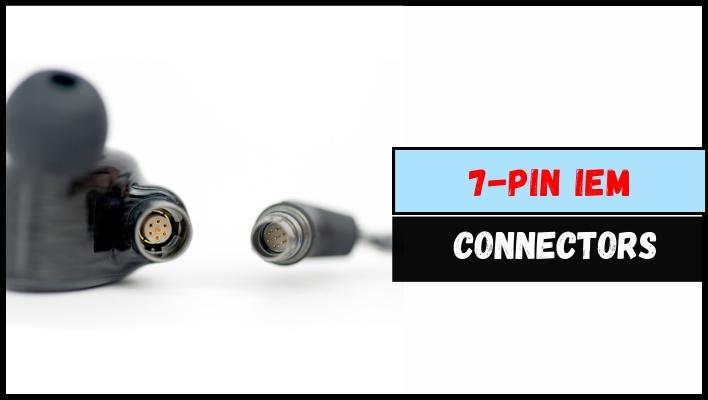 v. 7- pin IEM Connectors
The 7-pin connectors are not quite common and they are only available on select JH IEM models. Like most IEM connectors, the 7-pin connectors utilize a push-and-pull method to attach and detach from the IEM cable. However, you'll need to be extra careful when plugging and removing the connectors to avoid bending any of the pins.
A typical 7-pin connector features an inbuilt O-ring to maintain a low-profile design and to ensure they remain dry in sweaty environments. Furthermore, the connectors use military-grade iridium to establish a tight connection and to make them easy to install and remove.
The best thing about this connector is that they come with a variable bass attenuator to enhance the low-frequency drivers. The connectors also include an enhanced memory wire to ensure a more secure fit around your ears.
Bluetooth Connection
While most traditional IEMs are wired, there are some IEMs now come with Bluetooth connectivity. This means that you can connect them wirelessly to multiple audio devices, including a smartphone, tablet laptop, etc. This eliminates the need for a physical connector while allowing you to use the IEMs more conveniently and flexibly.
Conclusion
If you are involved in serious audio recording or mixing, then you'll appreciate the benefits that come with IEMs. These portable audio devices are often worn inside the ear to allow the user to listen to music or other audio content privately.
However, to get the most out of your IEMS, you'll need to understand the different types of connectors available and their uses. Choosing the right connector type not only allow you to make a secure and durable connection but also make it easy to navigate the world of high-resolution audio.