Apart from subwoofer placement, choosing an appropriate enclosure for your subwoofer is going to have a significant impact on the overall bass output. The primary role of a subwoofer box is to house the internal components while enhancing your listening experience.
When shopping for a subwoofer box, you may have noticed that manufacturers provide their subwoofers with a box of the same size and shape. Typically, placing a subwoofer in the wrong enclosure often hinders the unit from realizing its full potential.
For instance, if you own a 12 inch subwoofer box but you planning to buy a 10 inch subwoofer, you might be wondering whether or not you can install your sub in the 12″ box. In this guide, we're going to discuss how fitting a 10 sub in a 12 box might be possible and the possible pros and cons of doing so.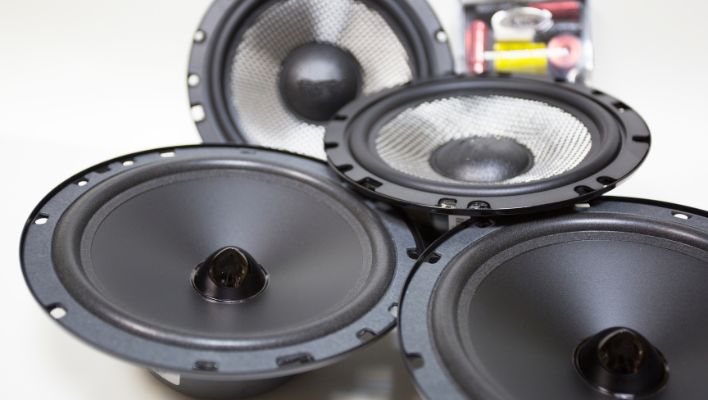 How to fit a 10 sub in a 12 box
One of the frequently asked questions by bass enthusiasts is, "Can I take a 10-in subwoofer and drill new holes in a 12-in subwoofer enclosure and still get the same results? Logic says 'No'. Generally, box dimensions, as well as the port size, are designed to be not only specific to your subwoofer size but also the subwoofer specifications.
However, while it might sound like a far-fetched idea, it is still technically possible to fit a 10 sub in a 12 box. This is even easier when using a custom-made box or when you are building your own box and already have your 10 inch subwoofer with you.
So instead of going to shop for a second box that matches the 10 inch sub, you can consider fabricating the existing 12″ subwoofer box by making the appropriate cutouts. However, while doing this you might need to keep in mind the impact the 12″ box will have on your subwoofer performance.
The easiest way of installing a 10 inch sub in a 12 inch subwoofer box is by using a 12 to 10 sub adapter. The idea behind the adapter is to allow you to install your 10 inch subwoofer in the hole size for 12 inch speaker effortlessly.
Generally, most adapters are made up of 3/4″ MDF wood, a design that helps you to extend the mounting depth by up to 3/4″. Considering that most subwoofers don't come with the required hardware, you might need to shop for screws, brackets/ straps, and the required wiring.
As such, before you install the subwoofer, you may want to gather all the equipment and parts you need for the installation including the speaker wires, wiring kit, and basic installation tools. Once you've installed the adapter, ensure that it is mounted securely using the appropriate screws.
Perhaps the most obvious advantage of placing a 10 sub in a 12 inch box is that it helps increase the final sound output. As you increase the volume (i.e., the internal volume of the enclosure) the mechanical capability of the woofer is also going to increase.
In addition, in order to provide the best possible running environment, it is important to provide enough space within the enclosure. This will also help to deliver optimal sound quality while ensuring longer service life for the subwoofer.
Now apart from volume requirements, you should find a way to craft the subwoofer enclosure in a manner that will make it easier to fit your unit in your car. The best thing is that most cars offer enough space to accommodate the new subwoofer box dimensions.
Benefits and downsides of fitting a 10 sub in a 12 box
One of the obvious advantages of using a 12″ sub box is that it offers a deeper bass response. Ideally placing a 10 sub in a 12 box enables it to move more air, thereby resulting in deep bass notes. So if you're looking to enjoy the deepest bass possible from your 10″ subwoofer consider going for a 12-inch box.
However, you'll need to keep in mind some trade-offs between sound quality and the available space. It is a no-brainer that using a 12 inch subwoofer box is that it requires more trunk space than its 10 inch counterpart.
As Such, the additional space required might be a big challenge if you're not willing to sacrifice much space in your car. So, if space is a problem, then you might need to consider getting a small 10 inch subwoofer box.
While two inches might sound negligible, the difference may still have a big impact, especially when trying to fit your subwoofer in tight spaces. As such, it is always a good idea to go with a sub enclosure that will not only suit your needs but also one that will accommodate your space constraints.
Budget-wise, using a 12 inch box in place of the 10 inch one is more expensive, plus it will cost more to get the subwoofer adapter. So, if you're on a budget, consider using the less expensive 10 inch box, but if you don't mind spending more money, you can always go for a larger one. That said, it is always recommended to do more research before making any purchase decision.
Parting Shot!
A subwoofer is a critical audio component of any sound system and a must-have for anyone looking to enjoy great music while driving. When it comes to subwoofer size, the most popular ones are 10″ and 12″ subwoofers. Most people argue that the sonic difference between the two sizes is very marginal, which makes it even easy to place a 10 sub in a 12 box without altering the low-end response.
However, if your trunk space is limited, getting a compact 10-inch enclosure might be the best option. On the other hand, if you have enough storage space, you might want to get a relatively larger box that can provide more volume and still deliver more power.