JBL is renowned for producing high-quality speakers that offer exceptional sound performance. Connecting multiple JBL speakers allows you to create a synchronized and multi-room audio setup with an immersive audio experience. It also lets you enjoy exceptional sound quality and take full advantage of JBL's technology throughout your home.
Luckily, most JBL speakers are designed to be portable. This allows you to connect two or more JBL speakers, which enables you to have an excellent sound experience wherever you go. JBL offers various methods to achieve this, depending on your speaker models and the connectivity options available.
How to Connect JBL Speakers
Connecting multiple JBL speakers requires you to use speakers that support JBL's proprietary technology designed for this purpose. JBL offers two distinct methods of connecting speakers, that is, JBL Connect+ and JBL PartyBoost.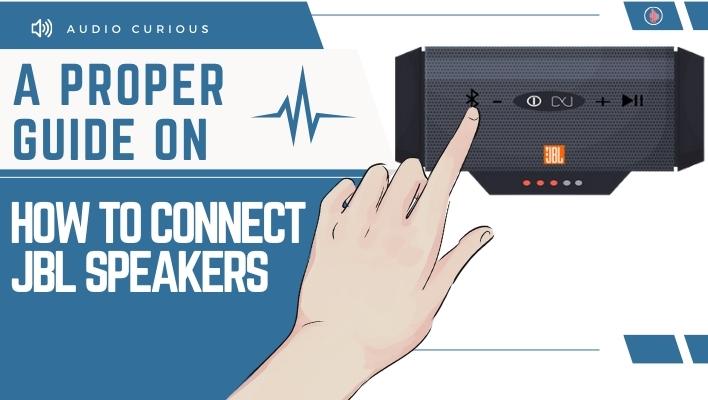 JBL Connect+
JBL Connect+ is a connectivity technology that allows you to connect multiple JBL speakers to play the same audio. This technology is compatible with select JBL models, and it enables you to create a stereo pair or connect more speakers for a synchronized audio experience. However, all speakers in the setup must be compatible with Connect+ for this method to work.
One of the standout features of JBL Connect+ is its scalability. It allows you to connect several JBL speakers, often up to 100 Connect+ compatible speakers. This makes it ideal for those who want to create extensive audio setups for large events, parties, or outdoor gatherings.
You can also use the JBL Connect+ app to adjust volume levels, balance, and other parameters for each connected speaker. Some of the speakers that you can pair with JBL Connect+ include;
PartyBoost
PartyBoost is the latest technology from JBL for speaker connectivity. It's designed to provide an even simpler and more robust way to connect multiple JBL speakers together. PartyBoost offers a straightforward way to connect and synchronize multiple JBL speakers without the need for complex setups. With PartyBoost, you can connect compatible JBL speakers and amplify your audio in different settings.
PartyBoost allows you to pair up to 100 JBL speakers, making it a versatile choice for those who want to enhance their audio experience with multiple synchronized speakers. Whether you're looking for more volume or a stereo sound setup, JBL PartyBoost can accommodate your needs, while allowing you to enjoy high-quality sound with friends and family.
Some of the JBL speakers that are compatible with PartyBoost-speakers include;
How to Connect JBL Speakers Using JBL Connect+
Connect Your Primary Speaker
Turn on the JBL speaker you want to connect to your phone. Activate Bluetooth on your phone or other source device and ensure it is discoverable. Next, press the Bluetooth button on your JBL speaker to put it into pairing mode. This involves holding down the Bluetooth or Connect+ button until you see flashing lights or hear a pairing sound.
On your phone, scan for available Bluetooth devices. The JBL speaker should appear in the list of available devices. Select the name of the JBL Bluetooth speaker you want to pair with your phone from the list. Your phone should automatically connect to the selected speaker.
Play Music
Once you've Bluetooth pairing is successful, start playing music on your phone or source device. At this point, you should be able to hear music coming from the connected JBL speaker. You can use any music player app on your phone or source device, such as Spotify, to play music.
Connect All the Speakers
Press the Connect+ button on each JBL speaker that you want to connect to the first speaker. For best results, you should do this within 30 seconds of starting the music. You may hear a confirmation sound when the speakers are successfully connected. If all goes well, the speakers will sync and play the same audio.
For better control, you can use the JBL Portable app to have total control over which speakers are connected and to customize your audio experience. The app is available on the App Store for iOS devices and the Google Play Store for Android devices.
Disconnecting
To disconnect the JBL speakers, press the Connect+ button again on any of the connected speakers. This will allow them to disconnect from each other and, consequently, stop playing music.
How to Connect JBL Speakers Using JBL PartyBoost
Connect Your First JBL Speaker
Connect the JBL speaker you want to use with your phone by pressing the Bluetooth button on the speaker. Then, on your phone, look up the speaker in your list of Bluetooth devices and connect to it.
Download the JBL Portable App
Download and open the JBL Portable app (formerly known as the JBL Connect app) from the App Store or Google Play Store. The app will allow you to access the JBL speaker that you are connected to.
Connect All the Speakers
Press the connect button within the JBL Portable app for all the JBL speakers you want to connect. In under 30 seconds, all the speakers will establish a connection and become visible in the JBL Portable app.
Choose Stereo or Party Mode
From the JBL Portable app, you will have the option to choose between Stereo and Party mode. In Stereo mode, one speaker plays the left side, and the other plays the right side, thereby creating a stereo effect. Alternatively, you can select Party mode, where all your speakers play the same audio for a synchronized and immersive audio experience.
Disconnecting
To disconnect the JBL speakers, simply tap the connect button again from the JBL Portable app and wait for the speakers to disconnect.
The Bottom Line
Connecting two or multiple JBL speakers is a straightforward process, but it's essential to ensure that all of the speakers involved use the same communication protocol. This compatibility will ensure a seamless and hassle-free connection. Furthermore, ensuring uniformity of the technology used by your JBL speakers will result in a smoother and more enjoyable multi-speaker audio experience.