If you are a music lover, it is not uncommon to try and test headphones from different brands. Grado and Sennheiser are two iconic headphones brands, and tend to have a lot in common. This implies that it is often challenging to make a decision when choosing similar headset devices from each brand.
Therefore, before you choose between these two brands, you'll need to acquaint yourself with what each brand brings to the table. In this guide, we'll explore how Grado and Sennheiser compare to each other and how listeners can benefit from products from either brand.
Generally, Grado is a high-end American headphones brand, and it is known for its audiophile-grade products. Grado headphones attract many positive reviews thanks to their exceptional sound quality and clarity. On the other hand, Sennheiser is based in Germany and produces a wide range of headphones, from high-end audio-grade headphones to budget-friendly options.
Let's explore this further!
Sennheiser vs Grado
Overview of Grado Headphones
Grado is an old name when it comes to the manufacture of headphones and Phono cartridges. The company has been in the market since 1953, producing best-in-class headsets in their Grado Labs based in Brooklyn, New York.
The best thing about Grado products is that they are all hand-crafted in their Brooklyn lab to ensure they meet the set standards. The company places a strong emphasis on the use of high-quality components and craftsmanship in the design of all its headphones.
Another core principle of Grado is its commitment to using time-tested techniques which enable them to produce headphones that deliver a natural sound experience. The company also strives to provide devices that guarantee an extended lifespan and minimal impact on the environment.
Best Grado Headphones
Many audio enthusiasts and professionals, in general, consider Grado headphones to be some of the best in the market. However, they may not be the best fit for everyone's taste, budget, or needs. Some of their most popular models include;
Grado SR325x: These open-back headphones are considered some of the best in the Grado's prestige series. The SR325x features a leather headband, and they are known for their precise and detailed sound quality.
Grado SR80x: This is yet another outstanding headset from the company's prestige series. The SR80x provides a great balance of price and performance, making them a great option for those who are trying out Grand headphones.
Grado GR10e: The GR10E is considered some of the best in-ear headphones from Grado. The headphones do not include mic/volume control, but they are a great option for those looking for a more isolated listening experience.
Grado GS1000e: These are considered the flagship model of the Grado statement series, and are known for their realistic experience. The GS1000e is a popular choice among audiophiles and professional musicians alike.
Sennheiser
Sennheiser's headquarters is located in Wedemark near Hanover, Germany, but the company has several representatives across the world. The company specializes in the design and production of high-end audio products, such as microphones and headphones, for both professional and personal uses.
Sennheiser headphones are known for their exceptional sound quality, comfort, and durability. Their headphones are a popular choice among music enthusiasts as well as professionals. Overall, Sennheiser is considered a reliable and trustworthy brand in the headphones market.
Sennheiser's design principles focus on creating headphones that offer excellent sound reproduction and performance. Their products are designed to deliver a realistic music experience with a special focus on accuracy and detail. This includes the use of advanced technologies such as neodymium magnets and high-quality transducers that are optimized for precise sound reproduction.
Sennheiser also puts a lot of effort into ergonomic design and user comfort. This helps ensure that the headsets are comfortable to wear for extended listening sessions. In addition, the company's design principle is centered on generating products that deliver the best sound quality and performance while ensuring that they are comfortable and easy to use.
Best Sennheiser Headphones
Sennheiser is known for producing a wide range of high-quality headphones, but some of their most popular models include:
Sennheiser HD 660S: In their own words, the Sennheiser HD 800S is regarded as "the perfect blend of power and control". These headphones come in an open-back design, and are known for their engaging and smooth bass response.
Sennheiser HD 800S: Like its predecessor above, the HD 800S is a striking open-back audiophile headphone with a premium build quality. These headphones utilize a 56mm Ring Radiator transducer which delivers a natural and spatial music experience.
Sennheiser Momentum 4 Wireless: These wireless headphones come in a streamlined design to let you enjoy exceptional comfort. Their soundstage is mesmerizing, and they are a great choice for those looking for a high-quality wireless option.
Sennheiser HD 450BT: The new HD 450BT is regarded as one of the best noise-canceling headphones out there. This device is equipped with active noise cancellation for superior sound quality with dynamic bass response. It also supports Bluetooth 5.0 and a high-quality wireless codec.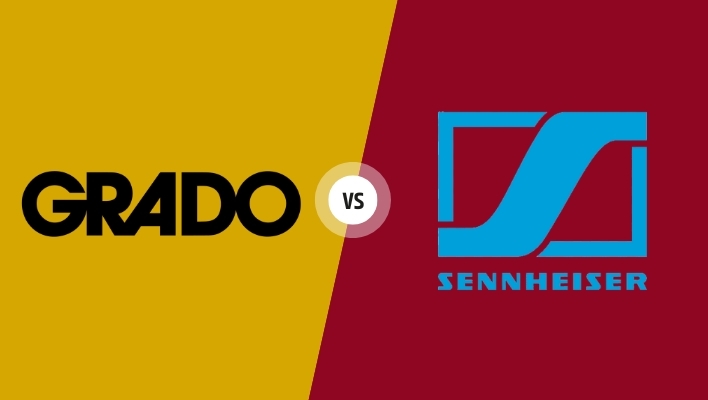 Grado vs Sennheiser
Grado and Sennheiser are both well-respected brands in the audio industry, and they are known for producing high-quality headphones. Both brands offer a wide range of headphones, including closed and open-back models, in-ear, over-ear, wireless options, etc.
Additionally, the two have so many different models to choose from, depending on your preferences and needs. However, there are some differences between the two brands that are worth considering. Notable differences include;
Sound signature
Grado headphones are known for their warm and detailed sound signature. The headphones put more emphasis on the mid-range frequencies, but they are often perceived to be bright or even too harsh for some users. However, based on most Grado headphones reviews, their products have always stood the test of time.
On the other hand, Sennheiser headphones have a more balanced sound signature. Sennheiser headphones also deliver a more pronounced bass and a slightly recessed treble. The company also understands the importance of balanced sound across the frequency spectrum, which helps create a full soundstage and maximize the listening experience.
However, it is important to note that both brands have adopted advanced noise-cancellation and sound isolation techniques, which help reduce the background noise and enhance the overall listening experience.
Design and style
When it comes to aesthetics, Grado headphones have a more vintage and retro look. Most Grado headsets are simple with minimalistic design elements. Sennheiser headphones, on the other hand, tend to have a more modern and sleek aesthetic, with a focus on premium materials and high-quality craftsmanship.
Sennheiser headphones are unique, and they always stand out from the crowd. That said, it is important to note that both brands offer a vast collection of headphones across the board, so they are not limited to a single design.
Price
Grado headphones are generally considered more affordable than their Sennheiser counterparts. Grado offers many budget-friendly options, with some models being significantly less expensive than Sennheiser's high-end products.
The best part yet, Grado tend to have headphones for every budget and just about any audio application. On the other hand, Sennheiser places itself in the high-price range, but they also have some very affordable headphones for mid-level audiophiles and professionals.
Comfort
When it comes to comfort level, Sennheiser headphones are generally more comfortable, and they come in a lightweight design. The headphones utilize high-grade components, making them suitable for extended listening sessions. Furthermore, the headbands are made from soft leather, and the ear pads rest comfortably on the user's ear to allow them to listen for hours on end.
On the contrary, Grado headphones can have a more tighter fit and may not be as comfortable as Sennheiser headphones. However, the headphones are still ideal for everyday use, plus they have an appealing appearance.
Open-back vs closed-back
Grado is well-known for their open-back headphones, which offer a more natural and open soundstage. These types of headphones are best suited for listening in a quiet environment. On the other hand, Sennheiser offers both open-back and closed-back headphones. The closed-back options help to block out external noise making them more suitable for use in public places.
Final words
We hope we've comprehensively covered the differences between the two giant headphone manufacturers. In a nutshell, both brands offer high-quality products, so the best choice will be guided by your preferences and the features you're looking for in a pair of headphones.
Grado is known for their premium, open-back headphones are popular among audio enthusiasts. They are also used in professional music setups. On the flip side, Sennheiser is a more versatile brand that offers a wide range of headphones for different purposes. And like their Grado counterparts, Sennheiser headphones are ideal for everyday use, gaming, professional recording, etc.