Selecting the brand with the best audio quality has become increasingly challenging in the current audio market. Many audio brands have expanded their offerings, sometimes at the expense of specialized excellence in any single product category.
Blam Audio and Focal are two iconic French audio companies that have left a significant mark in the world of audio technology. Each company has its unique features and designs to offer consumers, and this causes a lot of debate between the two companies' customers.
To make an informed choice, you need a guide that compares and contrasts these two popular speaker brands. In this regard, we'll be comparing Blam Audio and Focal to help you find the best audio option for your needs. Let's delve into the details!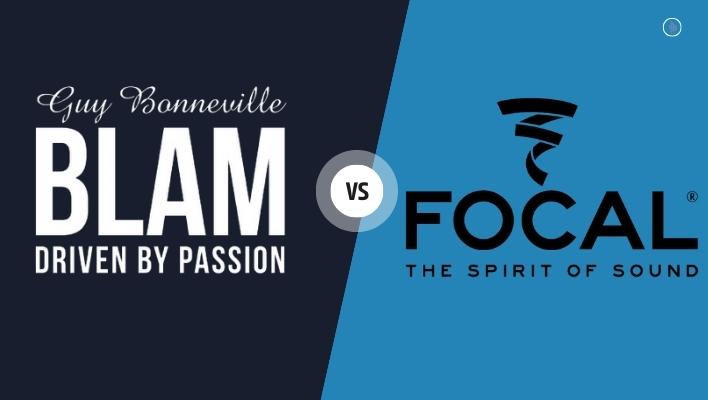 Blam Audio vs Focal
Focal and Blam Audio excel as audio manufacturers, with each company offering a comprehensive range of audio accessories, including speakers, amplifiers, subwoofers, and crossovers. Moreover, they extend their expertise to other audio domains, including home theater, professional audio, and headphones.
Both companies are headquartered in France and enjoy a strong reputation in the audio community. They share a common mission of delivering top-quality audio products alongside exceptional customer service and support. Their products are distributed worldwide through various audio wholesalers and retailers.
However, each brand boasts a distinctive sound signature, distinguished by unique patented technologies. Focal has a longer history in the industry compared to Blam Audio, making the latter a relatively newer entrant. Nevertheless, Blam Audio has quickly gained recognition for its exceptional sound systems.
Blam Audio History and Overview
Blam Audio is a relatively young but highly regarded French company that was founded in 2013. The company specializes in car audio solutions and has quickly gained recognition for its commitment to innovation, precision engineering, and dedication to providing exceptional audio experiences.
Blam Audio is known for its attention to detail in designing and manufacturing audio components that deliver outstanding sound quality. Its audio products have been well-received by car audio enthusiasts and professionals alike.
Product Range
Blam Audio's success has been driven by its unwavering dedication to research and design, building upon the skills that made its initial products successful. The company has prioritized the development of the car audio market, resulting in the creation of a comprehensive line of high-performance audio systems specifically designed for vehicles. Here's a brief overview of Blam's car product lines;
Signature Multix
The Signature Multix series is Blam's flagship product line, which is designed for discerning music lovers. It incorporates cutting-edge technologies like carbon fiber woofer cones, Multi-Stick neodymium motors, and synthetic rubber surrounds on midrange drivers and woofers.
These speakers are engineered to provide remarkable performance. Multix tweeters employ low-mass magnesium diaphragms to deliver detailed performance, which is ideal for high-resolution audio systems. Blam meticulously hand-matches each pair of drivers to ensure precision and amazing performance.
Signature
The Blam Signature range caters to a variety of vehicle audio needs, from delivering excellent imaging and staging with three-way speaker sets to slim-mount woofers designed to fit into kick panels or shallow door locations.
Each Signature speaker is assembled, tested, and packaged in France. The line includes component speaker sets with differing tweeter designs to suit unique applications, compact wide-band midrange drivers, high-performance coaxials, and stand-alone tweeter options.
LIVE
For those who seek warm, natural sound or the driving energy of a powerful bassline, Blam's LIVE series has options tailored to your specific musical preferences. These speakers are meticulously designed to bring out the emotion in music and deliver a sensory experience akin to live concert venues.
Relax
The Relax series offers component and coaxial speaker sets in various sizes, including 4-inch, 5¼-inch, and 6½-inch, as well as oval 6×9 and 5×7 OEM-sized solutions. These speakers feature damped cellulose pulp woofer cones and soft-dome tweeters for a pleasing sound.
This high-efficiency design makes them suitable for factory speaker upgrades and compatibility with high-power amplification solutions. Furthermore, Blam Relax speakers are crafted with 2-ohm voice coils to maximize amplifier power output, resulting in impressive sound quality.
Express
Blam Audio's Express series combines exceptional sound quality with efficient installation. They are designed to offer remarkable performance even when driven by OEM source units. The high efficiency and 'French Sound' of the Express series ensure quality audio in modest systems.
Focal History and Overview
Focal's journey began in 1979 when it was founded as "Focal-JMLab" in Saint-Étienne, France. Jacques Mahul, the visionary founder, initially focused on manufacturing speaker drivers for other loudspeaker makers. This foundation became pivotal in the company's later success.
Over time, Focal transitioned from driver production to creating its own complete loudspeakers and audio systems. This shift was marked by an unwavering commitment to innovation, precision, and advanced technologies, setting the stage for its rise as a leading figure in the global audio industry.
Product Range
Focal has a rich heritage in the audio industry with a diverse product offering. The company has ingeniously classified its extensive range into five distinct universes, each meticulously crafted to cater to a wide spectrum of audio needs and preferences. These include;
Home Line
This category encompasses Focal's high-fidelity home audio products, including high-end loudspeakers, bookshelf speakers, and home theater systems. These products are designed to provide audiophiles and home theater enthusiasts with exceptional sound quality for their living spaces.
The home loudspeakers account for a significant portion of the company's turnover and is categorized into two collections;
Classic Series
The Classic collection is a hallmark of Focal's expertise. All loudspeakers within this collection are designed, developed, and manufactured in France. The speakers incorporate Focal's technological innovations, such as inverted dome tweeters and specialized cone materials like the "W" and "F" sandwich cone.
This collection includes renowned lines like Utopia, Sopra, Electra, Aria, Chorus, Kanta, and Chora. The Grande Utopia stands out as an emblematic loudspeaker within this collection, evolving over generations to showcase Focal's mastery of audio technology and design.
New Media Series
This collection features compact, "Plug and Play" loudspeakers designed for modern multimedia applications. It includes innovations like the Dôme miniature loudspeaker with a Flax cone and the XS Book Wireless. Additionally, Focal has ventured into the sound bar market with the Dimension, a 5.1 sound bar, which is designed to complement flat-screen TVs.
Car Line
Focal's car audio products, including car speakers, subwoofers, amplifiers, and integrated sound solutions, fall under this category. The Car Line is dedicated to delivering premium audio experiences within vehicles, ensuring that drivers and passengers can enjoy top-tier sound quality while on the go.
Elite Range
The Elite range includes the Utopia Be and K2 Power kits, designed for bespoke and made-to-measure installations. In June 2014, Focal introduced the high-end Ultima kit, which is crafted in France and assembled by hand.
This kit integrates Focal technologies found in the Grande Utopia EM speaker and the SM9 monitoring speaker. The Elite range also encompasses the Utopia M line, featuring an "à la carte" concept, allowing customers to configure their own car audio system.
Performance Range
The Performance range offers a range of products that enable users to create customized installations. This range harnesses the technical solutions provided by the Expert, Access, and Auditor lines, allowing car audio enthusiasts to tailor their audio setups to their specific preferences and needs.
Intégration Range
The Intégration range is designed for simplicity and ease of installation. It includes "Plug & Play" kits, ideal for enhancing the audio performance of specific car brands original systems. Additionally, this collection features systems with reduced volume and straightforward installation, making it accessible to a wide range of users.
Pro Line
In 2002, Focal expanded its offerings into the professional audio industry by establishing 'Focal Professional.' This department is dedicated to providing studio monitors designed specifically for recording studios. The professional range comprises five distinct lines: SM9, SM6, CMS, Shape, and Alpha, all tailored to meet the stringent demands of sound professionals working in recording and music production.
Headphones
Focal's Headphones line features a range of high-quality headphones known for their exceptional sound quality and comfort. Focal's Headphones line is a standout in the world of personal and professional audio. The headphones are designed to cater to the discerning tastes of audiophiles and music enthusiasts while delivering an immersive and enjoyable listening experience.
Focal vs Blam Audio- Are They Different or Same?
Arguably, both audio brands are likely to leave a lasting impression that surpasses any preconceived expectations. However, Blam Audio specializes primarily in car audio systems, including car speakers, amplifiers, and subwoofers. It has earned a reputation for producing high-quality components designed to meet the demands of audio enthusiasts and audiophiles seeking premium car audio experiences.
In contrast, Focal takes a more diversified approach, offering a broad range of audio products that extend beyond car audio. Its product portfolio includes home audio speakers, studio monitors, headphones, and, of course, car audio systems. This diverse range allows Focal to cater to various audio segments, from consumers seeking high-end home audio solutions to professionals in need of studio monitoring equipment.
When it comes to the sound signature, Blam Audio car audio systems often provide a precise and clear sound signature, which is appreciated by those seeking high-fidelity car audio. The emphasis on precision ensures that every note and detail is reproduced accurately, making for a highly enjoyable in-car listening experience.
Conversely, Focal is celebrated for its balanced and detailed sound signature. Its design philosophy is rooted in creating a natural and lifelike sound experience. This means that their products are engineered to reproduce audio in a way that mirrors the original recording. The result of this is a sound quality that feels authentic and true to the source material.
Blam Audio's products are often positioned in the high-end and premium segment. As a result, Blam Audio products are often associated with exceptional audio experiences, but this level of excellence comes at a premium price point.
On the contrary, Focal caters to a broader range of budgets. While they have premium products, they also offer more affordable options. Focal is certainly capable of producing premium and high-end audio products, but it also offers a range of more affordable options. This approach makes Focal accessible to a wider customer base, including those who seek quality audio but may have budget constraints.
Blam Audio primarily targets enthusiasts and audiophiles who prioritize exceptional sound quality in their car audio systems. Their products are meticulously designed and engineered to meet the demanding standards of these discerning customers. The products cater to individuals who are not only willing but eager to invest in top-tier audio experiences for their vehicles.
On the other hand, Focal caters to a more diverse audience, including audiophiles but also consumers with varying budgets. Its aim is to provide high-quality sound solutions that can appeal to a broader customer base. This diversity is reflected in their product range, which includes premium, mid-range, and more affordable options.
Both companies emphasize innovation, but Focal's wider product portfolio enables them to leverage technology across different segments. Conversely, Blam Audio's innovation efforts are often more concentrated on car audio technology and components. This specialization allows them to tailor their innovations specifically to the demands of the automotive audio market.
Focal has gained recognition for its stylish and innovative speaker designs. These designs not only prioritize sound quality but also pay significant attention to the aesthetic appeal of the products. Focal's speakers often feature modern and visually striking designs that can seamlessly blend with contemporary home decor or complement the interior of a vehicle.
In contrast, Blam Audio's design aesthetic tends to be more focused on the practical and functional aspects of car audio components. While they certainly aim to provide high-quality sound in vehicles, their primary focus is on creating components that are optimized for car audio performance. This results in designs that prioritize factors like ease of installation, durability, and space efficiency within the car's interior.
Are Blam Speakers Any Good?
Blam speakers are generally considered to be of high quality and provide excellent sound performance, particularly for car audio enthusiasts who prioritize audio excellence. Many users and car audio enthusiasts appreciate the clear, accurate, and high-fidelity sound that Blam speakers deliver.
Blam Audio prides itself on the craftsmanship and attention to detail in its speaker design and manufacturing. This, in turn, translates into well-constructed and reliable speakers. Blam speakers are often considered high-end and are designed for those who seek a premium audio experience in their vehicles.
If you're an audiophile or someone who values top-tier sound quality, Blam speakers may be a good choice. However, it's essential to ensure that the speakers are compatible with your car's audio system and that they meet your specific audio preferences. You may also want to consider factors like speaker size, power handling, and impedance when making a selection.
Is Focal Audio a Good Brand?
Focal Audio is considered a reputable and high-quality brand in the world of audio equipment. Its reputation for sound quality has been built over the years, and many of its products have received positive reviews and awards within the audio industry
Focal's product range is designed to be used in a variety of settings, from home audio systems to car audio kits, integrated audio solutions for different rooms, and portable headphones. This versatility allows you to experience the 'Focal Sound' in various applications.
Focal is known for using advanced acoustic technologies in their products, including materials like Polyglass, Kevlar, and Flax cones, and tweeters made of Beryllium. It also boast advanced features like the Tuned Mass Damper and Infinite Horn Loading systems. These technologies contribute to Focal's sound signature and audio performance.
Focal's reputation extends to the professional audio industry, particularly in recording studios, where their loudspeakers are appreciated by professionals for their accuracy and quality. So, if you value exceptional sound quality and are looking for authentic audio equipment, Focal products may be worth considering.
Final Word
Choosing between Blam Audio and Focal can indeed be a challenging task, as both companies have established themselves as producers of exceptional audio products and accessories. Achieving accurate music reproduction demands top-notch components and well-thought-out design, and both Blam Audio and Focal excel in providing these solutions.
Focal loyalists swear by the sound quality of its products, while others firmly believe that Blam Audio offers the best audio experience. So, if you're contemplating an upgrade to your entertainment system or starting from scratch, exploring the offerings from either Focal or Blam Audio is a good place to start.